Belinda Bencic youngest woman in nine years to win big Canadian title.
She is just 18 and she has become the youngest woman since Ana Ivanovic in 2006 to win the Rogers Cup. This is like a coming of age for Belinda Bencic as she put together one of the most outstanding weeks on the tour this year to score her first really big title. Bencic scored a 7-6, 6-7, 3-0 (retired) victory over Simona Halep to cap off a week that young players dream of.
Every opponent she faced has either won or been in the final of a major and three of them had been ranked world No.1 – in succession Bencic accounted for Eugenie Bouchard, Caroline Wozniacki (No.1), Sabine Lisicki, Ana Ivanovic (No.1), Serena Williams (No.1) and finally Simona Halep. It is arguably the toughest run to a title that a player has confronted in 2015.
"I just saw that like I didn't know before that I beat like six Grand Slam finalists in a row," Bencic said excitedly. "It's like I cannot believe it, and it's amazing. I have no words for this, and definitely talk about a tough draw.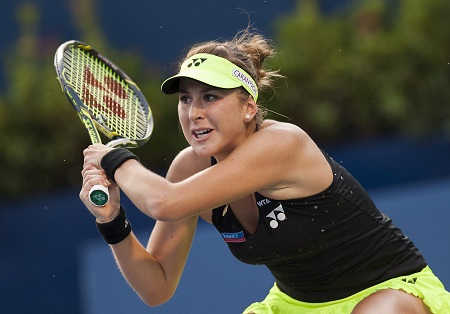 "I mean I've never had this since, never on the tournament I saw it like this, but I love it really. It's amazing that the atmosphere is so great that even if it's against me, I mean a lot of Romanians were here. So obviously they were cheering for her. It's very nice from them for her, and also I mean I have to deal with it. Of course, the people are very excited, and really, I feel like it's the right thing. I think some people in some other tournaments should take an example from here."
Her win over Williams made her the youngest woman to beat the American since Maria Sharapova in 2004 (WTA Finals). She is the first Swiss since Martin Hingis in 2006 to reach this final.
This young lady has been one of the "must watch" players in women's tennis for the last couple of years. She may not have always had the consistency but that only comes with playing more, learning and gaining the experience. No doubt there will still be some up and down results and she should not be expected to go out and win her next event, but the exciting thing for the women's game is that another young player has definitely arrived.
"Obviously it's very big boost for your confidence," she said. "Now I actually feel like I belong here, and that I can be really one of the top players. It's an amazing feeling.
"And I mean for sure I'm not going to expect of myself to do every tournament so good like this because it's I mean I have to learn the consistency a little bit, but they are not players I mean of course we're not going to play every tournament perfect. So I really have to keep going, and yeah."
Halep meanwhile was struggling physically. She had a leg problem and then wasn't feeling well as the match progressed with the official reason for her retirement being "heat illness".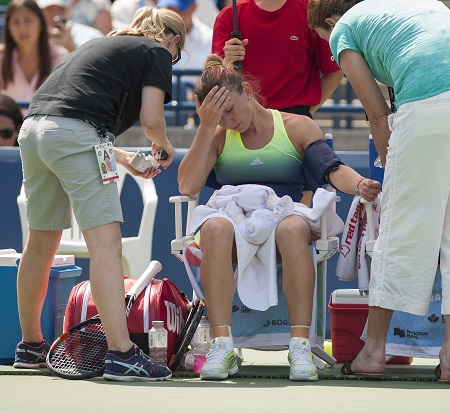 "I was thinking that I need a miracle to finish the match. I know that I have no power. So I tried just to finish the match, but at 3-0 I said it is no sense to continue, and I stopped," Halep explained.
"This week was (still) a great week for me. I played big matches, I can say with tough players, top players. I had great victories. So I take only the positives. It happens sometimes (you) just feel bad on court and I couldn't change anything. So it's fine and I'm looking forward for the next tournament and to recover myself."
Bencic had been promised a treat if she beat Serena Williams and that was a cupcake but she has not had it yet. The chosen flavour is Oreo. But maybe she is deserving of two cupcakes because her new world ranking will be 12.
"12? No way. Wow. I didn't know it. So yeah, that's pretty impressive. I cannot believe it," she said.