Belinda Bencic scored the biggest win of her young career by beating Serena Williams.
Only one woman has beaten Serena Williams in 2015 up to 15 August and that was Petra Kvitova, in the semis of Madrid. Sure she has given three opponents three walk-overs this year but those don't count in a player's win-loss record. So, coming into the semi-finals of the Rogers Cup in Toronto (this year the women are in Toronto and the men in Montreal), her win-loss record was 43-1.
Coming out of the semis, that record had changed and it was 43-2. Williams had won the first set against Belinda Bencic, who is most definitely one of the exciting prospects in women's tennis, but the Swiss rebounded to win the match 3-6, 7-5, 6-4. That has put her into the final to play Simona Halep who, up to now, was the last person to beat Williams on a hardcourt, in Singapore last October.
This was a bad day at the office for Williams but let's not remove the full credit from Bencic who truly is a pleasure to watch in action. She played a tactically sound game and went into the match with alternate plans just in case things were not working out.
She says the mind part of her game is her weapon and because she doesn't necessarily have the power of some of the other women, she uses smart tennis to turn things in a match. It is not unlike one of her idols growing up, Justine Henin.
"This means everything, I mean this is why I worked for 15 years," Bencic said. "I mean the practice is not always easy. It was hard; it was tough. Sometimes I didn't want to. And sometimes you feel very motivated, and all this work paid off today, I think, and this is just this feeling is indescribable."
Williams was not underestimating Bencic. She said: "I thought she did really well everything. She really reads the ball well, and she really fought really well, and I knew that about her already that she never gives up and she fights hard. Yeah, I thought she played an excellent game. I think she played really well today as opposed to a lot of her other matches."
Mmm, "a lot of her other matches"? In this tournament Bencic has accounted for Genie Bouchard, Ana Ivanovic, Caroline Wozniacki and Sabine Lisicki. That is pretty consistent.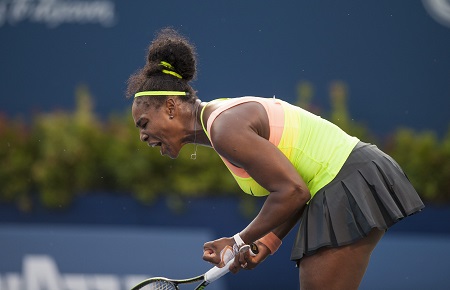 The interesting aspect will be to see how she handles things in the final. The crowd is expected to be with her, not that they are against Halep, but the fact that this young player has achieved such a big win in beating Serena Williams, it will see the fans on the bandwagon.
So often in tennis we see a player score a title and then crash out early the next event, in fact the perfect example was with Sloane Stephens just days ago. She won her first career title in Washington and then failed to capitalise next event. The same is often seen when a player has a massive win, like beating an icon they have never played or beaten before. Just look at Kei Nishikori in Montreal, he beats Rafa Nadal for the first time and then crashes in the next round.
It could absolutely happen to Bencic that she loses the final but in this case it would be more understandable compared to Stephens and Nishikori who both have greater experience.
"Obviously Halep is No. 3 in the world and she's an amazing player," Bencic explained. "She's so consistent all of the year and definitely going to be a so hard match, but I think today I have to enjoy this victory and tomorrow I will look what I can do against her. (I will) just keep enjoying and fighting, and I'm in the final and everything that comes is a bonus."
As for Serena, the loss will be out of her mind quick smart; in her mind it would be a hiccup so anyone who may remotely consider questioning her favouritism for the US Open would be doing that at their own stupidity.