Genie Bouchard needs to get out of her slump, but what got her there?
A year ago before the Canadian tournaments started, We Are Tennis featured a story suggesting the pressure would get to Eugenie Bouchard and that her run at the women's event would be short.
She had played some remarkable tennis in the first half of the season with semi-final efforts at the Australian Open and French Open and then she made the Wimbledon final.
Playing in your "own backyard" in front of hometown fans as she then did in Montreal, is one of the toughest tasks and so many players have failed to make the grade. The expectations are very high on the player irrespective if the player says the only pressure they feel is what they put on themselves. That in many cases is hogwash. They definitely feel it pressure on their shoulders from the national fans and the local organisers desperate from them to do well.
We have seen it time after time – Amelie Mauresmo at the French Open, Sam Stosur at the Australian events are two perfect examples. Bouchard is not unique. Remember last year was her first real year in the limelight and she wanted to show the locals what she was capable of. Maybe she tried too hard to impress.
Going into this year's event in Toronto, unfortunately for Bouchard, things are not likely to get much better. After what she achieved last year with her results which saw her move into the world's top ten, the Canadian's results have been very disappointing in 2015.
There is plenty of speculation around that suggests she is not concentrating enough on what she is supposed to be doing which is to be an outstanding tennis player. Critics say that her focus is not 100% on her tennis but in fact more to the off-court side of things.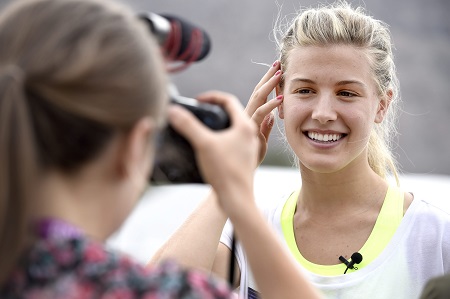 Does she want to be a model or a tennis player is one of the questions. Bouchard enjoys the attention that her looks bring and there is nothing wrong with that at all. What is wrong is if she is letting that be almost all consuming.
Yes there have been some physical issues that have been disruptive and the fact that she has not found the right coach since splitting with the right coach, Nick Saviano, does not help matters. She is almost like a rudderless ship.
Women's tennis needs someone like Bouchard in the top ten and not in the shadows like the top 25.
Recently she was named (albeit surprisingly) the leading professional athlete for marketing purposes, but if the results are not shown on the court that marketability might not be there. Sponsors want to see results because those results make advertising tag lines. Maybe it is time for her to start saying "NO" to many of the off-court activities and resquests.
Any suggestions like "well Serena Williams and Maria Sharapova engage in off-court activities all the time" is no excuse. They have proven themselves beyond measure; they have been world No.1; they have won multiple majors. They have better direction and experience. Bouchard is still very young and needs to learn so much more. While she may not be too partial to either of them, it shouldn't stop her from taking a leaf out of their books.
Bouchard is too good a talent to be wasting opportunities and while any professional athlete needs an element of arrogance to get to the top, maybe she should try dropping some of the arrogance which would be a big help in greater acceptance.