Novak Djokovic and Roger Federer played a mesmerizing Wimbledon final.
Novak Djokovic has proven that dreams can be turned into reality. The 28 year old won his second consecutive Wimbledon, his third overall and in doing so claimed his ninth career major. Djokovic reflected back to the 14 year old growing up in Serbia, a nation torn with domestic strife. The vivid dreams he had in those days were all about playing Wimbledon and trying to imagine what it would be like.
He never could have thought that on his first wedding anniversary he would be lifting the magnificent gold Challenge Cup high in the air. That across the next for the second consecutive year his opponent would be the G.O.A.T. – the greatest of all time, Roger Federer. A title that even Djokovic believe is apt.
But that was the scenario on an overcast Sunday afternoon at SW19. In two hours 56 minutes he won the championship 7-6(1), 6-7(10), 6-4, 6-3.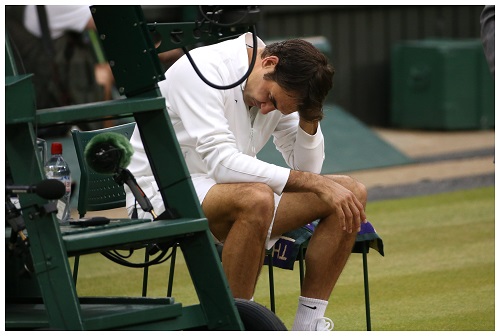 I'm thrilled and very proud with all the success that I had so far in the career, everything I reached," Djokovic said. "If you would ask me as a 14 year old back in Serbia trying to find my way, you know, that this is how I'm going to end up at 28, of course I would sign the deal and take it right away.

"There were a couple of Grand Slam finals that I think I could have won. But, again, having said that, everything happens for a reason. I try to learn from every experience, especially the ones that don't end up victorious for me. I'm going to keep going.

"I'm 28. I feel good. I don't feel old. I have hopefully many more years in front of me. I'm going to try to push my own limits and see how far I can go really with titles and with myself playing on this high level."
This was yet another extraordinary match and one to remember, in particular the second set tiebreaker. Djokovic went up 6-3 but Federer kept fighting back as the partisan crowd kept lifting. They were in the Swiss player's corner and the atmosphere around Centre Court was more than special. Federer was saving set point after set point. The ball continued to be struck with incredibly ferocity. The rallies were often subline.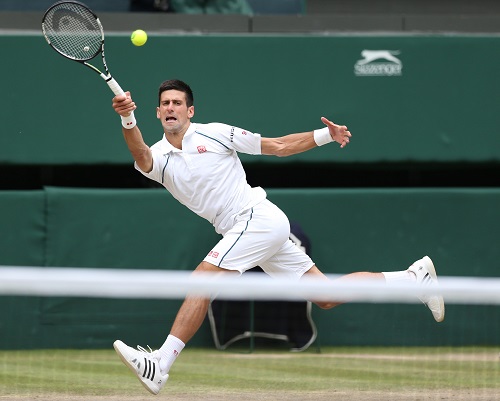 Federer eventually won the breaker 12-10 and the cord erupted. But maybe, just maybe he gave too much. He even admitted that he gave the tiebreaker everything he had. If he had not he would have been down two sets to love. He certainly had his chances in the match but Djokovic had he answers, and through it all fans were witnessing tennis that was glorious.
"It's great," Federer said of the crowd. "It's such a huge part of the game, the crowds, wherever you go. So to have so much crowd support around the world, but also particularly here at Wimbledon, which is the Holy Grail. It's beautiful.

"I must tell you it means as much to me almost like winning because I've been around for a long, long time. I've played on the outside courts. As of late now it's been so much Centre Court or Court 1, either one around the world. It's so cool when everybody gets involved, everybody appreciates you traveling to them. I appreciate when people travel to come see us. There was a great atmosphere out there."
It was an impressive effort from Djokovic in bouncing back after the disappointment of losing the French Open which he had said publically was his priority this year. He said he has leaned that in this sport you have to forget quickly and that having Wimbledon so close to the Roland Garros saw his overcome that disappointment in quick time. Had here been no Wimbledon so soon after the agony of that loss might have lingered.
"I'm extremely proud. It's a huge relief," Djokovic said. "That's the first feeling that I feel after the tournament. Whether I'm winning it or losing it, in finals, or whenever I finish, it's just a huge relief.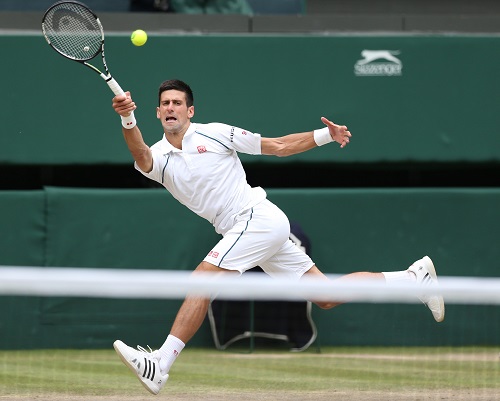 "Especially in the Grand Slams, you know, you play every second day, but you have to encounter many different things on and off the court. It's biggest events in sport. So many people asking you different questions. There's expectations from yourself, your team, people around you.

"Yeah, you know, you need to be able to accept it and live with that. It's not easy because it takes a lot of energy from you and from every aspect. So that's the first thing, is a relief, it's over. And obviously it's nicer when you get to have the trophy with it, as well."
Sadly for Federer he result has denied him from achieving another record, in that had he won he would have been the first match to win eight Wimbledon singles titles.
It would have been nicer to win some than to lose some," Federer said. "At the same time I lost against the world No. 1 at the moment. That's the kind of guy you probably can lose against. But I'm not going to accept it and say, It's normal. It's not. I've beaten him a few times. I'm one of the few guys that's gotten a chance.

"Clearly I was always going to believe that I was going to come through as the winner, but still always being humble knowing how tough it was going to be. I think I was able to show that on the court today, how close it really was. Even though at the end it might look routine, but I don't think that was the case.

"So I'm right there. My game is good. I got broken very few times this tournament (but) I played on my terms. Things are all right."
The win has allowed him to be on equal footing with his coach Boris Becker who also won three Wimbledons. He says his life off-court with the working team around him and the family that is behind him has made the difference.
"Whether I'm winning or losing, my wife is always there. Family's always there. When I go back home, I'm not a tennis player anymore. I'm a father and a husband. That's a kind of balance that I think allows me to play this well. Ever since I got married and became a father, I haven't lost many matches, I won many tournaments. I suggest that to every player, Get married, have kids, let's enjoy this," Novak said.