Serena Williams has won a sixth Wimbledon which is her first since 2012.
What more can you say about Serena Williams that has not already been said? Really, what more is there? At 33 years 289 days she has become the oldest woman in the open-era to win one of the four majors. She won her sixth crown at the All England Club, it is her 21st major which is one behind Steffi Graf and just three behind Margaret Court's all-time record.
The win has given her the Serena Slam, which means for the second time in her career she is holding all four majors at the same time, starting at last year's US Open, and she is now three quarters of the way to the rare and prestigious calendar year Grand Slam.
Like fine wine Serena Williams just gets better with age and while she will not publically say so, her aim is to be regarded as the greatest player of all time.
"Man, it is really a great feeling. Just at the moment is still setting in a little bit," Williams said. "I'm just really excited about it because I didn't want to talk about the Serena Slam. I honestly wouldn't have thought last year after winning the US Open I would win the Serena Slam at all.
"It's super exciting. I just knew I wanted to win Wimbledon this year. Of all the Grand Slams, it was the one I hadn't won in a while. It was like, I really want to win Wimbledon. It happened. Just amazing. It feels really, really good."
Serena was always the favourite to win the title but not too many expected it to be the dismal performance that was witnessed last year with Eugenie Bouchard against Petra Kvitova. Besides Garbine Muguruza, in her first final at one of the majors, has totally won the hearts of everyone. Not only has she got a fantastic game, but she has a glorious personality that you can't help but warm to.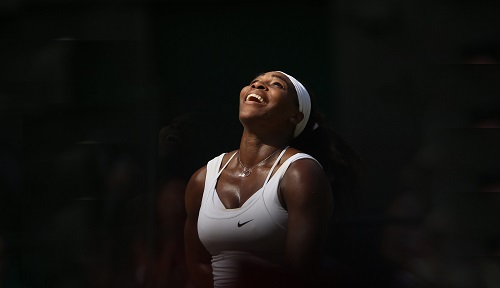 The final started in a weird way. No one could remember the last time Williams served three double faults in a single game, and the first game of a major final to boot. The Spaniard's aggressive game was also coming to the foresee and she opened a 4-2 lead only to see that cut back and Williams eventually claim the first set and race to a 5-1 lead.
Twice Williams served for the championship but Muguruza kept fighting and both time broke her. The crowd were on her side urging her on but in the tenth game Williams broke claiming the championship 6-4, 6-4.
It was a strange ending because Williams didn't seem to be sure it was over and wasn't sure if there was a challenge coming and if she'd have to serve again, but no, eventually the call was heard "Game, set, championship, Miss Williams". Her celebration was almost on time lapse and a bit delayed.
The crowd applauded loudly but its greatest applause was reserved for Garbine when she went up to receive the runner-up trophy. The fans stood as one. Incredibly, Serena even joined them and stood and applauded this 21 year old, who is the first Spanish woman to reach the final since 1996. You just can't help but like her. The situation messed with her emotions and it was then she began to cry and unnecessarily embarrassed tried to cover her eyes. It was innocence and just lovely.
"I couldn't stop crying. So many people are clapping. I don't know. I make all these people feel this in a tennis court? I was like, I don't know. I felt special. It's difficult to explain, yeah," Muguruza said.
"It's hard to say why the crowd was like that). But I think because they saw in me that I really wanted to win, that I really enjoy there. You know, I give everything to tennis. They actually like when they see someone fighting so much to win. They feel like, you know, in the match, they're feeling the same as me. I don't know."
She dealt with her emotions on court in a stirling manner but also explained when you have someone like Serena Williams your mind is going in a few different directions, she's won five, this is her first final. How many chances will there be? Thigs like that. It all makes concentration tougher but this young lady, destined for super-star status handled it.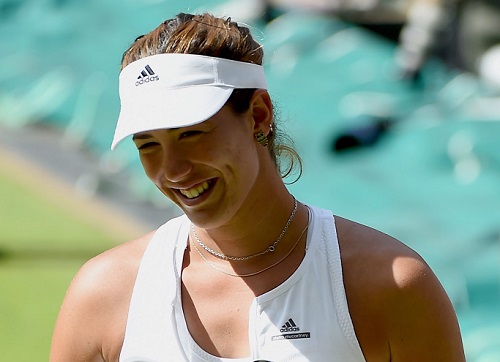 "Oh, my gosh. I think she's such a great player," Williams said. "Like I said, she's beaten me before. I think she really stepped up to the plate today. She was determined to do well and to win. She came out there to win. She wasn't out there just to play a final. I think that says a lot about her and her future. She never gave up literally ever."
It did not take long before Williams started to look to the US Open where, if successful, would complete the prestigious calendar year Grand Slam. The last person to achieve such a phenomenal feat was Steffi Graf, in 1988.
You know what, I feel like I'll be okay," she said. "I feel like if I can do the Serena Slam, I will be okay heading into the Grand Slam. Like I always say, there's 127 other people that don't want to see me win. Nothing personal, they just want to win. So it's just, you know, going to go in there. I had a really tough draw. This gives me confidence that if I had this draw, I can do it again. I'll just do the best I can."