Novak Djokovic and Roger Federer, the world's top two men, will play the Wimbledon final.
When Novak Djokovic and Roger Federer meet in the final of Wimbledon, just as they did twelve month ago, it will be their 40th career meeting and it is Federer who has an ever so close advantage of 20-19. This being their 40th match-up is second only to Djokovic's rivalry with Rafa Nadal which has seen 42 matches played.
Djokovic was first into the final and his 7-6, 6-4, 6-4 victory over Richard Gasquet was the twelfth in 13 matches she have played. The world No.1 was never in any sort of real danger despite the fact the first set was close. You never got the sense that Djokovic was being threatened and after he secured the opening set he rolled on to victory and his third consecutive final at Wimbledon; an achievement in itself.
The match Federer played against Andy Murray was a sheer pleasure to watch. This was vintage Federer. It was high class tennis that produced stunning tennis, blistering returns that you could have been forgiven for standing and cheering for. It was vintage Federer tennis as the crowd with a split allegiance would do at times.
Federer was playing hard and fast and Murray wasn't being given time to think between strokes in a rally. Murray said it was one of the best matches Federer had ever played against him. Federer went a step further.
"I was clearly able to play very well from the start," he said. "The beginning was always going to be an important part of the game. I had to save breakpoint first, then I was able to start rolling on my serve. Played a great game to break.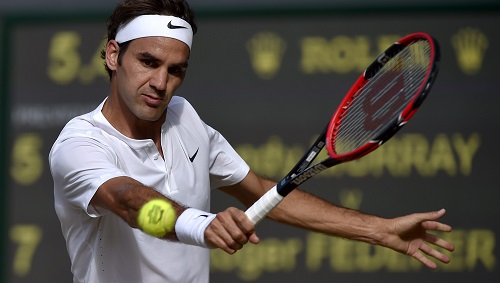 "So, I mean, definitely one of the best matches I've played in my career. I don't know, the first set, I don't remember point by point, but it was definitely really, really solid. I served very well. I served a very high first serve percentage plus going big. So definitely it was one of my best serving days of my career, for sure."
This will be the first final at a major where the top two seed have squared off since last year's Roland Garros and the last time that happened at Wimbledon was the 2013 final when Murray defeated Djokovic and I doing so ended a British men's drought that had lasted 77 years.
Here are the figures going into the final between the two – Djokovic has hot 64 aces and ten double faults to Federer's 67 and five. First serve points won sees Djokovic at 77% and Federer at 85% while Djokovic has saved 80% of break points compared to Federer's 75%. But where the number are also interesting is with service games won, with Djokovic it is 95% but with Federer it's a staggering 99%.
He will never say it but you would have to think in Federer's mind there is a corner saying he has to get back at Djokovic for last year. He looks forward to the prospect and says playing Djokovic is a great opportunity because he has become a "great player".

"He's had great success, unbelievable success actually, throughout his career, but especially now the last few years, he's been unbelievably dominant, especially on the hard courts, then he improved on the grass (and) on the clay, he's one of the best, if not the best," Federer said.

"He's become very match tough. He always shows up. It's tough to beat him. You know, he's been very injury free. He's been good for the game."
He added that he does not about last year's final apart from the fact that it was an edge-of-your-seats thriller that went to the wire and the crowd got into it.

"I'm just happy personally for myself to be back in a finals. It's always a big occasion. That is Novak, the world No. 1, it obviously adds something extra.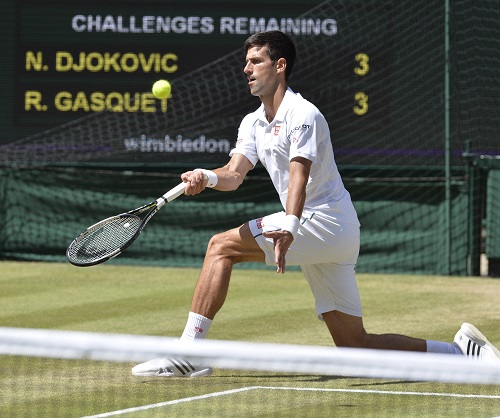 Djokovic says last year's final was a "very special moment" for him.
"It's always special in final of Grand Slams, but particularly here in London, where the most famous tennis tournament in the world. This is the tournament that got me going to play tennis and inspired me to become a professional athlete and to dream big, to be able to fight for the trophy," Djokovic said.

"2014, last year, it was even more special because I won against the greatest player of all time on grass courts, and maybe greatest player of all time overall, Roger, in five sets. It was very emotional because it was a match that could have finished in fourth sets. He came back and had to really be mentally strong, stay composed and kind of keep that self belief on the court."

Djokovic said that Federer is one of his greatest rivals and that "he was one of many people that actually made me a better player".
"In the matches against him, I went through a lot of different emotions and things that allowed me to understand what I need to do to become a better player and to win against him and win Grand Slam trophies," Djokovic said. "He's so good and so consistent, we shouldn't spend too much words about him. We all know how good he is. He's the greatest ever. There's not enough praises for what he does.

"But this is where he loves to play. This is where he plays his best tennis, I think. The Centre Court of Wimbledon, seven titles. It's his court. He loves it. He usually rises up to the occasion. He's always playing his toughest when it matters the most. That's why he's a big champion.
"It's going to be probably the biggest challenge I can have."