Garbine Muguruza is the first Spanish woman to reach the Wimbledon final since 1996.
So who is Garbine Muguruza? She will get more notoriety with what she has achieved at Wimbledon than everything else she has done before put together. This 21 year old has the makings of a superstar with a personality that captures you and a game that has you watching with keen interest.
Sure she beat Serena Williams at the French Open last year but that is nothing compared to what will happen now. She goes into the Wimbledon final as the underdog even though she had that victory over Williams who holds 2-1 record on her. That win was on her preferred surface, clay, and she did win the first set from Williams at this year's Australian Open on hardcourt, but on grass it is a different ballgame.
Yes she has reached the final and beaten some very handy grasscourters such as Aga Radwanska but Williams is a whole different ball game on the surface. Her power will dominate. Her experience will put returns in the right spots. Her ability to serve her way out of trouble will be crucial.
Still Muguruza is not going to just roll over. She is surprised at reaching the final because her lead up events did not prove to be too successful and she never thought her first semi-final, and now final, at the majors would be on grass. But she is the first Spanish woman to reach the Wimbledon final since Arantxa Sanchez Vicario in 1996 and the first Spanish woman to reach the final of any major since Conchita Martinez, who by the way has been texting her support, at the French Open in 2000.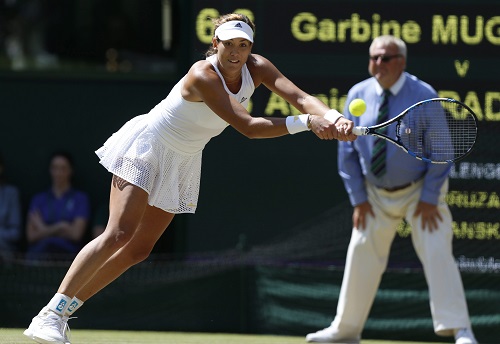 "I think is the best final you can play," Muguruza said of playing Williams for the title. "You know, to have Serena in the Wimbledon final I think is the hardest match you can have. If you want to win a Grand Slam, when you dream, you say, I want Serena in the final. She's like one of the best players in all these years. So it's obviously I think the best challenge to have."
You can't help liking Garbine. She is a breath of fresh air and everything she does is exciting and a new experience for her. She has eyes that dance. She has a face that radiates moon beams and generally she is like a cooling breeze on a summer's evening.
She likes routine and following the same thing every day. Some might call that superstitious. She has indicted that she wakes every day at the same time and even brushes her teeth at the same time each day. As she progressed through the rounds at Wimbledon her parents suggested they would like to come over to London.
"I think they're watching me, I don't know, on the TV or the computer. I'm not sure," she said. "They asked me two days ago, 'We want to come'. I said, 'No. Don't change anything.' I wake up with the same leg. I'm not going to change anything. I'm going to talk to them now, to see if they're going to come or not."
To take her mind off tennis she likes to cook and in particular make desserts. She is sweet on sugar rather than food that is salty. That is how she likes to spend the time away from the courts.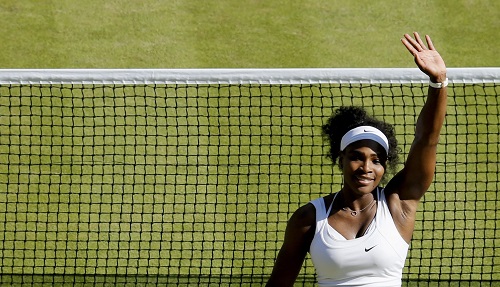 Williams says the Venezuelan born Spaniard with the Venezuelan mother and Spanish father, certainly knows her way around the court and has no belief that she will be anxious before the final.
"It's definitely not an easy matchup and she actually has a win against me" Serena said. "We had a tough match the last time we played. And she's given me problems in the past. So this time I have to just, you know, go in it like have fun and do the best that I can, just try to stay positive and stay focused.
"She's been on the stage a little bit. I mean, she's done well at the French Open a few times. She's played really big there. I don't think she's intimidated at all. She's not that kind of person. So she'll be fine."