Nick Kyrgios has received his fair share of vehement criticism during Wimbledon.
There has been a lot of finger pointing going on at Nick Kyrgios during this Wimbledon. It was twelve months ago at the All England Club that he announced his arrival to the tennis world at large by beating Richard Gasquet from nine match points down, stunning Rafa Nadal on the Centre Court and reaching the quarterfinal. In Australia, we knew of his brilliant talent and capabilities long before most others did.
There is no doubt Nick is different. He is a personality. He has charisma. He has the kids following him. He has a swagger and maybe that strut and that "I don't give a damn" attitude rubs people up the wrong. Kyrgios speaks his mind and in one sense that is refreshing from someone as young as him but for a generation older than 20, that can be confronting and it doesn't sit well.
Get over it! He is a "different cat" as his closest friend Thanasi Kokkinakis said.
He has been pilloried left, right and centre in publications in the UK, and in Australia talk back radio has been running hot with criticism of him. The language he uses in a match is the No.1 cause for complaint.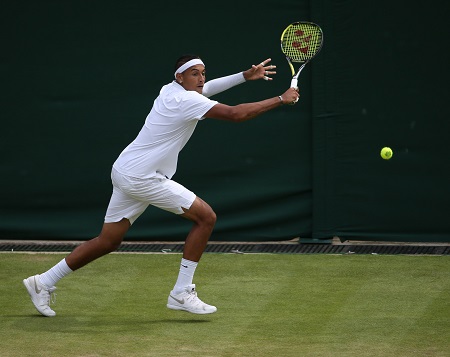 Authorities are rhetorically questioned by "observers" for not doing anything about it and allowing him to continue. I will say this right now; I don't condone some of the things that Kyrgios might say in a match because I am not someone who tends to use four letter words. (I stress I am no saint when I get mad), but for whatever reason, Kyrgios has been singled out for the editorial bashing and verbal criticism.
Why? Because he has that air of not taking notice of what they say? Because he is his own person and doesn't necessarily conform? Or could it be that it is a prime opportunity for some British newspapers to get on board with the Aussie – England rivalry and "we have to knock this fellow down a peg … what!"
The singling out of Nick Kyrgios is unwarranted and unfair. H does not need to be singled out; he is not unique.
What he is experiencing is still all very new to him. He is 20 years old and he is working hard to develop a bigger stamp for himself on what is a very difficult stage. What he shows is called guts, grit, determination and an unwavering drive to learn and be the best he can.
I would almost guarantee all these people criticising Kyrgios for language would have no hesitation is using the same words themselves not one minute after handing out their wrap over the knuckles. They are carrying on as if he is unique. Why was the criticism of Serena Williams during the French Open final not of a wider nature? She would have made a sailor go purple. What about the string of four-letter words constantly delivered by Andy Murray when he plays?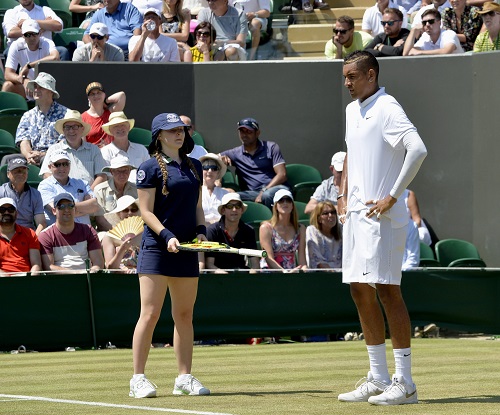 Lleyton Hewitt had the same sort of criticism directed at him when he started playing and, again, "observers" said he needed to be stopped or it would affect his tennis – two majors, year-end world No.1, Davis Cup by BNP Paribas, season-ending championship. The list can go on. Didn't seem to affect him too much.
Consider Andy Roddick, the same thing, Marat Safin, Pat Cash, Fabio Fognini. I could keep going.
More often than not Kyrgios is directing it at himself. By comparison Hewitt called someone a "spastic" at the French Open, referred to a crowd in Australia as "the stupidity of the Australian fans" and then there was the James Blake match at the US Open.
With Kyrgios there is a massive element of happening in the heat of battle.
Tennis does not need and cannot need everyone to be like Roger Federer or Rafa Nadal or Novak Djokovic. The different personalities, personalities that enhance the attention of the sport is what is needed. Nick Kyrgios is the perfect candidate for that.
What others think of him or what he says or does or how he struts his stuff with an air of take it or leave it, is not something he cares about. Maybe that's the crux of the problem but it is not his problem, it is the problem for everyone else because they can't come to terms with it.