The 129th Wimbledon championships are now so what are some of the big name players saying going into the year's third major.
NOVAK DJOKOVIC
Q. This isn't the first time that you've come here losing the final match at the French Open. Was the match with Stan more difficult to recover from than the others you had in Paris?
DJOKOVIC: Well, obviously because it was the finals, and that the most important match of the tournament for me. That's the match that I wanted to win, but it didn't happen, mostly because I lost to a better player that day.
I had to admit, no question about it, I could only just congratulate him because he was the one that was taking his chances, stepping into the court, being brave, coming up with some incredible shots. He deserved to win. There's no doubt about that.
Maybe I could have done a few things differently. But it's all behind me now. I'm experienced, and something that tennis has taught me over the years, to move on, and to be able to do that very quickly.
You have two out of four most important events in the sport just within three weeks' time. You need to be able to reset very rapidly and get yourself a new motivation and inspire yourself to keep on going. This motivation and faith has to be even stronger than it was three weeks ago.
So, you know, I've been in this particular situations before. It's brought me a lot of mental, emotional strength. Because of the matches like against Stan, I have become stronger and I've learned how to grow in the process. Hopefully I'll be able to do that again.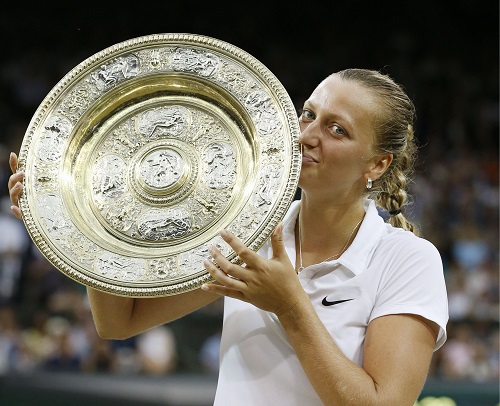 PETRA KVITOVA
Q. Must feel great to come back as the reigning champion and see all the courts. How do you feel after a year you had to take a couple months off? Do you feel back in form?
KVITOVA: For sure, it's really nice to be back. I really missed it all year. I'm really glad that I can be able to play here again. I'm getting better. Unfortunately I get sick in Eastbourne. Every day is better. So I hope on Tuesday will be good form. Of course, the preparation, because I got sick, wasn't perfect. But I'm trying to find a good form.

Q. When you think back to your two titles, 2011 and last year, are there one or two memories that always stick out or is it a blur in your mind, those moments of winning?
KVITOVA: Of course, was the match point is probably the best memories from both titles. I think the last year was more special for me. It was really great journey through the tournament. The holding the trophy, once again, was great. So that's the best memories which I have.
ANDY MURRAY
Q. Doing something you've never done before is always an achievement. You've never even got to a clay court final before. Suddenly you win two clay court titles in seven days. How much of a boost to your self confidence was that overall?
MURRAY: Yeah, it was very important. You know, I changed my clay court schedule a lot this year. Obviously, it was very different to previous years. A lot of that was also down to the communication with my team, as well.
I didn't actually feel like I played that well in Munich, but I managed to win the event. It gave me big confidence going into Madrid. Yeah, obviously ended up having my best clay court season by far. So, yeah, winning that first event in Munich, even though it was a smaller event, made a big difference to my confidence, especially on that surface.

Q. I don't know how many newspapers you've read or any websites, but there's a lot of people that are tipping you to win this tournament. How aware are you of that and how do you not let it affect you?
MURRAY: Well, most important thing is to concentrate on your first match really, and prepare for that. You know, like I was saying with the situation that Serena's in, it's very easy to get carried away and look ahead, think, I'm playing great tennis, everything's going to be fine.
But the reality is it doesn't really matter what's happened the rest of the year or in the build up to the event as I think Stan proved at the French Open. You have to make sure you're ready each day for every opponent that you come up against. I'm certainly not getting carried away. I know how difficult these events are to win. I just concentrate on the first match and try my best to get through that one.
ROGER FEDERER
Q. Last year's final, five sets, a heartbreaking loss. Coming in this year, how much does that motivate you and how hard was it to move on from that loss?
FEDERER: I'm not sure that last year's finals actually does anything to my performance this year. If it does something, it goes to show that last year, I was playing well. I wasn't playing great, and I made the finals.
Again, I did end up playing a great tournament. I played some really good tennis. I didn't expect myself to right away make the finals. To be honest, I was still somewhat on the way back. But things went faster than I thought they would.
Whereas this year I feel my game is better. I've gotten used to the racquet. This is not the first time I'm at Wimbledon with Stefan Edberg. The work I've put in with Severin, my coach, I could really aim for Wimbledon this year. Whereas last year, it was all about getting back. I feel like more I see a big picture, not so much what happened last year. If I do look at last year, I see more the positives than actually the heartbreaking loss in the final.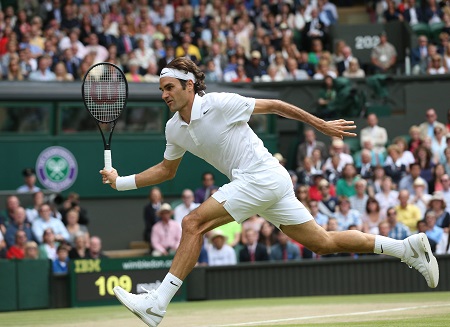 MARIA SHARAPOVA
Q. How are you feeling with the grass season? How does it feel to have more time for here?
SHARAPOVA: Yeah, well, it was a little bit of a different situation. I was hoping I could play a warmup tournament leading up to this. But due to the circumstances, the way I was feeling, actually I had to go back home and do some tests, run through all that.
It took a little while for me to really refresh and recover and, yeah, give myself just a chance to feel good again and get back to work. I planned on going to Florida. But then I needed to do a few things back in California for my health.
Then just came here as soon as I got the green light to start the training. It's been a really good 10 days. To finally have that energy, I think that's quite important as an athlete. But, yeah, despite not playing an event, I've played a few practice matches, played a practice match in Eastbourne. It's been going well so far.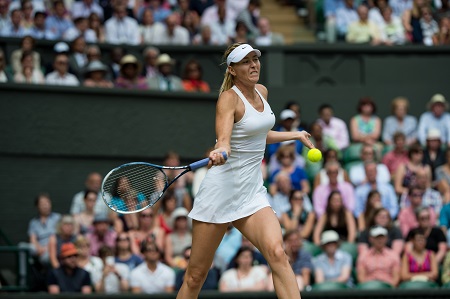 RAFA NADAL
Q. What do you like most about playing on clay and what do you like most about playing on grass?
NADAL: You know, playing on clay, obviously when I had the feeling I was playing at my best, the better feeling is I have time for everything, and I have the possibility to play with tactic, I had the possibility to play with different styles, aggressive, more defensive. That makes me feel under control almost all the time.
On grass is a different story. On grass, the feeling is you have to be very focused all the games, every point. You cannot have two mistakes in a row or three mistakes in a row with your serve because almost you lose a set.
So is a big difference. Is a good chance to go more to the net. Is a good chance to do different things that you are not doing very often on the tour. Try to have fun with that.
STAN WAWRINKA
Q. What's it like coming here having just won a Grand Slam? Does it feel any different? WAWRINKA: Well, I feel good. I just feel good. I'm happy with what I did two weeks ago. No, I feel great. For sure, a lot of confidence in my game. I feel great on the practice court. That's it. But since few days, I have to focus on the next one, on Wimbledon, starting Monday, trying to be ready for that. I've been practicing quite good since two weeks now, since I arrive for the Queen's. I'm happy with the way I got my preparation.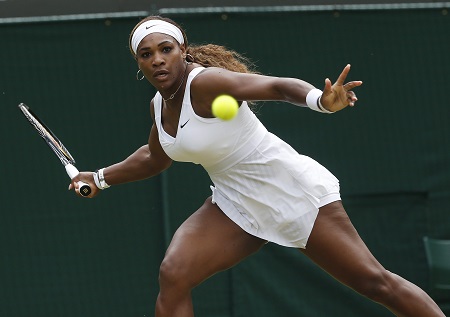 SERENA WILLIAMS
Q. You haven't been at Wimbledon before having won the first two majors of the year. There's a lot of talk about the calendar slam. Is there any difference in your preparation? Does it make this Wimbledon feel any different?
WILLIAMS: Personally, it doesn't make it feel any different, which I think is a good thing because I don't feel any pressure to win all four. I've been saying that, but I really don't feel that pressure. Maybe if I would happen to win here, then maybe I might start feeling it after that. Ultimately, I'm taking it one day at a time and I'm not thinking that far.
Q. Any motivation from what happened last year and the year before?
WILLIAMS: I think the fact that I lost so early the past couple years definitely makes me motivated. But I think that also gives me a little less pressure because I haven't done well here in the past two years. It makes me feel like, Okay, I'll be fine. I have nothing to lose here. I don't have many points to defend here. So it's just like trying to have fun, go through it.