Tennis legends Chris Evert and John McEnroe assess the situation going into Wimbledon.
Each year leading into the Wimbledon Championships, ESPN the American cable TV sports network, hosts a conference call with two of their lead commentators who also happen to be among the greatest players tennis has seen, Chris Evert and John McEnroe.
Here is an excerpt from that conference call.
Q. Can Serena Williams continue her major streak we've seen so far? Two down, two to go on the calendar year Grand Slam. What are some of the obstacles she has in front of her to win at Wimbledon?
CHRIS EVERT: I think Serena's got a great shot. To me her game is better suited to the grass courts than it is to the clay. She struggled through the French, remarkably winning it. But her game, just because of her serve, she's going to get free aces. Her power, her mobility on the court. It should be one of the easier Grand Slams for her. We've all read that quote: These matches are all on her racquet. It's kind of true at this point. Her adversaries are going to be basically motivated day in and day out for two weeks. She's got to be sharp. She's got to be motivated every single match. Basically her health and injuries. I mean, it's all up to her. When she is at her best she is better than anybody else. But at the same time we've seen some hiccups and we've seen some drama, like at the French Open. She can't afford to have any more drama like at the French Open. Then the last couple of Wimbledons have been as well, especially last year losing to Cornet. It wouldn't surprise me if she won. At the same time it wouldn't surprise me either if she had a bad loss because I think the number one key is the motivation. As you get older that is not always there every single match and it's not something you can manufacture.
JOHN McENROE: I was going to add that. Obviously Serena's playing better than anyone. There's no question about it. She's chasing history in terms of her Grand Slam titles. I assume even though she's still playing arguably her best tennis, you have to wonder at a certain point how long that can keep up. I'm sure she is. There's got to be a sense of urgency. She's going for a (calendar year) Grand Slam, which is obviously so rare. That should be significant motivation. The only part that would worry me is she had as many lapses, Chrissie referred to the French, where she got through just on her ability and will at the end. But on grass, a couple bigger hitters like a Kvitova, but if you get yourself in a hole, some of the women could get away and win more points on the serve than they would on a clay court or a hard court. They're not as easily attackable because of the nature of the grass being a little bit more difficult to gauge where the ball's going to be, even though the court has been truer than it's been. I think five of her seven matches she won in three sets. She was down in a number of them. I anticipate, because naturally she's so great on grass, that that won't happen. There's a few more people that can cause problems if it does.
CHRIS EVERT: John, you're 100% on the money. To further that even, on the clay, you have the luxury of playing your way into a match a little bit more. Even when she was a set and a break down, she could still play her way back into it. As John says, she gets a Lisicki, who has a big serve, Kvitova, Azarenka, somebody who is hot that day, grass is not the same surface as clay. You can't play your way into it as easily.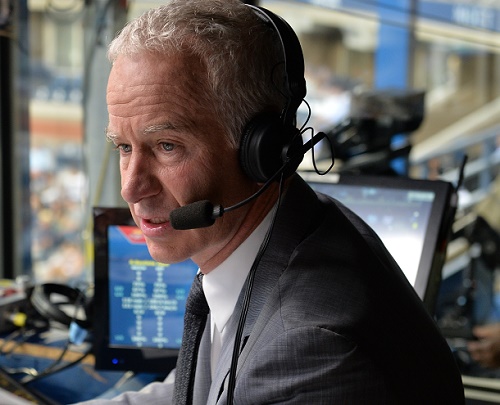 Q. A lot of the top players, Federer, Djokovic, Murray, have switched coaches around to bring new insight into the game. Rafa hasn't done that. He has his uncle. Is it time he brought in a new outlook on the game, someone to come in and help his uncle? If he were to pick you two guys to come in and give advice, what would you say?
JOHN McENROE: First of all, you're talking about one of the greatest players that ever lived. There's no question about that. He's had unbelievable success with his uncle. If you don't think that there's people around Rafa's camp over the last even half dozen years, certainly the last couple, that have thought, Hey, let's bring in someone else, I think you'd be mistaken. I'm sure they're always trying to max out the top guys. I'm sure that's come up. It depends who you ask. Obviously Uncle Toni has had incredible success. I'm guessing he's not as open as some of the other people in his camp to thinking that they should bring someone in. A lot of it, and I bet you in his mind, is simply the fact they're managing injury as opposed to his game going away.
As far as the second part of the question, I've watched Rafa a lot. It seems to me like you look at him and it's Rafael Nadal. I can't quite pinpoint, because I went to watch him up close at the French, I've seen him on TV a lot, it's difficult to say, and I wouldn't be able to tell you just like what I think he should do. I would need to spend time with him and sort of figure out what is going on in his head as well as what's different about his training, if it is different, that he can't practice as much because of the knees. His legs don't look as strong to me. He doesn't seem to have that first-step quickness. Sometimes it's like, 'Is it me or is it actually happening?' It's difficult to say. He came off winning the event in Stuttgart, lost first round in Queen's. There's something that doesn't seem quite right, but I couldn't pinpoint it. I couldn't tell you right now, without spending some time with him, what to do with him right now. I think in certain ways it's not about the shots, it's more about what's inside his head and how healthy he is.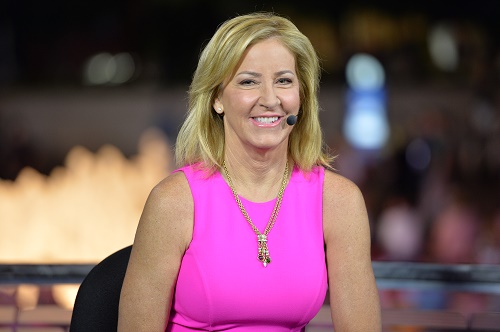 CHRIS EVERT: Yeah, I think these other players like Federer with Edberg, Murray with first Lendl and now Mauresmo, and even Djokovic with Becker, I think a lot of it was mental. I think a lot of it was they were maybe feeling that they were losing a little bit. I know with Djokovic he lost a few finals. Federer's trying to get that next Grand Slam. I think it was they hired these coaches not as much for the physical aspects of the game, but more for the mental inspiration and experience, just a new set of eyes, a new set of ears. This is the first time in the last year really that it's been this sort of serious where he's definitely lost his form. That was evident on the clay court, during the clay court season. In past years he's always been able to get it back in the clay season. This is the first year. So maybe since it does seem to be a little bit mental, maybe they will think about it now just for inspiration reasons. I agree with John. The moving isn't as strong as it has been in the past. I think even more so than this, just listening to him talk, it's the confidence. You have to almost be a little arrogant to be a champion, and that seems to be missing, too. Maybe this is the time. Not to change anybody in his team, but to bring somebody onboard that can inspire him a little bit more, like a John McEnroe.
JOHN McENROE: Yeah, I'm ready. I'm somewhat committed to the secretary of defense with the (Donald) Trump (Presidential) campaign.
Q. Chrissie alluded to Serena's hiccups at the French. Can both of you address this unique ability she has, particularly lately, no matter how down she may look, lacking energy, she can almost flip a switch and turn a match. Have you ever seen anyone do it so consistently and successfully? Would you call it a weapon, a bad habit? Is it more mental, physical?
JOHN McENROE: I wish I knew the answer to that because I would have done that more. To me, she's like the greatest. I've never seen someone come back from behind as much as she has. I can't believe she's got this will and belief at like really critical times. That tells you something about how incredible she is. To me, Chrissie won 18 slams in singles, and Serena's unbelievable. I think it was 33 times she has come from a set down at majors. It's got to be way ahead of the next closest person. She was close to losing, and she's been down match points, come back from those. To maintain that belief is something that is like a gift. It's like having a great serve. She's got the greatest serve in the history of tennis. You can rely on certain things.
CHRIS EVERT: I think in the French, you had two things going on. I think she was starting out slowly. In the beginning of the week she would go out and cruising along was good enough. She got herself into trouble. I think later on in the tournament, she was definitely ill. You could tell, with the coughs. She probably even had a fever. I don't know. I think having the flu, I think that slowed her down a little bit.
But I still maintain that when you get into your 30s, and I know this from my own experience, my last US Open I played probably one of the best matches of my life by beating Monica Seles 1 and 1. The next round I lost to Zina Garrison who I owned, I never lost to Zina Garrison. I was flat. I think sometimes she comes out flat. Sometimes she comes out maybe not 100% fully engaged. She kind of cruises along. Then it hits her, like her pride, I don't want to lose this match. I don't want to lose this match. It's not going the way I want it to go. For some reason she'll start slapping some winners, she'll give you that scream, then she's won the match. How she digs herself out of holes, I think she gets mad at herself, and that is the motivation, that gets her going. She is the best with, by the way, Maria Sharapova close behind. Maria is also a champion at being down a set and break, being down in a match, and finding a way to win it.
JOHN McENROE: If getting mad would have been the criteria for coming back, I would have been the all-time leader in the men's. Azarenka, that was the best I've seen her play since she got hurt by far at the French. 6-4, 4-2. It was looking dicey. Serena finds that extra gear. That's not easy to do, especially when you're not playing that well.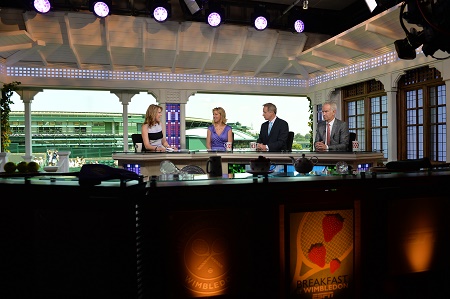 images courtesy of ESPN