Stan Wawrinka has the experience under his belt now and knows how to handle life with a second major.
Stan Wawrinka's victory at the French Open in one of the great finals of recent years defeating Novak Djokovic, made him the winner of two of the last six majors.
His first crown at a major, the 2014 Australian Open, was an eye opener for the Swiss and he did not quite understand what people in tennis who had been around a long time, meant when they said his life would be changed forever. Wawrinka got to learn exactly that over a six month period.
The Swiss was no longer the also-ran Swiss, or the person who once referred to himself as the "Swiss who always loses", by comparison to his illustrious countryman Roger Federer. Wawrinka no longer lives in the Federer shadow. Granted he will never achieve what Federer has achieved, but he is his own person and personality now.
There was a time, in fact for most of his career that he would invariably defer to Federer when it came to decisions in tennis. It was not unlike what Rafa Nadal would do. Federer was sort of an older brother and while they remain good friends despite the fracas between Wawrinka and Federer's wife Mirka last November during the ATP Word Tour Finals in London, Wawrinka appears to have separated himself from Federer to quite a degree.
When he beat Federer at the French Open, which was only his third win in 19 matches against Federer, the second question he was asked in the post-match media conference made reference to a specific Federer statistic, rather than focusing on Wawrinka's outstanding win. Wawrinka rightly felt a bit put out.
Many in the game believed that the Australian Open title would be his only major, especially because he was already in his 30s, and that he would go the way of so many before him; players with one major like Michael Chang, Mark Edmondson, Juan Martin Del Potro, Michael Stich, Albert Costa, Juan Carlos Ferrero to name some.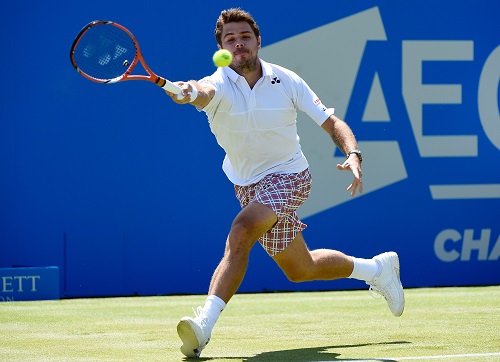 His results after the 2014 Australian Open title provided fuel to that view. They were incredibly disappointing, for example he lost first round at the French Open four months later.
He definitely struggled to come to terms with the added attention and pressure and the fact that he was also now the No.1 Swiss player. He was not playing second fiddle - in fact at Davis Cup by BNP Paribas it was Federer who was playing No.2 singles.
But this time with the trophy of a second major on the mantle, you get the distinct feeling that it is all different for Wawrinka. He has the experience of winning a major and he knows how to handle the expectations and he has learnt from the past.
What happened before should not be seen as an error in judgement, but in fact a detour on the road to further success.
"Australia, everything was new and I didn't know what to expect," he said. "You win a first Grand Slam, especially in that era and you have only the big four winning Grand Slam since 10 years. So that was a big thing for myself. I did few mistakes after. I had a lot of ups and downs. I had to learn and to change the way I was and trying to adapt myself to my new life.
"I think (Roland Garros) is bigger in what I achieved. I'm enjoying more. I think I did bigger tournament playing better, but what's coming after, I have more under control. I had one week off with some big up and down, and I have to realize what I did, but I'm controlling more what I'm doing, because I had the experience from the first one.
"And also, because I don't have really a choice, because grass court is here. So I have to put my focus already on the next tournament (Queen's). I have to focus on the tennis again. Maybe the little mistake I did after Australia is I took six weeks off tennis tournament. That was maybe a little bit too long, so that's something completely different now."
"Stan the Man" is a more relaxed individual now despite the fact that he is also overcoming things in his personal life that don't need to be delved into. There is a ready smile rather than the burden of being in unfamiliar territory as the winner of a major. He knows what it's all about.
Oh and if there is any inclination to poke a bit of fun at him, then just refer to the hideous shorts he started wearing during Roland Garros. The publicity around them has certainly given his endorsement company Yonex plenty of attention.
Maybe the headline after the French Open could have been: SWISS STAR WEARING SILLY SHORTS WINS ROLAND GARROS.