Andy Murray is coming off his best season on clay and looking to duplicate that on the grass courts of England.
Andy Murray is coming off the best year of his life on clay. Two titles, his first two, on the surface including beating Rafa Nadal the "king of clay" in the final of the ATP Masters 1000 in Madrid and reaching the semis of Roland Garros where it took Novak Djokovic five sets to stop him.
Now, underfoot is his favourite surface grass and the world No.3 would have to be a strong favourite to score a sweep of London's grass court events – The Queen's Club and Wimbledon.
Murray has not only enjoyed the best clay season of his career but the whole year has been incredibly positive for him starting with reaching the final of the Australian Open for the fourth time, and coming into Queen's he has recorded a 31-5 win-loss record.
He has cemented his place at three in the rankings and is probably knocking on the door for No.2 when you consider that Roger Federer has a bag full of points to defend during the grass and hard court circuit that is to follow.
"I don't know if this year more than others (is my time), I have the same attitude," Murray said. "Last year was tough coming off injuries and I didn't think it would be that hard. This year I've been reading things from the start and playing extra well this year and have to be happy with that. I will take my form from the clay onto grass and build on that – I can take confidence from that."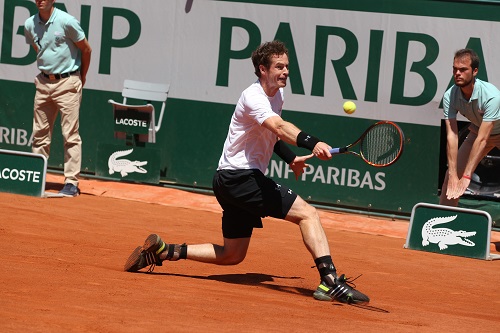 Going from red clay to grass is the most extreme of surface changes in tennis but Murray feels he does not take long to get used to the movement aspect.
Certainly there are different stresses on the body and maybe a player feels different muscles are a bit sore after early sessions on grass. Grigor Dimitrov made that point following his initial practice sessions on grass when he was asked about changing directions on the surface compared to sliding into the ball on clay. Amusingly he explained it by saying "that different parts of me were a bit sore".
This year is the first year that there is an extra week between the French Open and the start of Wimbledon to allow players to acclimatise to grass.
"The extra week is healthy for the tour but it should be longer; the grass season should be longer and maybe there should also be a Masters 1000 on the surface," Murray said. "For three months in the build-up you are moving in a completely differently way so that would allow more time to adjust."
Irrespective how well Murray might, or could, be playing things are not always going to go the way you want it to; sometimes matches just don't pan out the way you want but recovering after those is important and he has definitely shown he bounces back smartly.
Even if he does not win at The Queen's Club he will go into Wimbledon as one of the firm favourites. It remains to be seen, but he might be in a better frame of mind than Novak Djokovic who put everything into winning the French Open and came up second best.
Murray's chances of winning a second title at the All England Club this year are way better than last year when he had the pressure of defending the crown and was still working his way back after back surgery.
He also just seems to be a different personality these days, one who is so much more in tune with everything around him.