Serena Williams and Lucie Safarova meet for the ninth time when they play the final of the French Open.
"Doctor, doctor gimme the news …" is something that Serena Williams might well be wanting to know as she tries to prepare herself for the final of the French Open and taking on Lucie Safarova for the ninth time to win the Coupe Suzanne Lenglen.
It was clearly evident that Williams was in a very distressed state during her semi-final match against Timea Bacsinszky who missed an opportunity that might not surface again in a match with Serena Williams.
The Swiss player was up a set and a break and then realised the position she was in. As we have seen so often, the nerves set in and as sick as she was, Williams, with this horrid dose of flu that has been going around (Maria Sharapova was also unwell), was not going to miss the chances that were before her.
Williams is thinking she is not going to hang it up as bad as she feels because the other player might have something happen physically in the match, she might crumble, who knows, so you keep trying, and if you do win then you know there is a day off before the final to recover.
What's that they say about being aware of a wounded animal, that's when it is most dangerous? That same can be applied to Williams, when things get really uncomfortable as it was in the semi, she finds something deep inside that keeps her fighting.
A lesser player would have given in – Williams was lethargic between points, she was slumped on her courtside bench between games, she walked gingerly between points and she was frequently doubled over.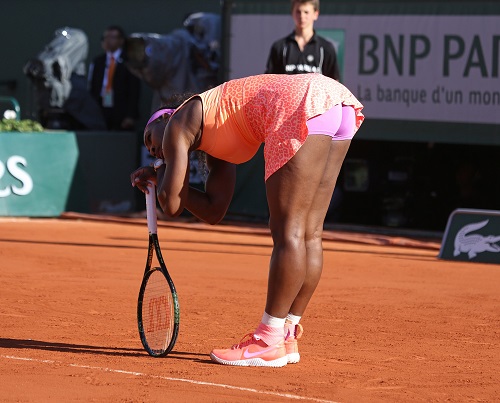 But, Williams does not know what throwing in the towel is all about. She has a never say die mentality because she always believe she can win. To reach the final she has played four three set matches in six matches. Not since Iva Majoli at Roland Garros in 1997 has a woman done that to reach the final of a major.
Williams is playing her 24th final in the majors and chasing her 20th title, Safarova is in her first final – her previous best was the Wimbledon semis in 2014.
The Czech accounted for Ana Ivanovic who had points for a 5-2 lead in the first set. Irrespective of what the score is, one rarely is convinced that Ana will close a match out, which is a shame because she is a good player but frequently too fragile mentally.
Ivanovic admitted that nerves got in the way. That's where Williams is so different and why she maintains her place as world No.1, her mind is like a steel trap which is not lost to Safarova.
"The happiness is unreal," Safarova said about her first final in a major. "I'm really excited to be at this point in the finals, and I will go and enjoy each moment there. Serena is No. 1 in the world, great player (but) I will just go there and play my game and obviously try to get the trophy."
Certainly Safarova is way more experienced that Bacsinszky and if the same happens in the final with Williams then Safarova is more likely to capitalise, even though she could have a mental block of having never beaten the American in the eight matches they have played.
How Safarova plays in the final will obviously be important as will her ability to put the nerves to one side; this is completely new for her, but what is likely to be a bigger factor is how Williams's health is and with that in mind how Safarova handles that situation.