Novak Djokovic won Rome for the fourth time while Maria Sharapova made it three coins in the fountain there.
It was a fourth time for Novak Djokovic and a third title in the Eternal City for Maria Sharapova as the respective world No.1 and No.2 claimed the Internazionali BNP d'Italia. Djokovic narrowed the gap against Roger Federer by scoring his 19th win from 39 matches with a 6-4, 6-3 result while Sharapova posted her toughest win against Carla Suarez Navarro coming back to win 4-6, 7-5, 6-1 in two hours 35 minutes.
The win was Djokovic's 22nd match win in a row. He has now won every ATP Masters 1000 he has played in 2015 – that's four of them; five have been played but he chose to skip Madrid. It is a reminder of his amazing run from 2011 when he was undefeated till the semis of the French Open.
"The fact that I have managed to win so many matches in a row gives me reason to believe I can do it again," Djokovic said. "Something present in my conscience and I want to keep it going as long as I can. I don't want to think over fear or everything else that can be an obstacle and interrupt the streak. I always try to do my best no matter what is the tournament and this kind of mindset has helped me to be where I am.
"I don't know if I can repeat what I did in 2011. There are things out of my control. What you can influence is the present and how you can get in the position to do well in the future. Hopefully this mindset is going to take m far at Roland Garros which has been a priority for me so far."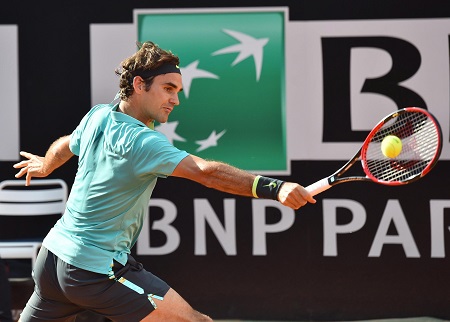 It was the fifth time in the last decade that the top two men's seeds have met in the Rome final but the first time the top seed has won. Going into the final Djokovic and Federer each had 23 career ATP Masters 1000 titles, Djokovic has now moved into clear second behind Rafa Nadal on 27. For Djokovic this marks the fourth time that he has been on a 20+ match win streak however it is Federer who leads the way with seven such streaks.
The Swiss also lost finals in Rome in 2003, 2006 and 2013. Monte Carlo and Rome are the only two ATP Masters 1000's he has failed to win while Cincinnati is the only event at this level Djokovic has never won.
"Considering the week I had really good matches and today 80% of the match was good too," Federer said. "I know I can play better too. Novak was rock solid today, he played great throughout and he made very few unforced errors. He was able to take the opportunities that presented themselves. I'm happy, feeling good and healthy and looking forward to Paris."
For Sharapova the victory was the 35th title of her career and she extended her record against Suarez Navarro to 4-1. The win pushes her back to No.2 in the rankings while Suarez Navarro will be at No.8. This is Sharapova's eleventh title on clay which ties her with Serena Williams for the most clay titles amongst active players. It's her first title since winning Brisbane last January.
Sharapova closed the match with her 39th winner, an inside out forehand but it was quite a grind.
"She was winning way too many points on her serve that I should have won and I started doing a little more on the return," Sharapova explained. "It wasn't easy to get her rhythm, the way she plays and I had to adjust to the wind. I never felt like it was very clean until the end of the third set. It was good to hang in and stay positive."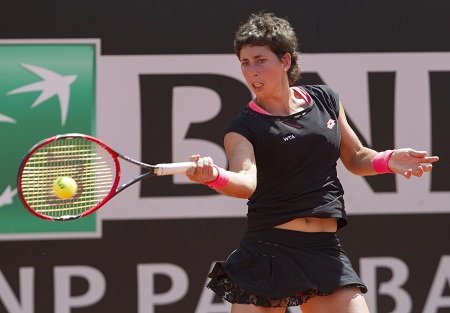 For Suarez Navarro, this was a big stepping stone heading to the French Open even though her record in finals is a disappointing 1-8. However, reaching two big finals this year, Miami and now Rome, gives her a boost for Roland Garros and she could certainly do what Simona Halep (who she beat in Rome) did twelve months ago … reach the French final.
"It was a really close match and I know I must start well but I feel tired, but I've been fighting all the time," Suarez Navarro said. "At the end of the second set Maria play more aggressive. I think that was the key … anyway she also played really good. I said I was a little bit tired but I think I played good."
So that's it from the last of the biggest events leading to the French Open and now there is heightened anticipation for Roland Garros starting in Paris on Sunday 24th May. Tres bien!