The finals at the Internazionali BNL d'Italia will see Maria Sharapova take on Carla Suarez Navarro and Novak Djokovic will face Roger Federer.
How much of a boost for the French Open will the respective winners of the Internazionali BNL d'Italia receive? Will Maria Sharapova or Carla Suarez Navarro go into Paris brimming with confidence, and will the same be the case of Novak Djokovic or Roger Federer?
Winning a title will always provide a player with added ounces of confidence but all of these competitors know there is a stark difference in winning one of the majors to winning even the biggest events on the regular tour.
Don't get me wrong, winning a title like the Internazionali BNL d'Italia is tough enough and is an outstanding achievement. It is a highly sought after trophy and no doubt would put a spring in your step, but the conditions in Rome at the Foro Italico are quite different to the conditions at Roland Garros for the French Open.
The clay in Rome is generally regarded as a bit heavier than in Paris and players have complained about the condition of the courts, but the bigger factors are: a) Paris is across two weeks and it's a matter of pacing oneself b) Paris is played over five sets for the men c) there are 128 in the respective main draws and the early rounds can be awkward d) with a day off between rounds (weather permitting) it can be more of a rollercoaster with emotions.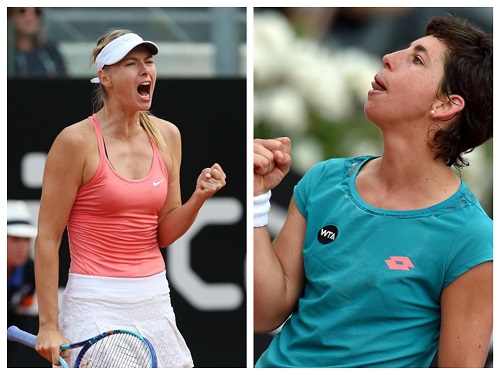 Getting to the final in Rome, Sharapova avenged her loss to Daria Gavrilova from Miami which was their only previous meeting, 7-5, 6-3 in one hour 48 minutes and by that score line, she still did not have things all her own way. Gavrilova is classed as Russian on the regular tour but at the majors she is listed as Australian because she will converted to Aussie citizenship and resides in Australia and dates Aussie player Luke Saville. It's a ridiculous and confusing situation that Tennis Australia pushes, but that's a story for another day.
Suarez Navarro meanwhile accounted for Simona Halep which was the biggest win of her career, coming back from a set and an early break down to win 2-6, 6-3, 7-5. Suarez Navarro won six of eight games in the second set to get herself back in the match before winning a see-sawing final set marred by continuous service breaks and had her two points from losing the match. She closed it on her third match point when Halep netted a forehand.
That result has allowed Sharapova to move back up to No.2 in the rankings irrespective of the outcome in the final, and Halep will slip to No.3. For Suarez Navarro it was a double bonus because it was her first ever win over a Top 2 player, having lost the previous nine she played, and it guarantees her a Top 8 ranking.
For the French Open it means that Sharapova will be seeded two putting her on the opposite side to Serena Williams, while Suarez Navarro will be seeded at least eight, but if she wins Rome will go to seven. She could very well be this year's Simona Halep who reached the Roland Garros final last year.
"(The final) will be a different match I guess, against a clay court specialist," Sharapova explained. "She grew up on the clay. I beat her the last couple of times, but I've had losses against her and I know what a difficult player she can be. She seems to be playing with a lot of confidence, very dangerous, especially going into a final. She has one of the best one handed backhands on the women's tour. It will be a tough final."
But with the weather expected to be hot, the court should play a bit quicker which in theory should help Sharapova. Suarez Navarro says she is more aggressive. Something she had to become with the help of a new racquet.
"Maria is very good mentally, she is very strong and plays aggressive in the important moments and this is really important," Suarez Navarro said. "I learn a lot from being in Miami final but this is clay final and I play better on clay so we see."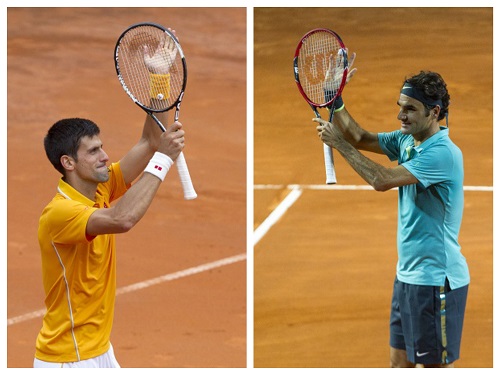 Djokovic and Federer will meet for the 39th time and going into the Rome final its 20-18 to Federer. Both had comfortable semis wins – Djokovic stoped David Ferrer 6-4, 6-4 and Federer stormed back to beat Stan Wawrinka who upset Rafa Nadal, 6-4, 6-2. Wawrinka led 3-1 in the first but Federer went on a charge to win six of seven games, then opened up a 5-1 lead before closing it out.
This is the sixth Rome final for Djokovic who has won the title three times including last year while its Federer's fourth final in his 15th Rome appearance. He has never won the title. Probably his best chance was in 2003 when he lost to Felix Mantilla, but then also lost 7-6 in the fifth to Nadal in 2006.
"I don't know, I feel very casual about it. I just like winning a title; okay it's Rome and it's one I have never won and you may think it's a special one but it's not for me. It's weird to explain, it's just the way it is," Federer said.
"I feel like I have a chance to play for sure. Novak is not Rafa on clay so it's a different situation. I've done fairly well in the past against him (but) we've played here twice before and I lost both times so it's up to me to put in a good performance."
This was in no way a put down by Federer of Djokovic; he was referring to Nadal's record on clay over ten years. However, this year has been very similar to Novak's 2011 standout season.
"It's very encouraging," Djokovic said. "I have not allowed myself to have a drop in concentration and allow my opponent to come back in the match. Against Ferrer consistency is the right word to use. My performance is satisfying and it is giving me enough reasons that I can play at these levels and maybe better in the final. I'm glad to feel this way."