Petra Kvitova wins her biggest title of the year while Rafa Nadal and Andy Murray will square off for the men's Madrid title.
In only her second WTA event back after a bit of a break and her third event overall (Fed Cup by BNP Paribas), Petra Kvitova has won her second title of the year and the biggest of her year so far, the Mutua Madrid Open. The world No.4 Czech who outclassed Serena Williams in the semis, it was Williams first actual loss of the year, demolished Svetlana Kuznetsova who posted a solid win over Maria Sharapova in the semis, 6-1, 6-2.
"You know, the first time I won here (2011 the year of her first Wimbledon crown) was really unbelievable year for me. It was the best year which I had," Kvitova said. "You know, it's nice to have the trophy again at (my) home and winning on the clay after the break, which I didn't expect. So for me it's really nice to sit as a winner. Most important, I still have a quite a lot of matches on my back going to other tournaments on the clay."
The head-to-head between Kvitova and Kuznetsova is now 4-1 to Kvitova; their last meeting, at the 2014 French Open went to the Russian 9-7 in the third.
This was a final between two genuinely delightful people but certainly Kuznetsova was not at her best as she struggled with a leg injury. She could have retired from the match but even after seeing the physio at the end of the first set decided to keep going. She said it was an injury she picked up following Fed Cup and which forced her out of Stuttgart, but this time felt there she believed there were still chances and she wanted to keep trying.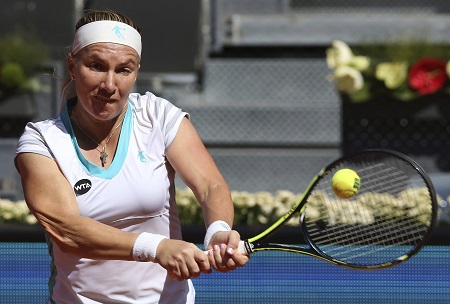 Kvitova has an impressive 16-5 win-loss record in finals but with her trade mark smile explained that she is not really able to explain such a solid stat. How about the explanation being that she is a superb tennis player?
"Happy for it for sure; it's better than (losing)," Kvitova said. "I think that I'm probably the person who like to play these big kind of matches, to play the finals, the big tournaments, the Grand Slam, play on the big stadium. Finals is why we are all playing tennis. We would like to win the tournaments and see this beautiful trophy. So probably that made more motivation in me. I'm not really sure how to describe it."
This was the first time in the five matches they have actually played that Kvitova defeated Serena Williams. Last year they were supposed to meet in the Madrid semis but Williams withdrew before the match. For Kuznetsova it was her first win over Sharapova in seven years and their head-to-head is now 8-5 to Sharapova.
"The week was great and I even surprise myself how I could handle everything, because I think I've had the most weird schedule in my life," Kuznetsova said. "Like some days I felt like I was basically sleeping on the court, not in my room. I just come there to take a nap and then I go back. I played first day at 11:00; second day I had a night match. Then in one day I have again night match.
"I mean, I had all the schedule possible. I was really tired, especially Safarova match. I was convincing myself to try to fight a little bit, and like if I win I pull out next day because I was totally destroyed. Next day I say, Okay, I try to go out there and play and I beat Maria. I did my best hanging out there. Today I was a little bit off and Petra was playing amazing game. It happens, you know. It's quite a good week, and I will take positive stuff out of there."
So with Kvitova winning one of the two biggest lead-ups to Roland Garros, her stocks have risen in the favourite stakes for the year's second major but she is trying not to get overly excited.
"I had a great run for sure, but the French Open, it's different," she said. "I was there in the semifinal one year so I know I can play good there. I just need to really more believe still. I should believe right now when I see this trophy, but I think there are a lot of great players who really can reach the peak of the French Open, and I will do my best to reach what I can in the moment."
The men's final will see the familiar face of clay Rafa Nadal taking on Andy Murray who won his first ever clay title the week before. Nadal moved past Tomas Berdych 7-6, 6-1 and Murray stopped Kei Nishikori 6-3, 6-4. It will be the 21st meeting between Nadal and Murray and Nadal leads their series 15-5.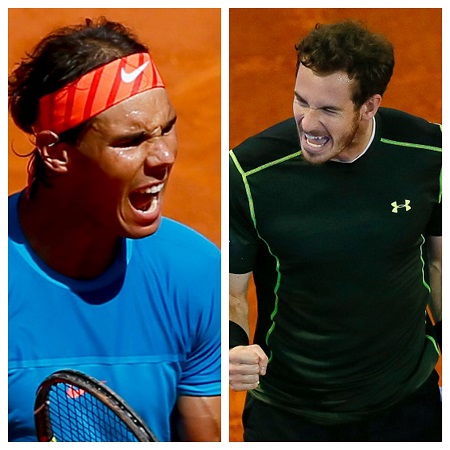 This is Nadal's seventh final in Madrid having won the title four times including last the two years, but it's only his first clay court final of the year having lost in the semis in Monte Carlo and in his second match in Barcelona.
"We're all thinking what do we need next and then what, what, always thinking about the next thing. I think the important part of the job is done. We had to go from less to more, recover good feelings, and play high level. I did that, especially during the last two days," he said.
"With better rivals day after day, they were demanding a lot. I managed to do that, and today I had moments where I played really well. Very, very well. So (final) victory would also give me another Masters 1000 title and also be at home. That means an awful a lot. But a week ago I would have signed for what I've done. I would've signed without even thinking about what I've done, even making it to the final and losing it."