Novak Djokovic and Andy Murray will square off in the final of the Miami Open. It will be their third meeting this year.
Andy Murray says he knows the main court where the Miami Open is played, better than pretty much any other player because that is where he does so much of his practice sessions and it is on that same court that he has also filmed TV commercials for one of his endorsements. Going into the final against Novak Djokovic maybe it will give him a few extra brownie points.
"I don't think I'll approach it differently," Murray said. "I've obviously played some good tennis here over the years. The reason for that is because I'm extremely familiar with the conditions, with the surface, the way the court plays.
"There are little things in the court that maybe players that haven't played on it that much won't really know. Because I practice on it all the time, I know how the ball bounces in certain areas and which serves work into certain spots on the court and how the ball responds off different spins. So that's why I feel comfortable on it."
But then Novak Djokovic has won the title on Key Biscayne four times and is looking to back up his victory from last year. The world number one should probably have just as much claim to knowing the stadium court very, very well. He goes in against Murray having beaten him on hardcourt nine straight times.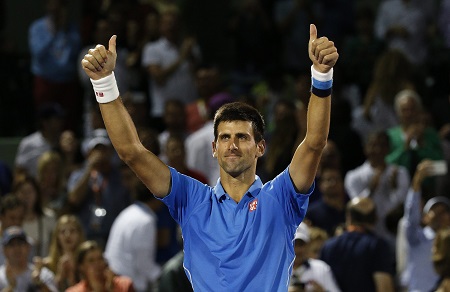 "Well, it's great to have that streak against him coming into this final of Miami Open," Djokovic said. "Obviously I will reflect on those matches especially the one, the most recent one in Indian Wells and prepare myself tactically for what I need to do and execute on the court.
"We're talking about very small margins that are going to decide a winner. I'm sure that both of us are equally wanting to win this trophy, so we'll see what happens."
This will be the fifth meeting between the two of them at Miami and Djokovic has won three – twice they have played in Miami finals and that's split evenly. This year they have met twice and Djokovic won both of those, the Australian Open final and in the semis of the BNP Paribas Open in Indian Wells. Overall Djokovic leads their series 17-8. The last time Murray beat Djokovic was the 2013 Wimbledon final and this is the first ATP Masters 1000 final for Murray since the 2013 Miami event.
"Well, it can only serve as a positive fact prior to our match," Djokovic said. "The fact that I won I think last six, seven matches that we played against each other, especially the one just recently in Indian Wells, gives me confidence and maybe a slight mental advantage.
"But we're talking about small margins. That's always the case when we play against each other. Very few points, details can decide a winner. We have very similar games. We already played twice this year, and of course in a big match in Australian Open final which was very, very physical, very close.
"I expect a battle, long rallies, and I know what is expecting me on the court. I know his game pretty well, as well as he knows mine."
Conditions for the final could be very warm. Murray is comfortable that he has played all his matches in the heat of the day.
"It can work both ways - he conditions are physically much more draining playing at that time of day," Murray said. "I've played every match here and in Indian Wells right in the heat of the day pretty much. Obviously played a couple earlier ones in Indian Wells. Still extremely hot by 11:30, 12:00 there. The benefit is you're used to the conditions. The conditions in the evening are different."