Roger Federer, Andy Murray and Serena Williams have all set tennis milestones so far this year.
The first quarter of the 2015 tennis season has been one of milestones. In Brisbane at the first tournament of the year Roger Federer became only the third player in history to achieve 1,000 match wins – he was behind only Jimmy Connors and Ivan Lendl.
In Dubai, Federer enjoyed another milestone when he achieved his 9,000th ace.
At the time Federer joked that it was a lot of matches and "a lot of wins thankfully; a lot of wins, the 1000 we're talking about".
"Clearly it's a great feeling. Couldn't have done it without so many people. Clearly it's a special day for me, winning a title (Brisbane) plus getting to the magic number of 1000," Federer said. "It feels very different to any other match I've ever won, because I never thought about anything, reaching 500 or 800. All those numbers didn't mean anything to me, but for some reason 1000 means a lot because it's such a huge number.
"Just alone to count to 1000 is going to take a while. It's funny emotions right now, but clearly very proud and happy.
"Some I've probably forgotten in the meantime. It's happened to me already in the past. I probably remember I would say 800 of them at least. I hope I do. Don't start testing me."
Now, at the Miami Open, two more milestones were reached. Andy Murray became the ninth active player in men's tennis and the 46th ever to score 500 career match wins and just a day later Serena Williams notched up her 700th career match win. For both there was an added good feeling because they both have apartments in Miami.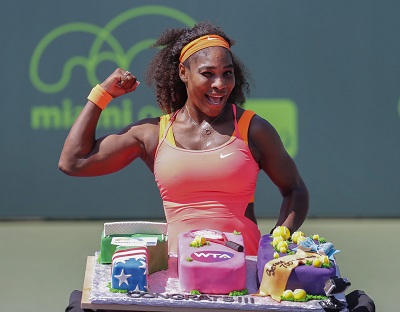 "Yeah, well, obviously there has not been loads of players that have done it," Murray said. "So, yeah, it's nice I think obviously for me the fact that it happened here, as well. It's just fitting just because I have spent so much time training here and working to get better and to improve. That was nice. I hope I've still got a lot more wins in me. To get to 500 is good. It's not an easy thing to do at my age. It's nice. Hopefully I can keep going.

"You know, pretty much all of the best players have won more and I hope for me this isn't the end and I can keep trying to progress. With each win you get closer to going past a great player. The people that are ahead of me have all done pretty amazing things in the sport, so that's what's nice about it. And, yeah, it also feels like it gives me motivation, as well, for some reason.
"I don't know why, but getting to 500, yeah, it gives me motivation to go on and try and win more. When you look at the list of players and the wins that certain guys have got, it gives you something to aim at, as well."
That 700th match win for Serena, which was against Sabine Lisicki, made her the eighth player in the Open-era to achieve 700 or more. She is now just behind Conchita Martinez on 739 while Martina Navratilova leads all with 1442. Williams wasn't sure if the 700 milestone motivates her like 500 did and does for Murray.
"I didn't know I had 700 wins. When I hit 500 I definitely felt that way. So now I'm like I just want to keep going, doing the best that I can. Just staying positive and winning as much as I can," Williams said.
She said she never thought as a child making her start things would turn out like this. And never thought she would be a champion at multiple majors
"I always wanted to the best (and) I wanted to win the US Open," she added. "Definitely didn't think about it. When you're that age at least I didn't; maybe some people do I didn't think about what my career would be like."
Oh, and as for cake, Andy likes chocolate cake and he got a regular sponge cake while Serena likes vanilla cake but got a chocolate red velvet cake.