Novak Djokovic is very comfortable where he is in the world.
Novak Djokovic has made it clear in no uncertain terms that he is at the peak of his professional career and he is in a very good place with his personal life alongside his wife Jelena and baby son Stefan.
He has all the money he could hope for - granted money doesn't buy happiness but it cuts out one worry. He is No.1 in the world and he has a young family that he adores beyond any compare. No wonder Djokovic is happy with life but he also knows things on court can't last forever.
"I am at the prime of my career and I'm going to try to use every part of this fact to stay where I am and to fight for as many major titles as possible," he said. "I know that my career, as any other career, cannot go forever. I cannot stay in the top for, you know, so many years. I'm going to try to have longevity in my career through every day, let's say, routines that I respect with my team, with preparations, recoveries, and of course consistently keep on motivating myself, finding that inspiration to play the sport in a high level.
"Because I don't play only for myself; I play for my family, friends, my country people around the world that support me. So it's always in the back of my mind. It's something that I basically attract from that a lot of inspiration to play and work hard."
Certainly there are moments in some matches when Djokovic will blow a gasket but that is not the norm anymore with him. He is calmer on the outside and doesn't give away too many of his emotions. That has to be the benefit of his life off the court.
Not long ago he tweeted a picture of Jelena and himself at a ballet class. His wife has been doing the class for a while but he joined in to be able to "spend more quality time" with her but the benefits are also there for him on court with the physical aspects.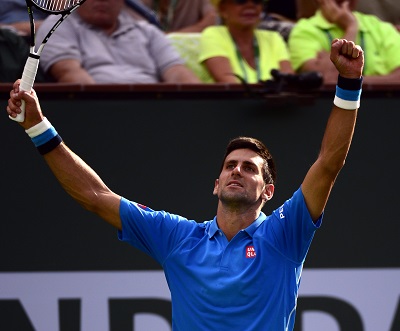 "I think people underestimate what ballet dancers are really doing and how much effort and energy they have to put in in dancing and creating such a gracious and beautiful looking moves, you know, with the music and everything; it's really an art. Now when I have actually done a whole session, I respect it even more," he said. "I used to like watching ballet, and now I'm even enjoying it being on the dancing part. I think that's something that maybe we as a couple can do more often in the future."
Djokovic says he works on growing professionally and privately every day. He makes it clear that he is grateful for all tennis has given him especially when you consider what he went through as a young boy in war torn Serbia. He said: "I don't take any day for granted. I believe each day is different. Every day is an opportunity to grow in your character values and kind of nurture certain life values that you been brought up with.
"This is kind of mindset that I have and the relationship with the close ones. I try to make an impact and carry this responsibility of being successful and influential into making a difference in other people's lives through foundation work, through many everyday situations. Hopefully I'm doing the right job."
He obviously has every ounce of support from his wife and family and the results, win or lose, have been brought more into perspective since the arrival of his baby son.
Publically he knows he has to keep on earning the support of the fans and as the world No.1 there is a great responsibility on his shoulders, but it's a responsibility he enjoys carrying.
"On and off the court you have to carry myself in the right way, and then hopefully one day the people will get to recognize that even more and more," Djokovic said acknowledging the prophetic words of Rudyard Kipling's immortal poem "If" with how you treat triumph and disaster.
"There is a lot of wisdom in that. Of course it's easier said than done sometimes, but I guess you become wiser as you grow and as you become older," he said.
Right now Djokovic is defending his title at the Miami Open.