Novak Djokovic and Roger Federer will clash in the men's final of the BNP Paribas Open in Indian Wells.
When Novak Djokovic and Roger Federer meet in the final of the BNP Paribas Open it will be their 38th meeting and it is Federer who has the advantage; he leads their series 20-17 but the two occasions that have seen them meet at the Indian Wells Tennis Garden, including last year's superb final, have been won by Djokovic.
No male player has won the title in back-to-back years since Federer achieve that nine years ago. The Swiss also holds the event record for most singles titles with four – Djokovic is trying to match that.
"Of course it means a lot to me or to any player to make a history on every tournament or just to be remembered as somebody that made history in any kind of way," Djokovic said. "That's a motivation more, I can say. It doesn't play a decisive role on how I'm going to approach the match, but it does motivate me. It does give me, you know, this positive, I would say, wind in the back that I can maybe use and manifest on the court."
Djokovic says Federer is the player in the best form and for him playing Federer is "the ultimate final" that he can have. In the last twelve months he's been playing some of his best tennis especially after 2013 when, for his standards, it was an average season. But then Federer came back and played the Wimbledon final, produced the goods with other great results winning titles and the two of them "had a fight for No. 1 spot all the way up to last couple of matches in London"
Federer said: "I think last year's final was great. I think we both played very well. Came down to the wire. Didn't get off to a good start to the breaker, I think, and then he ran away with it. He's tough, as we know. He barely misses. He moves great. He makes you go for the extra shot. This is one of the great hard court players we have seen, you know, in tennis.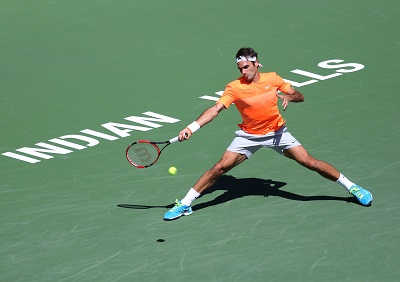 "After losing so close last year I was quite disappointed, even though I was happy how I was playing. Can't wait until we get a chance again to play him here, because you have to wait one entire year, got to win another five matches, and finally you're in the finals again. So I think it's very exciting for both of us, and also for fans, to see a rematch of the great final from last year. I'm looking forward to it, and I hope I can keep up my good play."
This is Djokovic's31st ATP Masters 1000 final and he has won 20 while its Federer's 40th final having won 23. Federer is also chasing his 85th career title from 127 finals.
"I think it's going to be quite physical out there, even though Milos or against Sock or against anybody now I have played, Berdych, as well, the points have been kept quite short because you can do the one two punch quite well here," Federer said. "Still have to think about exactly what does the surface allow you to do and whatnot and then how much variation do I need to give or not. So I still have to think about all of that. But sure, that is also the one thing I might do is watch some video from last year."
Both enjoy playing one another and with both playing well, the final should be quite an extraordinary contest. Federer relishes these big matches. He says he is not tired and feels great going into the final but admits that he will need an "extra special performance" against Djokovic. The world No.1 is going to push and come up with a lot of great shots in a row, which is not always easy to do.
For Federer the rivalry with Djokovic cannot be compared to the one he has with Nadal. They will never be the same.
"Not better or worse. It just will be different just because the matchup is so unique for me with Rafa; whereas Novak's is totally, like I said, straightforward," Federer said. "With Rafa I feel like I need to change everything when I play him. I have played so many times against Rafa on clay, as well, that it feels different; whereas Novak has been a much more of a hard court rivalry, whereas with Rafa has been more clay and grass."