Eugenie Bouchard has a tough mind set and could probably take Chris Evert's title of "Miss Poker Face" in a match.
Eugenie Bouchard recently turned 21 hitting a "huge life milestone" and surprisingly she didn't give herself a "coming of age" present, but hopes that she has matured a bit more in the past twelve months that has seen her meteoric rise up the world rankings and her performances at the majors.
However, she says that her attitude has not wavered from the past and is still with the mindset that she is not on tour to "make friends" or socialize but instead be out here to do a job. A job, she hastens to add, that is one she loves.
She used to be the hunter, now she is the hunted and that has to take quite a bit of adjusting to, but she makes it clear that she much prefers being the hunted.
"I definitely have sensed that switch a little bit, and I feel ready for it," said Bouchard. "I expect everyone to pretty much play their best against me and be really motivated to try and win the match. I see that as a kind of challenge. There is no more secrets. Everyone knows how I play. You know, they will try and figure out a way to play me, but that's how it is, you know. I'd rather be in this position. I have worked towards this position.
"I of course prefer to have people chasing me, because that means I have, you know, achieved a certain level. You know, near the top or at the top. That's my ultimate goal. So as tough as it is, you know, it's tougher to probably stay there. But, you know, that's the challenge. That's what I'm trying to work for."
Attention comes with doing well and she says she has definitely felt a change in the past year or so with the outside attention and pressure and expectations. She hears it in the background but tries to take her mind off it and not focus on it. Instead she focuses on the pressure she puts on herself, on her goals and what she wants and what she wants to do.
"As for last year, I'm proud of what I did last year. I think I progressed quickly, which was great. But this year is a new year, and I'm not thinking about last year. I'm not concerned about defending or anything like that, I'm just trying to do my best at every single tournament, and we'll see where that takes me," she said.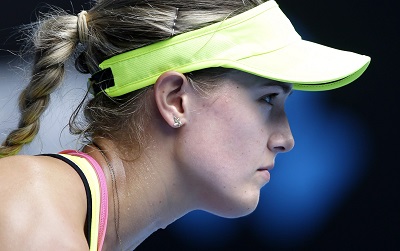 The goals she sets herself are to win a major and to be world No.1. Last year she reached the semis at the Australian Open and French Open and made the final at Wimbledon. Pressed to say what she would rather see happen first, she says winning a major. Tennis legends often say win or do well at the majors and the ranking will take care of itself.
"Well, my ultimate goal is to, of course, win a Grand Slam and get to No. 1 in the world, but, you know, I'm 7 right now, so it takes steps to get there. So, you know, I have to be 6 and then 5 and, you know, continue that way," said Bouchard. " But, you know, I want to be more consistent this year. I think that's something I can improve on from last year and go to every tournament well prepared. I think that's a good goal for me to have, go to every tournament believing that I can win, being prepared to win, expecting to win, and having that kind of mindset."
So, which of the four majors would she pick?
"Since I was young, my dream was to win Wimbledon and win a Grand Slam, so in my head just lifting up a Slam trophy like that is, you know, the ultimate thing I want to do in my career," she said.