Serena Williams returned to the BNP Paribas Open. She was overwhelmed by the reaction she got.
The dust has somewhat settled for Serena Williams as she made her return to the BNP Paribas Open at Indian Wells 14 years after saying that she would not play the event again because of the alleged emotional, racist and personal hurt she and her family endured back in 2001.
I was in the stadium back in 2001 and remember the incidents well. To remind of the background; Serena was to play her sister Venus in the semis. Venus was injured and had to withdraw from the match giving Serena a walkover into the final where she beat Kim Clijsters.
Sections of the crowd believed the semifinal match had been fixed and as a result they booed her and deplorably called out some awful things. For a young woman still in the early throes of her career to hear some of the comments yelled out was sad. It was a tragic situation and indeed ugly. However, what did not help the situation and indeed caused added antagonism was that the sister's father Richard giving the black power salute.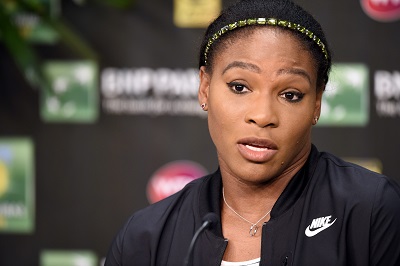 There was wrong to a degree on both sides but for the sisters to stay away for as long as they have (Venus still has not returned) is questionable. But, having said that, each person has to deal with things in their own way and as Serena said the time had to be right. After much soul searching and deliberation with her family and the people around her and being inspired by the late Nelson Mandela's autobiography "A Long Walk to Freedom" (a book that should be read by all) she made the decision to come back. The time was right.
She didn't know how she would be accepted. The USA is still caught up with elements of racism in places like Missouri so how would the crowd respond in the negative that she has done this as a stunt, or the positive in that it is just great that she has been able to forgive or would there be a mixture of responses from the crowd.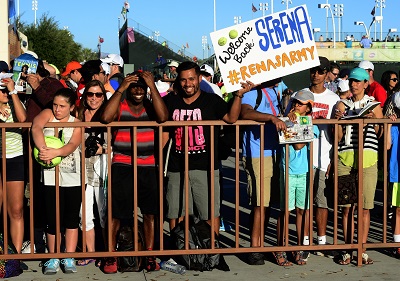 "I think the new chapter actually already started when I accepted the wildcard into the event; so I think that was the beginning of the ride," said Williams. "It was a bit overwhelming. I didn't know what to expect. In fact, I didn't really think about it too much. In the last couple of moments leading up to it I was focused on warming up for the match and I wasn't really prepared for that. Like I said, I was overwhelmed by it, and it was such a warm feeling. It made me feel incredibly well."
The place was sold out and included the likes of billionaires Larry Ellison (Oracle), Bill Gates (Microsoft) and John McEnroe and when Serena appeared from behind a half wall and walked on court with her introduction to play Monica Niculescu, the crowd rose in unison and the roar of approval was deafening. Serena was definitely very nervous and uptight, almost like a tightly wound coil and she made it clear this was something she had never experienced as experienced as she is in tennis.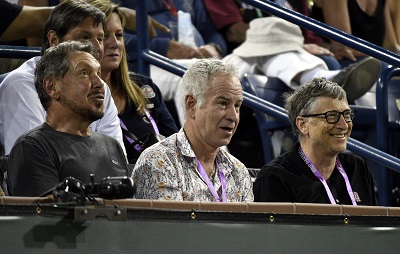 "(There) were tears of overwhelmed they were just overwhelming. At that moment everything had just I just felt so good to be out there. I felt like I made the right decision and I knew I wanted to do it. I knew I really wanted to do it. But up until that moment I didn't really know if it was the right thing for me to do. I feel like that's when I felt it was the right thing. And receiving the love from the crowd here, it really meant a lot to me.
"I think it falls super high up. Definitely up there. Really close. Probably the best, because, you know and it's interesting to say that I feel like I've already won this tournament. I don't feel like I have to actually hold the trophy at the end of this. I feel like I'm already holding up a trophy. I have never felt that way before. I feel like, you know, just being here is a huge win. Not only for me, but for so many people. It's a wonderful feeling."
Serena's return was good for her and it was good for tennis. For me, seeing what happened on Friday March 13, 2015, in Indian Wells brought only good fortune and such a wonderful difference to see compared to what happened in 2001 on the same court.