Roger Federer has won the title in Dubai for the seventh time, he defeated Novak Djokovic and in doing so took his career ace tally to 9,007.
Tennis observers rarely talk about Roger Federer's serve and the number of free points he picks up with his serve through straight out aces or service winners. During the final of Dubai he crunched down his 9000th ace, it happened in the first point of the sixth Game of the second set against Novak Djokovic.
Federer finished the match with 12 aces to take his personal tally to 9007 and he has become only the fourth player since 1991 to power down 9000 or more aces. Not only that, but Federer won the Dubai title for the seventh time, beating Djokovic 6-3, 7-5.
"I think I remember which one it was even because I was even counting a little bit. I think it was one of the swinger wides maybe. I'm not sure. But clearly it is nice to get past that so no I don't have to think about it ever again for the next 9000 or so," said Federer wryly.
It marked the first time since Cincinnati last August that he had beaten Djokovic in a final. Remember they were supposed to play the final of the ATP World Tour Finals last November in London and Federer had to withdraw because of a bad back.
This is the third time in his career that Federer has won a title seven times, the other events being Wimbledon and Halle. With Federer also having a residence in Dubai you would think that the locals might rename their centre court something like "Federer's Field".
"The seventh is quite unbelievable, what I hear people talking about that, announcing I'm the six-time winner here in Dubai, sounds pretty crazy. It's nice that Wimbledon and Halle are that way as well.
This was their 37th meeting, Federer now leads 20-17 and it was heir fourth meeting in Dubai. Their overall series is second only to the one Djokovic shares with Rafa Nadal. It was their second final in Dubai, Djokovic won in 2011 and it marked the seventh straight year the title has been won by either Federer or Djokovic, who was the defending champion.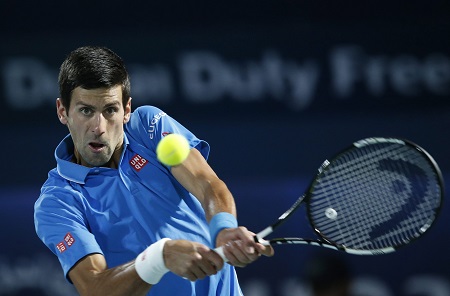 "I think it's really become a very nice rivalry," said Federer. "I think we play very nicely against each other, and it seems people like the way we play against each other, as well. I don't think we have to adjust our games very much against each other, which I think is nice, as well. We can just play our game, and then the better man wins.
"He's become such an unbelievable player, especially the past five, six years, and cleaned up his game so nicely and became the best mover in the game. It's really a pleasure playing against him every single time again."
Federer believe the first set certainly belonged to him but that the second set should possibly have gone to Djokovic who was looking to pass his coach Boris Becker for the number of titles. Had he won it would have been Djokovic's 50th career title.
Federer was not being able to get into Djokovic's service games on a frequent basis and the Serb was putting the pressure on. The eleventh game had Djokovic serving and he was up 40/0 but Federer clawed back and broke him and then served it out.
"I thought it was a good match; I thought there wasn't much difference, a few points decided a winner," said Djokovic. "He was a better player in the first set. He deserved to win it. In the second set I had a couple of games at 15/40, set points (but) if you don't use those opportunities against Roger, then he fires back and then at 5-5 40/0 I lost that one.
"I thought he was too good in the points where maybe I had a chance, break points. He served well. He aced. I thought he played a terrific game.
"I'm happy with the result here and moving now to Davis Cup by BNP Paribas and of course the hardcourt season at Indian Wells (BNP Paribas Open) and Miami. I'm motivated."