Gabriela Sabatini will make a rare tennis appearance when she faces Monica Seles at the BNP Paribas Showdown in New York City.
There is definitely an element of glamour with women's tennis today but the person who really brought the glamour aspect into modern women's tennis was one person and that person was Gabriela Sabatini.
When she was at the height of her career it was arguably the "golden era" for women's tennis. Surrounding her was Monica Seles, Stephanie Graf and Arantxa Sanchez-Vicario. It was also a cross-over period as Chris Evert and Martina Navratilova saw their careers starting to wind down.
However, it was Gaby hands down who led women's tennis into the glamour stakes and at the same time played the sport with such an amazing flair and fluidity.
On March 10 at the iconic Madison Square Garden in New York City, Gaby will take to the court again to play Monica in the BNP Paribas Showdown. While Sabatini has played the odd exhibition against the likes of Graf and Navratilova she has not played Seles since their last official match which was in 1996 in Montreal.
This match at the Garden will also celebrate the 25th Anniversary of their historic five set final of the season-ending WTA Championships. That match was only the second time these two greats of the game had met.
"That match is a memorable match and was my first five set match I had ever played; I always remember how exciting it was," said Sabatini. "I particularly remember that during the game, I didn't feel tired at all. I think mentally I was so focused and motivated that I didn't realize how long the match was lasting. And after the match ended, I was exhausted. I couldn't even walk.
"But yes, playing at Madison Square Garden, as you can see I won two tournaments two times there and playing in New York I won the US Open. It was always very motivating for me. The energy is so special, so unique that you don't feel it anywhere else. And the crowd is so special, they get so involved in the matches, they are very intense they are loud and that also gives an extra motivation or you put more into the match having that crowd."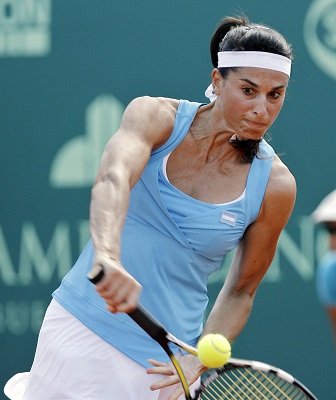 Gaby continues to live in Argentina but she also has a place in Miami and is a frequent visitor to New York. It remains one of her favourite cities whether it be to have a run in Central Park, shop in 5th Avenue or just soak up the atmosphere of the city. She says she never feels she has enough time when she is in Manhattan because there is so much to do.
Sabatini is eagerly looking forward to playing Monica and says she "can't believe" she will be back at Madison Square Garden to play the BNP Paribas Showdown.
"Meeting up with Monica is going to be exciting, as well as being in front of the fans once again is going to be incredible. I don't know what kind of match we will have, but I've been training diligently for the last three months," she said.
Gaby says she plays for fun now and she likes the fact that she can get her focus into tennis when opportunities as special as the BNP Paribas Showdown come around, but this now 40 something year old certainly does not sit back and do nothing.
"I'm still involved in my perfume line; I've had it for over 20 years so I'm still very involved with that," she said. "On a personal side, I've been traveling a lot. I love traveling and I love sports, I love running, swimming, biking. It is also very important to me to spend time with friends and family, so I have been doing a lot of that."
She has no interest in taking on a coaching role as some other big names have done but she is still watching tennis - she enjoys the men's tour as well as the women's tour and she has her favourites. One of those she will come face-to-face with on March 10 because on the same bill with her and Monica will be Roger Federer playing Grigor Dimitrov.
"I admire Roger Federer. His game is complete and I just enjoy watching an all-around player like Roger. It's incredible to see what he is doing at his age. He is so motivated, he's broken every record, and every time he steps on the court he is still so motivated so it is incredible what he has accomplished and what he is still doing," said Gaby.