Novak Djokovic is taking time to reflect on his latest triumph.
At the start of the year in my preview to the 2015 tennis season here on We Are Tennis I said that I believe Novak Djokovic would win this year's French Open. I am sticking to it and believe he will be the first man since Jim Courier in 1992 to win the first two legs of the calendar year Grand Slam. Courier also feel that will be the case.
Certainly Roland Garros has been a frustrating ground for the world number one but then it has for pretty much every player bar Rafa Nadal. Djokovic has been in four semifinals and two finals there but it can't be seen as an obsession for him … not just yet anyway.
Many regarded Roland Garros an obsession for Roger Federer till he won it, or Wimbledon an obsession for Ivan Lendl or the French for John McEnroe or Pete Sampras. Djokovic has to have a few more years without the title for the craving to go up another level.
"For myself, without obviously paying too much attention to what other people say, I already left a great legacy behind me with all my achievements in my career," said Djokovic. "I've had a great career. I'm very satisfied. From where I came from, to where I am now, it's been an incredible road, an incredible adventure."
Djokovic believes his career or his position in the game's history won't be determined by the fact he had never won Roland Garros if that were to be the case when he eventually hangs up his racquets.
"I strongly believe everything happens for a reason in life," he said. "I try not to waste my energy thinking, What if, what if, so forth. For a reason I've been playing so well here and winning five titles, and for a reason I haven't won French Open yet. I'll keep pushing and keep working and keep believing I can make it, at least once, until my career ends.
"Roland Garros, yes, this is one of my main priories. It is the only grand slam I haven't won. I do dream about it, there's no question about it."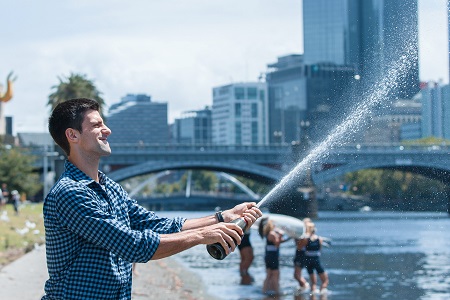 Certainly there is no stopping him as he is in the prime of his professional life and most certainly his personal life with his wife Jelena and four month old son Stefan.
"I try to stay on the right path and committed to this sport in every possible way that I have had in the last couple of years and try to use this prime time of my career really where I'm playing and feeling the best at 27," he said.
"This is why I play the sport, to win big titles and to put myself in a position to play also for the people around me. I know how much sacrifice they put in in my own career, and I try to thank them and not take anything for granted.
"As my life progresses, there are circumstances, situations, events that define these beautiful moments.
"Getting married and becoming a father in the last six months was definitely something that gave me a new energy, something that I never felt before. And right now everything has been going in such a positive direction in my life. I'm so grateful for that. So I try to live these moments with all my heart."
Right now he should be left to bask in the glory of his eighth career major. The time will come around only too quickly for the French Open.