Novak Djokovic has won his fifth Australian Open defeating Andy Murray.

"I know how much sacrifice they put in in my own career, and I try to thank them and not take anything for granted. As my life progresses, there are circumstances, situations, events that define these beautiful moments. Getting married and becoming a father in the last six months was definitely something that gave me a new energy, something that I never felt before. And right now everything has been going in such a positive direction in my life. I'm so grateful for that. So I try to live these moments with, you know, all my heart."
It took Djokovic three hours 39 minutes 7-6, 6-7, 6-3, 6-0 to defeat Andy Murray who definitely had many chances in the match. In the third set Murray was up 2-0 but Djokovic started to get on a roll as he began his rally. From that point he won only one more game as the world number one snatched 12 of the last 13 games.
This was certainly a match that enthralled. Djokovic had more of the crowd support and he twice had to pick himself up following injuries sustained in the match to his right thumb and left foot. There was another interruption to the match when extra security personnel came on court due a court invasion when some people opened a banner relating to refugees. They were taken out if the stadium and arrested.
Djokovic has now won eight majors and this was his 37th hardcourt title and his 50th match win at the Australian Open, by far his most successful major. The win was his tenth straight against top 10 players.
The match certainly was tense and enthralling for the first three sets, so much so that Djokovic's wife Jelena who was in Monte Carlo with their baby boy, tweeted that she had to take a break and went for a "chill walk".
For Murray this was the fourth time he was thwarted in the Australian Open final and it was the third time against Djokovic. He admitted getting distracted in the third set and in fact he had opportunities in the first three sets.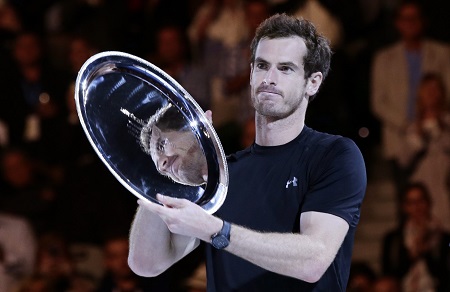 "Then the fourth set, I mean, he was just ripping everything," said Murray. "Returns he was hitting on the baseline, this far from the line all the time. Once he got up a break, he just loosened up and was just going for his shots. I couldn't recover. So the fourth set wasn't as frustrating to me.
"The third set was frustrating because I got a bit distracted when he, like, fell on the ground after a couple of shots. It appeared that he was cramping, and then I let that distract me a little bit. That's what I'm most disappointed about, not so much the fourth set because I think, especially at the end of it, he was just going for everything, and it was going in. But the third set was more frustrating for me."
The new rankings will show that the "Big Four" are back where they belong – for the first time since May, 2013, Djokovic, Roger Federer, Rafa Nadal and Murray will lead the men's tour.
Oh and heading to the Djokovic bank account will be $A3.1million.