Serena Williams has won the Australian Open for the sixth time, defeating Maria Sharapova.
It was match point three in the final for Serena Williams. Maria Sharapova saved one at 5-4 and then at 6/4 in the tiebreaker. She was serving from the advantage court. Boom she powered down the serve and it was an ace. Serena started smiling just as the chair umpire called it as a "let". Williams couldn't believe it. She retreated to the baseline and bam she hit another. The ball went to the same spot. This time it was a genuine ace. It was her 18th for the match and she had won the Australian Open.
"It feels really good," said Serena. "It feels really good to be sitting here as the champion. I definitely didn't think I would be here in the beginning of the week or the beginning of the two weeks, but it feels pretty excellent."
Williams defeated Sharapova 6-3, 7-6(5) to win her sixth Australian Open and her 19th career grand slam. She is now just three behind Steffi Graf who holds the open-era record of 22. She shook hands and then threw her arms up in the air as if she was stretching and then started jumping up and down around the court with incredible excitement.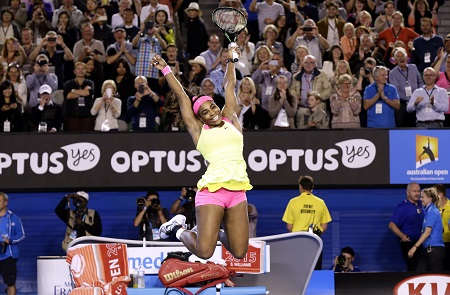 "I would love to get to 22. I mean, 19 was very difficult to get to. Took me 33 years to get here, so... I would love to get there. But I have to get to 20 first, and then I have to get to 21," said Serena. "There's so many wonderful young players coming up, so it will be a very big task. My next goal was just to get to 19. That was my goal. So I didn't think it would happen this fast, to be honest, but it feels really good.
"It just felt so good. I mean, I've been through so much the past week. I really, really didn't expect to win. I didn't expect to be here this long. I was walking down the hall yesterday and I was thinking, Wow, I'm still in the tournament. It's been a long time since I've been to the final here or the semifinal. It's been a long time coming. I was just really, really elated to have an opportunity to walk out on the final match."
Williams was battling coughing fits at times and a short interruption for rain that saw the roof closed probably helped her because she did not need to take a medical time out. When she returned to the court she had to dash off again because she supposed to have thrown up a bit. She believed it probably helped her feel a bit better.
This one hour 51 minute match was dramatic and very good and in particular the second set. Sharapova was playing well and she had chances throughout but every time she seemed to get ahead Williams pulled her back. It was as if she was a horse with reins as Williams continued to apply the pressure and keep Sharapova at bay.
Sharapova meanwhile must wonder what more she has to do to score a win over Williams. She has now lost 16 consecutive matches to her, her winless period stretches to a decade and three months and Serena's overall record against her is 17-2.
"Look, I actually believe that we attract what we're ready for," said Sharapova. "Yes, I haven't won against her many times, but if I'm getting to the stage of competing against someone like Serena, I'm doing something well. I'm setting up a chance to try to beat her and it hasn't happened.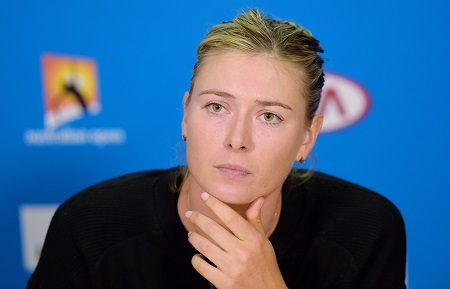 "I'm not just going to go home without giving it another chance. That's just not who I am and not who I was raised to be. I'm a competitor. If I'm getting to the finals of Grand Slams and setting myself up to play a match against Serena, I mean, I know it sounds - maybe you're telling me I'm wrong - but I'm happy to be in that position. I love the competition. I love playing against the best, and at the moment she is."
Williams will soon turn her attention to Paris and Roland Garros. It is the only major where she does not have more than two titles.
"There and Wimbledon I've been struggling, so I think, okay, now that I got this under my belt," she said. "I'm a little more comfortable with my ranking now. Now I can really move. Like I did so bad last year at Roland Garros, and Wimbledon as well. So those are the two I really have my eye on, because I would like to do better at those. And I know I can do better. I'm not going into it not as number 20, but I want to win Roland Garros."