American teenager Madison Keys is in the semis of the Australian Open and she is starting unlock her future in the world of tennis.
Madison Keys is one of the future stars of women's tennis. The 19 year old reached her first semifinal at one of the majors and became the third teenager in as many years to make the final four of the Australian Open, joining Eugenie Bouchard from last year and Sloane Stephens from 2013.
Born in Illinois but living in Boca Raton, Florida, she spends more time with her mother than her father – her parents are divorced – and is a well-balanced young lady who is having a wonderful time at the moment, and is set to keep on enjoying what she has started. Madison defeated Venus Williams 6-4, 3-6, 6-4, coming back from a break down in the final set to reach the semis.
"I mean, it definitely feels amazing," said Keys who like most girls her age are looking at fashion etc – she is sport the current trend of black nail polish that looks like it has been chipped off.
"It's one of those things where you want to feel this way all the time. But it's not, you know, this unbelievable excitement either 'cause you want to keep winning and you want to keep doing better. I am very happy and I am very excited, but also not getting too far ahead of myself and being too content where I am."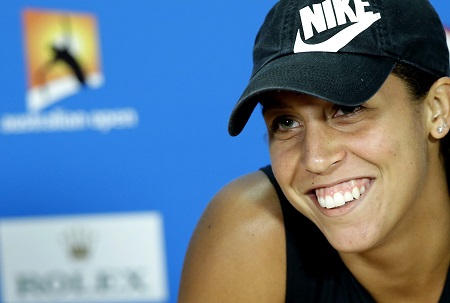 It was impressive to see Keys in the situation she was in. She was playing her idol, Venus, which is a very difficult things to do and she showed immense maturity to be able to put that to one side, plus, during the match, she tweaked her left upper leg which was taped heavily. It was bothering her but she was able to play through the pain and discomfort and end up winning.
"I think just being able to come back from being down and from not being able to move as well, not having as effective of a serve, just being able to kind of grind through that, still figure it out, manage to win some points, is what I'm most happy about," said Keys.
Those are among the aspects which contribute to developing a champion.
She also has the guidance of Lindsay Davenport, the Grand Slam winner and world No.1 and her husband Jon Leach. That sort of experience in one's corner can only be a positive. And speaking of positives, another bell rang when she read Li Na's autobiography. It was given to her by her agent who also represents Li.
"I think she had similar troubles in staying positive," explained Keys. "Just seeing her step away from tennis for so long and then decide to come back because she loses the sport, really just kind of her different mind frame was really inspirational. I learned a lot form that.
"I was getting down on myself. Obviously you are not going to play well every single week, but it was more than that. It was more feeling disappointed in myself for having bad losses. I think having a more positive outlook has kind of helped."
Keys faces Serena Williams in the semis and it is a first time meeting. Managing to beat both Williams sisters at the same major has not happened since Kim Clijsters did it at the 2009 US Open. Playing a legend like Serena who some feel is the greatest ever and who is the world No.1 and who has won 18 majors is daunting just thinking about it.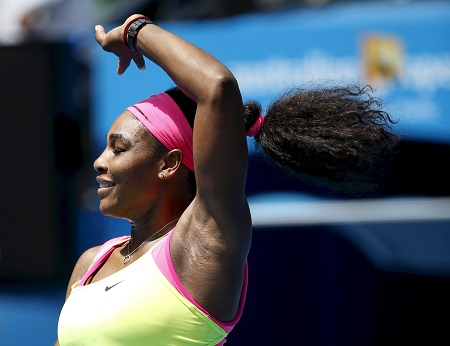 "I have to just stay focused on my side of the court. If I get too focused on what she's doing I think I can kind of let the moment get away from me. I'm just really going to stay focused on myself," she said.
Serena is ready and is definitely the heavy favourite for the match but can probably also see a bit of herself from 14 years ago at around the same age, looking to make a name for herself.
"It's good to see another American, another African American, in the semifinals playing so well," said Serena. "Regardless, there's going to be an American in the finals, so that is great. It's also great for me and Venus because we know that finally there's other Americans that are constantly playing well and playing better, showing that they want to be the world's greatest."
Irrespective of what happens in the semifinal, Keys is set to take those steps forward and it is exciting for the sport as a whole. Oh and just like a teenager girl, she has spotted a handbag she wants to buy when everything is done at the Australian Open. As a semi-finalist she will have $A650,000 to spend.