Li Na remains one of the most popular tennis identities in the world. Soon she will take on her greatest challenge, being a mother.
Twelve months ago Li Na was on top of the world. She was incredibly happy with life in particular her professional life and by her side was her husband who was there through thick and thin. She was in her third final at the Australian Open and this time she came away as the champion. She had won her second major; the French Open was the first one to grace her trophy cabinet. Then last September she dropped a clanger when she emotionally announced that she would be retiring from tennis.
At the start of the 2015 Australian Open she became the face of the tournament and officially opened the championship. The Rod Laver Arena and the whole Melbourne Park set-up is special for Li Na so it was here that she chose to make her special announcement.
In front of a full house she told everyone that she and Dennis were going to be parents for the first time. They decided back in November to make the announcement in Melbourne because "for me it is a very special area and I wanted to speak to all my fans and friends". Never have either of them looked happier and more relaxed. It's a far cry from the look on the wax statue made of her.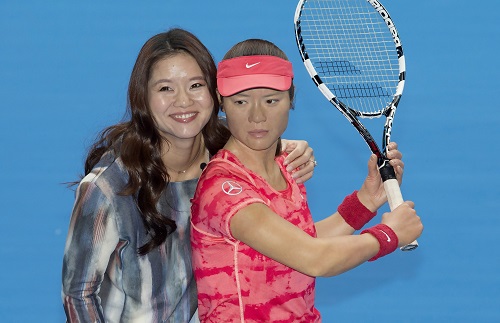 "Dennis hit one good ace" she said laughing. That is the type of comment that totally endeared her to the Australian sports fans. Her sense of humour continues to strike a chord with the Aussies and they love her for it. Never before has a non-Australian female tennis player been as much loved as Li Na.
"I think for my dream is be a housewife," she said. "I think every child they learn from the family. I learn from my mum, so I was feeling the woman has to be the housewife. But I guess I'm not bad to play tennis. So I was feeling, okay, because tennis take care of a lot. I think now is the time to turn back.
"I am still the same but only not with tennis racquet anymore. It's for me, I decide because I cannot play anymore. I still love tennis, so that's why I always doing the job. Of course now I don't have to worry about win or lose every day. Yeah, it's less pressure."
She has no regrets and would not change anything she did. She says even if she has another life, she would still choose tennis.
Right now though all her focus is on her development tummy and the joy she and her husband are experiencing, however the issue of morning sickness is something she can do without. No doubt the Duchess of Cambridge, Princess Catherine, would readily sympathise.
"I still have morning sickness," said Li Na. "I was ask my mum what I should care about. She said like do whatever you want to do. Don't care about it. She is strong."