The year's first major is happening in Melbourne so what do the players have to say at the start of the Australian Open.
EUGENIE BOUCHARD
Your popularity grew here last year. Are you excited to see the Genie Army on Rod Laver?
This is where it started a year ago. It's kind of cool to be back, to hopefully see them this week. I'm pretty sure they'll turn up. They're really cool kids to create something like that. I'm so impressed with their organizational skills. I think there's like eight guys and one girl. Obviously the girl does all the managing and stuff (smiling). It's impressive that these young 20-year-olds, they've travelled to see me, they've made T-shirts. I don't even know if my friends would do that for me. It's impressive to see.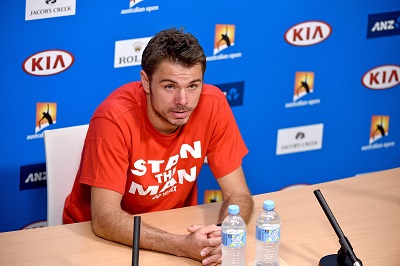 STAN WAWRINKA
When you look at the past year, what changed the most for you after the victory?
Well, it's been a crazy 2014 year for me, winning Grand Slam, Masters 1000, finishing with the Davis Cup trophy. That's something amazing as a tennis player, something that you can only dream about it. For sure it change a lot. But, again, it's been one long year with some up and down. Finishing No. 4, I'm really, really happy with that. Now it's a new year. Everybody start to zero again. You have to be ready to play great all the year.
NICK KYRGIOS
After the last year, does it feel different coming back in now? Do you feel more experienced, more at ease amongst the other players?
Yeah, I feel more experienced definitely. I played on some of the biggest stages in the world: Wimbledon Centre Court, Arthur Ashe. I feel as though I know where my game stands on tour. Obviously I'm known a lot more in the locker room. People know what to expect. I think I'm putting a bit more expectation and pressure on myself as well to perform and obviously I'm expecting more out of myself now.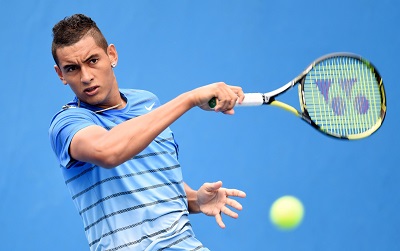 NOVAK DJOKOVIC
How do you feel your prospects are? Do you think you can win the tournament this year? You've obviously had great success. Who are the tournament favorites?
Well, I don't think it's nice to talk about the title already now when the tournament hasn't started yet. There are so many players who are contenders to win the title. Considering the success that I had in my career in this tournament gives me enough reason and confidence to believe I can go far. But again, you know, I have to start the tournament well. It's the beginning of the season. We already have one of the four biggest tournaments in sport. 120 players want to prove that they deserve to be in this tournament, and they have, of course, huge motivation to win against the top players. It's something that is obviously keeping us all cautious, and we have to have a right and humble approach to the tournament. So I'll take it one match at a time.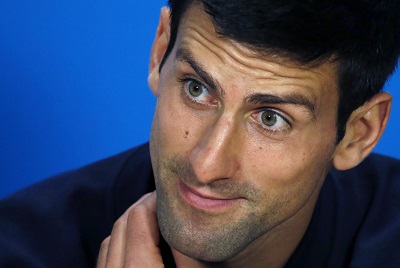 ANA IVANOVIC
What about this Grand Slam particularly stands out for you when compared with the other three?
I think each Grand Slam, it's very specific and very individual in the atmosphere and the feel about it. Here I really feel people get excited about tennis. You know, they love sport. They love to cheer. They get loud. That's exciting. There's lots of kids always out here that come and support us. Obviously it's their summer holidays so people are a little bit more relaxed, I feel. But it is very exciting. Since I don't have a tournament at home, this is like second home for me.
ROGER FEDERER
How close are you now to your career-best form?
Well, I mean, I would hope that over the years I've always improved. I think I'm serving more consistent and stronger than I ever have. That's my opinion. I definitely think the racquet has helped me with that as well, a little bit. But, you know, my concentration I do believe is there, better than it's ever been, at least I hope it is, because I feel over time you always want to improve. I think my backhand is working better than it has in the past as well. The question is confidence, forehand, movement. But clearly when I was winning almost everything, everything was so gold that nobody was even questioning anything. Maybe if there were different opponents, different times, it would have changed. But for that particular time, I was playing exactly the way I needed to. I had to adjust my game a little bit over the years. I feel I'm playing very well. If it's the best ever, I'm not quite sure. But I'm definitely very pleased how things have gone now the last six months.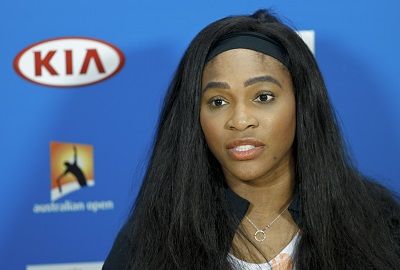 SERENA WILLIAMS
You already have five titles here, the most successful in the Open era. What is so special about this place and winning number six?
It would be really great. I've been going for number six for a number of years now. It would be really special for me. I would be really happy. I want it I think more than anyone else here. But that doesn't mean I'm going to get it, so I'll have to fight hard to get it.
Any excitement in trying to reach Steffi's 22 slams?
Yeah, of course. But 22 is so far away from 18. When you're 18 years old, you look at someone that's 21, you think they're old. So it's a really big distance to get to 22. I can't think that far ahead. I just have to think about 2015 at the Australian Open in particular.
PETRA KVITOVA
Having lost first round here, does that make you come back to this tournament thinking it's exciting that you have no points to defend or remembering what happened last year and being worried about that?
I would like to forget about the last year. Unfortunately it's impossible. On the other side I know I can do only better. So that's the good thing. I'm excited to play, of course. It's a Grand Slam. It's what I love to play. I just will do everything what I can to be just better than the last year because it was very disappointing. It wasn't really nice time for me. So just will do everything what I can.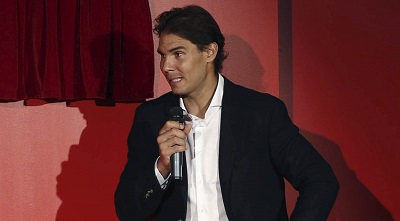 RAFA NADAL
You've had to do this a few times before because of injuries. Does it help now that you've done this before, you know what it's like coming back after a break?
Every time is different. Every feeling is different. Every time you come back, you have the doubts, you have the feeling that you are far away from your best. But at the same time you know the only thing you can do is play with the right attitude and try to have the right schedule to play matches, to play weeks in a row. It's the only way to find the positive feelings and the confidence back. When you have put all the things together, it make your game better again. That's what I am doing. I am trying to do the calendar that will be better for me. Playing here, then playing on clay, that helps me physically, in terms of tennis, too. That's all, no? Difficult to say more things. The only thing I can say is I need to play better, yes. But the only way to play better is to win matches.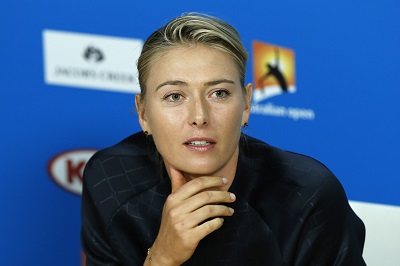 MARIA SHARAPOVA
You have a shot at the No. 1 position. Is it still a big motivation for you to be back as No. 1 in the world or is winning Grand Slams at this time of your career more important?
Yeah, that was a question that was nice not having to answer in December (smiling). Yeah, I mean, look, obviously No. 1 is a ranking that every single player wants to grab and works so hard for. There's a lot of players that have an opportunity to get there, and I'm one of them. I am, of course, determined to do that. But by doing that you need to win more matches than the person that's in the first place. So that's the goal.