On the 25th anniversary of Monica Seles and Gabriela Sabatini playing their five set final at Madison Square Garden, they will come together again for the BNP Paribas Showdown at The Garden on March 10. It promises to be a night to remember between two le
Can you talk about your matches in general with Gaby Sabatini?
MONICA: I'll never forget when I was a 14 year old girl and I played Gabriela, now, at the Miami tournament down in Key Biscayne and she was already a star. I think we played a night match, which was my first night match in a professional tournament after losing in the tournament before to Chris Evert. I was absolutely star struck by her. I always really got along well with Gaby because she was always a lady both on and off the court. She treated you as a competitor the same way as if you won against her or if lost against her.
In terms of our battles the one in Madison Square Garden is one of the biggest ones I would have to say because it's for the season ending championships. The other one would be the semi finals of the French Open when I think she really had me there in the third set where she was up three or four one and I was really lucky to come back and win my second French Open - that was a very hard fought battle.
Playing in New York in front of New York fans is it different from playing around the world?
MONICA: To me one of the saddest days in my tennis career, when I look back was when the season ending championships were moved from Madison Square Garden to Germany. I thought it was the perfect setting for the season ending championships. Playing at Madison Square Garden, there's only one and same way with the fans – they just live with you with every single point. There is no feeling like it. The other thing when you play at MSG is that the fans are really close to you where they are sitting and you feel their energy. As a player you just strive on that and for me that was a highlight.
As you look back over your career is there anyone else you would like to play?
MONICA: I enjoyed playing against Martina Navratilova because she is just a contrast to me coming to the net. I think with Martina and the age between us wouldn't make sense. With the players that are playing I was just so excited when I heard it was going to be Gaby. I couldn't have asked for any better opponent from that point of view. When we step on the court it will be like the good old days where we want to win every single point and when we step off the court we will have that mutual respect for each other.
Is there anyone on the tour today that reminds you of yourself?
MONICA: I think Serena because of her intensity and how 99% percent of the time she fights for every ball. I would probably also have to say Maria Sharapova – I have followed Maria since she was nine or ten years old at Nick Bollettieri's tennis academy and have always admired her intensity. I would probably also say Anna Ivanovic from my former country. She is a big, tall, young lady – big stokes with a good serve and aggressive tennis. I would say those three ladies come to my mind.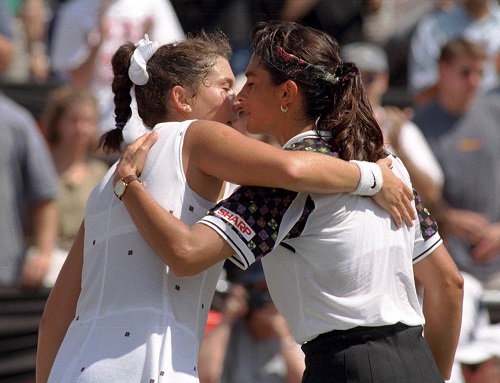 Can you talk about World Tennis Day and playing with your father growing up?
MONICA: I think the whole idea of World Tennis Day and kicking it off with celebrations around the world is just a fantastic idea and I'm happy to be just a small part of it. For me tennis began with very humble beginnings – my dad and my brother played and I would just tag along and it was just family time spent together. In the beginning stage I never imagined it would be a career for me – It was just me wanting to spend time with my dad. One of my biggest goals at age 12 was to beat my father and that's why I practiced before going to school. To me I just knew my dad worked a ton and I knew that would be the time to be together and just have that special bonding experience on the court … I look at it now and go to many cities around the world and I have friends because that is really because of tennis. It has attracted a great group of people who want to be healthy, its social and I'm so lucky that whatever brought me to the sport of tennis, probably my dad and my brother, that has given me a lifetime love for the game.
What do you miss the most about playing?
MONICA: I think most retired athletes will tell you we miss the excitement and the adrenaline when you're playing in a big match. There is no feeling like it and once I retired I tried to get that feeling with crazy stuff like bungee jumping because I was missing that adrenaline. I think now I learned a little bit to relax in my old age of 41 but, you still miss that. I mentioned playing at Madison Square Garden 25 years ago...I remember 25 years later certain points, the nervousness, your heart is beating so fast and you're so nervous yet you love what is happening out there. For me that is definitely really the biggest thing that I miss and obviously the feedback I get from the fans. In the generation that I played the fans were so close to you and the energy you felt from them.
How have you prepared for the upcoming match with Gaby?
MONICA: I've been preparing by playing tennis, doing fitness. It's been a shock to the body playing singles because I've only played doubles so far. I've had some good days and I've had some bad days. It's very hard for the ego to understand that I cannot do the same training I did ten years ago. I have to train smarter and it's been give and take. I've been working with a couple of people down in Florida and really just working on my fitness…it's been a great process and at times it has been frustrating but at the same point it's been a wonderful challenge. … Bottom line is I love to play tennis and I love to compete and this is really a highlight for me. It's a great honor to be a part of it. To have someone like Roger Federer follow our match – what a way to celebrate World Tennis Day.