The new concept of Fast 4 Tennis made its debut in Sydney, Australia. Let's see if it results in more kids playing tennis.
Not long ago we wrote of the launch for Fast4, the abbreviated scoring format promoted by Tennis Australia that was to be revealed in Sydney, Australia with Roger Federer and Lleyton Hewitt putting on a show. The 10,000 seat indoor facility was sold out in two days and it was the first time indoor tennis was being played in Sydney for more than two decades.
In about 90 minutes of at times furious and fast tennis between these two long-time rivals – they first faced one another in Junior Davis Cup when they were about 16 – Federer came out the winner in five sets, 4-3, 2-3, 3-4, 4-0, 4-3.
The format sees a tiebreak was played at 3-3; the time during change of ends was cut down and there was no sitting (Federer started smiling broadly when the chair umpire stopped him from sitting during one end change) and there were no-ad games with the power point being played.
The pace of the tennis played really got the crowd into the match and there was great interaction between Hewitt, Federer and the fans. One man sitting in a courtside corporate box behind the court garnered a fair amount of attention when he kept hoisting a sign: "Marry Me Roger". Federer was very amused and fortunately his wife Mirka was not in the stands.
The concept is not going to change how traditional tennis is played. There will be no risk to how the majors are handled or events like the BNP Paribas Masters. Where this format is expected to prove popular will be at exhibitions but more importantly brings kids in to the game and keep them interested in tennis.
There will be a much higher percentage of young ones of maintain their interest in the sport and less likely to get bored because things could go long.
"The score keeps on moving. From that standpoint I think it's a very nice format," said Federer. "For me personally, I didn't have to adjust much mentally to the format. Feels like I've played it before in the past, even though I've never even come close to playing something like this. I enjoyed it.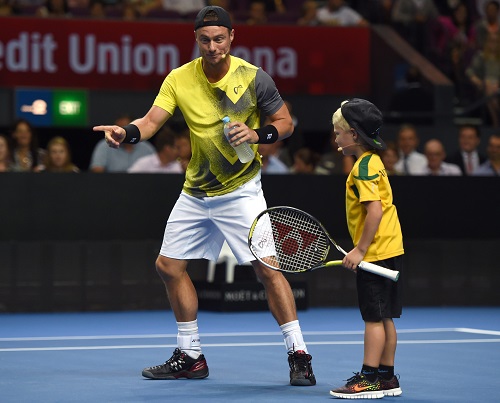 "Now, is there a future for it? We've tried the let thing in challengers for three months as a test. Didn't go down that well with the guys because the nets are too different all around. I don't know how to explain. No ad, we have it in the doubles. And then the tiebreaker, to me, we haven't spoken about it on court, but I thought that was actually the most intense.
"We played two tonight, and tiebreak is over in a hurry when you get the first mini break. So I think that's the biggest change for me almost. Then I like the best of five format to four. I like the idea of that because every point is more important and it's hard to get back from a break. So you feel like you go more often into four or five sets most likely, and keeps it close. I liked it over all. I think it's a good thing. But the idea is to have more kids play the game. We hope for this to maybe really kick it off now."
Maybe fans also got a very, very early glimpse of the future when Hewitt called his six year old son Cruz on to court during the warm-up to hit with Federer – it's that sort of age group Fast4 is targeting.
"Roger has a head start he already has 4, four kids", joked Hewitt. "To try and pump up tennis in Australia, I think this is important, and obviously doing it with Roger and myself here leading into the Australian Open, I think it's great for our game. As I said, just to build momentum in Australia about our sport.
"It's obviously interesting. Even though we get to choose the side (at deuce), sometimes that doesn't make a hell of a lot of difference to the receiver against those big severs. If you're playing a big sever like Karlovic or Isner and it comes down to that last point and they're serving in the tiebreak where it's 4 All, well …"