Switzerland has defeated France to win the Davis Cup by BNP Paribas for the first time.
In front of a world record crowd of 27,448 for an official tennis match, Roger Federer played near perfect tennis and in doing so overwhelmed Richard Gasquet who replaced an injured Jo-Wilfried Tsonga 6-4, 6-2, 6-2 in one hour 52 minutes. With that result tennis history was made as Switzerland became only the 14th different nation in the 115 years of Davis Cup to be crowned champion nation.
The Swiss defeated France 3-1 in the final of the Davis Cup by BNP Paribas on an indoor red clay court at the Stade Pierre Mauroy in Lille.
Stan Wawrinka had the Swiss believing they could win the coveted trophy and he gave his nation the first point of the tie, and it was Federer who closed things with the point that decided the championship.
"Clearly we're very, very happy and we had a good time since match point. It's Stan who put us in this great position for Sunday. You did," said Federer giggling like a school kid.

"It's been a long week, but one of the best weeks we've had overall as a team. We really had a good time all together. Everybody worked very well. So many team members have been on the team for almost 10 years now, some longer. So we know each other very well. Clearly we're very happy to win it at the end. It's great for everyone."
Federer played a match against Gasquet that was close to sublime as possible. He broke the Frenchman in the third game of the match and then never looked back, going from strength-to-strength. One would never have thought Federer had been plagued by severe back issues the week before. He never faced a break point in the entire match. He hit 62 winners, 29 of those were off the forehand, more than four times what Gasquet managed.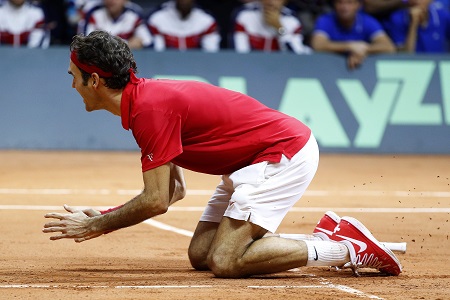 It wasn't that Gasquet played badly, not at all, it's just that he was given no opportunities. Even if Tsonga had been fully fit, it is likely he would have had just as much trouble and probably would have looked just as helpless.
"No, it's amazing feeling. The best. We all know how it's great to watch such an amazing player when he's playing good tennis …Yeah, Roger, I still love you," said Wawrinka cracking up with laughter and showing there are no lingering feelings following the tete-a-tete they had in London.
"You know, I didn't watch the beginning. I was watching from the locker room. I knew it was important to be ready in case for the last match. And I was ready. I had a great warmup with Mishi (team-mate Michael Lammer), who is really sick.
"But, no, to be serious, was good. You saw the score. You saw how well Roger was playing, how he just killed Richard. It was an amazing feeling. I'm really happy for everybody here. I think we're all enjoying the time."
Playing Federer in the mood he was in would have been like climbing the Swiss Alps unaided. The French were shattered with disappointment as they tried to win a tenth Davis Cup by BNP Paribas.
"Yeah, first of all I'm very disappointed to lose in three sets. It is my fault. It's always difficult. But I tried my best. I just need to improve," said Gasquet. "He played very good, the first time he played that level against me. I think he played the best match against me, I want to say. Of course, he has experience with these kind of matches. It's a big disappointment for me to lose."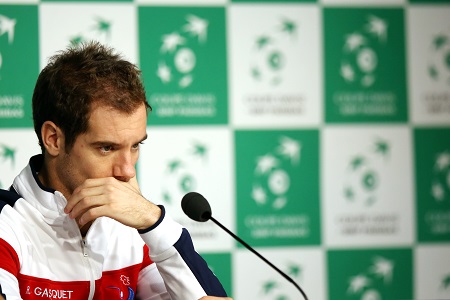 The French captain Arnaud Clement was also accepting the burden of guilt and will mull over what he could have done differently.
"It's very soon. But I believe we tried everything we could. We did everything well, especially in the preparation for the matches, in the way we approached the final. We've been preparing for it for weeks and weeks. The players did the same individually in the various tournaments they were playing during the past month," said Clement.
"Of course, I have to ask myself some questions. I need to be better in the future. But for the time being, the first feeling is that Switzerland was better than we were during the whole weekend."
So it is Switzerland's glory and really it is Wawrinka, the Swiss "Citizen of the Year" who has to take the greater share of the glory. He had the greater belief and the greater drive to achieve this trophy. While Federer now has the last major trophy that eluded him, Wawrinka was asked if he has now achieved all he wants.
"I didn't succeed in everything," he said, "but clearly it is an exceptional year for me. I've been dreaming of this Davis Cup for years. I've been trying everything I can to win this competition. With Severin (Luthi the captain), with Roger, Mishi and Marco (Chiudinelli), all the staff, we had many experiences together during the past years.
"This year maybe was the ideal year. It started off very well in Serbia. It ends up perfectly well here in France. We are happy. We made many sacrifices during the years to be able to win it. We did it now. We are very happy."