Roger Federer's back was tested in a light practice session as he and wawrinka volleyed away concerns.
The Swiss Davis Cup team could be breathing a fraction easier.
The ruckus between Roger Federer and Stan Wawrinka that followed their semifinal match at the ATP World Tour Finals in London and which had the potential to derail Switzerland's preparations for the final of the Davis Cup by BNP Paribas, appears to have died down, and there is also a fraction less concern over Federer's back injury issue after he had a light practice session.
Federer arrived in Lille on Monday via a private jet from London but the injured back was definitely not been good enough for practice sessions for three days. Back issues are not new for Federer and it is understood the latest injury could have been a result of that apparent heated discussion with Wawrinka and, because of the late hour following the Saturday night match, Federer ignored taking the expected precautions necessary to manage his condition.
Wednesday afternoon at the Stade Pierre Mauroy, venue for the Davis Cup by BNP Paribas final was the first time Federer stepped onto the court since Saturday for a light practice session.
"I wish progress would be faster, but we're trying harder (and) we're heading in the right direction," said Federer. "I feel it's definitely a little bit better than it was on Saturday night and Sunday and also Monday. Baby steps. I'm hopeful."
There is a view that the tension between the Swiss team mates might not have been helpful to Federer's physical condition because quite possibly his body would have been feeling the stress points which could have added to the spasms. But, he has made it clear that the issue was also blown out of proportion by the media.
"We had a conversation after the match and everything's totally relaxed about the situation," said Federer. "We're old enough. We are friends, not enemies. It was maybe one of those moments, heat-of-the-moment situations. I don't think from this point forward there's much to say about it anymore."
Wawrinka backed up Federer's comments saying they know how to deal with a "small thing like that".
"There's not much to say because it's become a big deal because of the press," added Wawrinka who, even though he lost that close match to Federer, is feeling very buoyed with the way he is playing. "For us it's nothing really. It took us five minutes to talk about that, to think about the next goal that we have; the Davis Cup this weekend."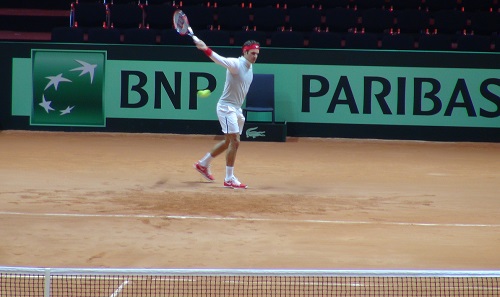 Federer said the back was in need of rest so that the inflammation needs to go away then he can get in some exercises and further treatment.
"I'm an experienced back guy," he said. "It's been a slow process (but) I am more positive now."
Federer, wearing like a thermal long sleeved t-shirt, hit with Marco Chiudenelli for about 20 minutes. He made no rash moves but the fact that there were no ill effects has left Federer and his captain Severin Luthi feeling slightly relieved.
"It was all good. There were no problems and Roger was okay," said Luthi.