It was a disappointing way to end the regular tennis year as Roger Federer withdrew from the final of the ATP World Tour Finals.
This was not the way a final should have gone. From about two hours before the final of the ATP World Tour Final was due to get on court between Roger Federer and Novak Djokovic, whispers were circulating that there was a problem with Federer. He has booked a practice court for 2.30pm and at 4pm still had not walked on the court.
Suddenly social media went into overdrive and it was all over Twitter that there was a very concerning situation with Federer. The word was that Federer had hurt his back and could not play.
Eventually Federer, accompanied by ATP World Tour Executive Chairman and President Chris Kermode, walked on to centre court and confirmed that he would not be able to play and that he was injured. Federer explained that he had taken pain killers and had direct treatment but the injury was not responding. He said that he could not play someone like Djokovic without being 100% fit.
The injury to his back happened late in that outstanding semifinal from the night before against Stan Wawrinka which Federer won from four match points down.
"It's a very way disappointing end to the season," said Federer. "I was playing so well here, had a great season so far. I was feeling great, you know, until yesterday's tiebreaker. I felt all of a sudden the back was feeling funny.
"I tried to have treatment on it, medication on it, just tried to turn around as quick as possible really, but didn't really feel that much of an improvement overnight. Then you don't have a day off or anything to work with, obviously it's not enough time to recover. The way I feel right now, there's no way I can compete at any level really.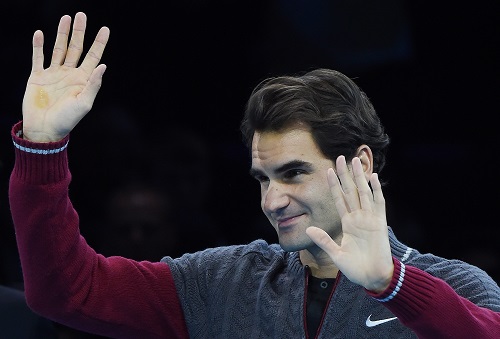 "So probably in a few days it's going to be better, but right now it's not good enough. So clearly it's very disappointing. Nevertheless, congratulations to Novak. That's how it goes. You have to put yourself in those positions. He's done that again. Congrats on World No. 1, as well. He's had a terrific season."
With the title going to Djokovic it means that he is the first man since Ivan Lendl in 1985, '86 and '87 to win the event three consecutive years. He said it was tough to win an event like this under such circumstances.
"During the doubles match, that's when I found out," said Djokovic. "Well, I did my warmup, obviously prepared for the battle, prepared for a great match as it was anticipated, as the people expected it to be. It was the last match of the season. I was ready to give it all. I'm sure he was ready, too, to give it all if he could.
"I spoke to him. As I understand, he retired a match maybe three times in his career in over a thousand matches. You cannot blame him. I'm sure he would play World Tour Finals if he could. This is probably the first time in the history that this happens. It's very awkward situation to talk about it, to be honest, today.
"You never like to win, especially these big matches against big rivals, with the retirement. But that's the way it is."