It's semifinal time at the ATP World Tour Finals in London as Novak Djokovic takes on Kei Nishikori and Roger Federer faces Stan Wawrinka.
The ATP World Tour Finals are down to the final four as Novak Djokovic faces Stan Wawrinka and Roger Federer faces tournament rookie Kei Nishikori and really it would be tough to go past the world's two leading players from advancing to the championship match – Djokovic and Federer.
Djokovic confirmed himself as the coveted year-end world No.1. Irrespective of what Federer may continue to do in London or next week in Lille at the final of the Davis Cup by BNP Paribas, he can't pass Djokovic. Federer was 490 points away from Federer going into the BNP Paribas Masters in Paris-Bercy but a quarterfinal loss to Milos Raonic was a setback.
There was still a chance for Federer but the lead was now 1310 points for Djokovic coming into London and while Federer had a clean run in the round robin matches, so too did Djokovic and that was enough to seal things. His last round robin win over Tomas Berdych, 6-2, 6-2, brought him No.1 honours. The happiness and relief was clearly evident.
"It's a great deal of happiness knowing that what I've been through the entire season in order to get to where I am and finish the year as No. 1," said Djokovic. "As I said on the court, I owe gratitude to my team, to all the people who were next to me. It's one of the ultimate challenges in this sport. So I'm very glad to be crowned as No. 1 of the end of the season.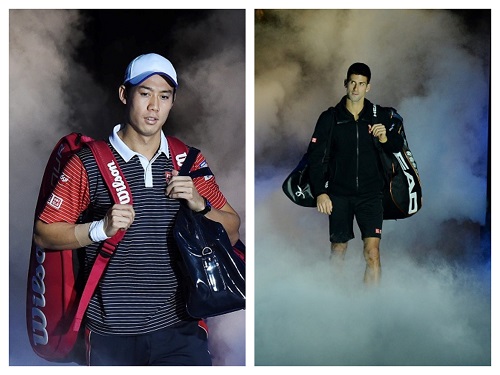 "Being No. 1 of the world is the pinnacle of the sport. Winning Grand Slams also, you know, is something that allows you to write the history of this sport. It's difficult to say what is more important. But both these goals are always my goals in the beginning of the season. So I'm glad I managed to achieve both. To win a Grand Slam in one season and be No. 1."
In fact he has now won at least one major every year for the last four years and is the seventh player since the computer rankings were introduced in 1973 to score the year-end No.1 three or more times, having also achieved it in 2011 and 2012.
Both Novak and Roger have been truly impressive. Djokovic has not lost more than three games in any one match and while Federer was taken to 7-6 in one match (against Raonic), he did come within moments of a double bagel against Andy Murray, something he said he was glad not to have achieved because "it's not very nice for the other player".
Neither have lost a set so far.
Djokovic and Nishikori last played at Bercy and Djokovic soundly avenged his loss to Nishikori at the US Open but those US Open memories last a while. Their head-to-head is locked at 2-2. Nishikori was troubled by a wrist issue during his round robin match against Federer it appears not to have bothered him greatly since then.
"Well, it's obvious that he's experiencing the best season of his life," said Djokovic. "He's top 5 of the world. He's playing some great tennis. He's one of the quickest players around. Deservedly he's in semifinals only on his debut.
"I expect a tougher match than it was in Paris, that's for sure. But, again, the conditions indoor and outdoor, where I lost to him in US Open, are quite different. I'm feeling pretty confident playing now, as well as he. So it's going to be a good, high class tennis."
It's not rocket science for Nishikori when he plays Djokovic. He, like everyone, knows how solid Djokovic is that there are no real weaknesses in his game.
"He's very, very solid. I think right now he's the most fit player," said Nishikori. "Rafa, Roger, Novak is little bit ahead of those top 10 guys. But I think we getting close. I've been beating them couple times, so I think little more experience. If I learn little bit how to win to them, I think I can be really, really close to them."
This time Federer and Wawrinka are "rivals" but next week-end they will be on the same side of the net at the Davis Cup by BNP Paribas final and for Federer it's a bit of a relief to see Wawrinka showing form ahead of Lille.
The last time they played one another was in the Monte Carlo final in April and Wawrinka won but at that time Federer had not really rekindled the type of tennis he has been playing since the grass court season. Who knows, but if Federer had won one more set at the All England Club in July he might have the year-end No.1 ranking, which would have been his sixth and record-equalling for him.
"(It's) historic for us to make it for a second consecutive year into the semis," said Federer. "It's an extra match for Stan, in particular. It's an opportunity for both of us to play a quality match ahead of Davis Cup.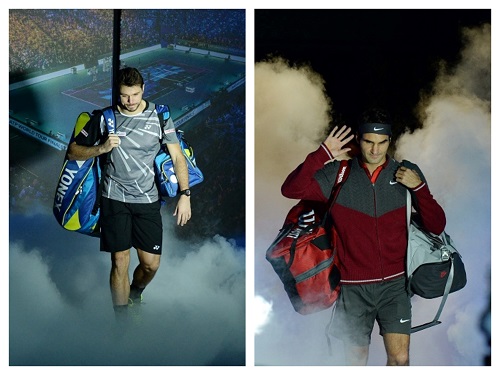 "But honestly Davis Cup is so far away in my mind right now. We care about playing very well here. I'm very happy I'm getting to play an extra match because I want to arrive in France with a lot of matches in my legs. I wouldn't want it any other way. I'm happy that Stan has also picked up his level."
Wawrinka is of the firm belief that he can beat Federer but also says that Federer loves playing indoors and knows how superbly Federer is playing.

"It's going to be a tough match for me, for sure, but I will have to play my best game if I have a chance to beat him," said Wawrinka. "I know I can do it. I know it's going to be very difficult. I have seen him play the first three match. It's always the same. Indoor, if you don't stay with him at the beginning, then it start to be really tough. He goes quick, putting so much pressure, serving well. The beginning of the match will be really important for me."
It should be chapter 37 going into the final with Djokovic to play Federer.