It is down to the decider as Serena Williams plays Simona Halep for the second time this week to see who will be champion at the BNP Paribas WTA Finals in Singapore. Who will roar louder in the Lion City?
You never want to get on the bad side of Serena Williams. It is not often that she has lost to the same person in back-to-back matches (although Alize Cornet can stand tall having done it three times this year alone), but she has never lost to the same player, ever, at the same tournament twice - she is in that situation going into the final of the BNP Paribas WTA Finals.
When Simona Halep handed Williams her the equal most comprehensive defeat of her entire career of 6-0, 6-2 (only twice before in 1995 and 1998 has she only won just two games in a match) in the round robin competition, Serena made it clear that she'd be gunning for Halep the next time they play. She was hoping, no doubt, it would be sooner rather than later but and she has got the opportunity in the same week.
Serena's exact words were: "To be quite frankly honest, I'm looking forward to our next meeting because she is making me going to go home and work hard and particularly train for her."
But for Simona while that win was important, it was second only to reaching the French Open final this year.
She has made it clear that she is not scared of Serena: "I played few days ago and it was a very good match for me. But this one will be different. I am prepared for everything. I just want to enjoy the match, enjoy the final first, and then to think what I have to do on court. I know how to play, so we'll see if my game is going to be the same.
"I can say it's different because it was group match and now it's last match in this tournament. I feel a little bit different but still I feel okay. I feel prepared to play against her. Will be tough, tough match, but I know she's a great player. I have just to enjoy it and to try everything on court to win. But we will see."
At this event there has been a lot of so-called "helping" going on between players, and that should be taken in the lightest possible manner. Li Na helped Caroline Wozniacki get in as the final player because Li retired from tennis. Then Wozniacki helped Aga Radwanska get into the elimination semis with her efforts in the round robin competition. And Halep helped Serena into the semis by stopping Ana Ivanovic scoring a straight set win in the last of her round robin matches. If Ivanovic had won in straight sets (she had won the first set) Williams would have been eliminated.
Somehow you don't figure that will provide any brownie points. Not a chance!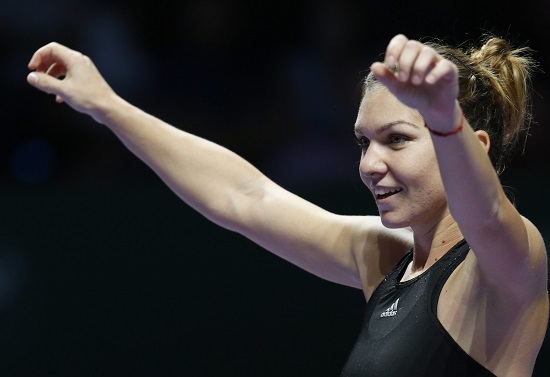 "I'm excited. My goal is to win three games. That'll be my first goal, said Williams. "I'm going to go from there. Hopefully I can hold serve. That would be good. Most of all, I hope to break once. So I'm starting out with low goals. Then I'm going to go from there. She played really, really well. Even she said she played really well. I'm just going to do the best that I can do and see what happens."
Going into the match Williams leads their series 3-1. The last time the same players who faced each other in the round robin competition and then again in the final of the BNP Paribas WTA Finals was back in 2009 and on that occasion it was Serena against Venus Williams.
Serena is attempting to win the title three straight years and become only the third player after Martina Navratilova (8) and Stephanie Graf (5) to win this title five or more times. Right now she is equal third with Chris Evert on four. Also, at only two other events has she managed a 3-peat, Miami (2003, 2004, 2005) and the US Open (2012, 2013, 2014).
Halep meanwhile is trying to be the first woman born since 1991 to win a title as big as the BNP Paribas WTA Finals. Only one woman born in the 1990's has succeeded with one of the Big 5 events and that is Petra Kvitova who was born in 1990.
Now, prediction wise, there was some redemption in that I got both semifinal winners right, so now for the big one, okay I am going with Serena to win.
Oh, the year-end top eight rankings will be as follows: 1. Serena Williams, 2. Maria Sharapova, 3. Simona Halep, 4. Petra Kvitova, 5. Ana Ivanovic, 6. Aga Radwanska, 7. Eugenie Bouchard, 8. Caroline Wozniacki.