It is down to the final four at the BNP Paribas WTA Finals in Singapore - Caroline to play Serena and Simona to play Aga.
So it's down to the final four at the BNP Paribas WTA Finals. I thought before we analyse the semifinals, let's look back at my predications so far, well if we have to, but I guess we do. I started in a blaze of glory with all correct on the first day but then things started to fall in a screaming heap with my predications.
Now we are at the final four stage and I have 50% correct and that's with Simona Halep and Serena Williams. I thought Petra Kvitova and Maria Sharapova would get through but their places have been taken by Caroline Wozniacki and Aga Radwanska.
In the Red Group Simona Halep finished No.1 and Serena Williams No.2 while in the White Group it was Caroline Wozniacki at No.1, in fact she was the only one with a perfect record in the entire round robin competition and she was the last one into the event at No.8, and Aga Radwanska finished No.2 even though she had a 1-2 record in the round robin.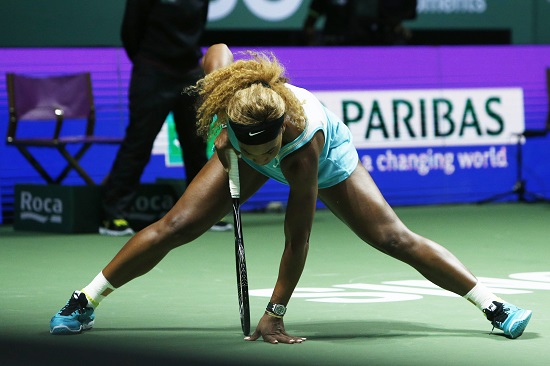 Just as a side note, Radwanska said she would throw down the credit card (hopefully a BNP Paribas one) and take Wozniacki shopping if the Dane "helped" her out by beating Petra Kvitova in the last round robin match. Caro did, so it looks like there is a handbag that Wozniacki is eyeing. I hear that Hermes crocodile skin bags are a snap at $50,000.
But then if Wozniacki helped out Radwanska and is going shopping on Aga's credit card, what is Caro going to buy Li Na who retired and with that retirement allowed Wozniacki to get into the BNP Paribas WTA Finals? Just asking …. That's all.
Okay, so Wozniacki goes into the match with Williams with a major deficit on her hands. Williams has won nine of their ten matches. Sure some have been close matches like the ones they played in Montreal and Cincinnati this year but then Serena played thunderous tennis in the US Open final. The only time Wozniacki won was in Miami in 2012.
"My matchup against her so far hasn't been great," said Wozniacki. "I won once and lost like ten times, or nine, I don't know. I don't even count anymore. But it's a new tournament. It's a new week. I've been playing well really. Again, I believe that if I play like I did today, doesn't matter who's on the other side. I can win."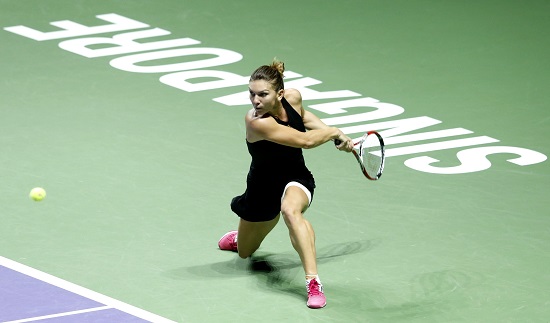 Sure she is playing well and that is incredibly refreshing. This week marked the first time in her career that she has beaten two Top 5 players (Sharapova and Kvitova) at the same event. But now she is looking for the biggest single win so far in her career; she has never beaten a reigning world No.1. Her record against reigning No.1's is 0-5 – once to Dinara Safina and four times to Serena.
If she does beat Williams, who has secured the year-end World No.1 ranking, she will be only the third player in 2014 to notch up 50 match wins, the others are Serena (50) and Ana Ivanovic (58) who failed to get past the round robin.
Halep goes in against Radwanska with a 4-2 head-to-head record but their two meetings this year were split. For both this will be a first - no other player from their respective countries, Romania or Poland, has reached the final of the BNP Paribas WTA Finals.
Only one other Romanian in fact made the semis, that was Irina Spirlea in 1997 and 1998 whereas Radwanska is the first Pole to even make the play-offs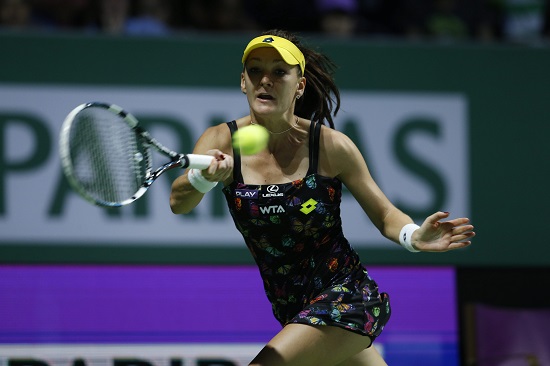 "It will be a tough match (against Radwanska); I know her very well. I played twice this year, its 1 1, so we'll see the third match," said Halep. "You know, she runs a lot on court, and I have to run as well tomorrow. I have to be aggressive, very aggressive, because she's an intelligent player.
"She knows how to open the angles. But I will try everything. I believe in my chance. I believe that I have a chance to win. It's my dream here, so I have to do everything tomorrow to win and to play the final. But we will see."
Radwanska is trying to be the first player to win this title coming from a 1-2 record after the round robin.
So … do I dare predict who will advance? Yeah of course. I think it will be Simona and Serena and if that happens, oh boy, you better believe revenge is on the cards. Remember, in the round robin competition Halep pummeled Williams 6-0, 6-2.
After that loss, Serena said: "To be quite frankly honest, I'm looking forward to our next meeting because she is making me going to go home and work hard and particularly train for her."