Just before the BNP Paribas WTA Finals in Singapore, all the players have been scrutinized during the traditional press conference before the tournament. Especially for you, I chose a question/answer for each player. I tried each time to pick an original or funny answer. But it's not always easy...
Question to Maria Sharapova:
You tweeted a picture after the draw. Why did you think that it was the best picture of the evening?
"Just because it's like a thousand words in one picture. It's incredible. Can't wait to write a book. Those are the moments where I'm like, 'Oh, my goodness. I just wrote a whole chapter in one evening.' Yeah, looked like a lot of fun, huh? Love those things."
An explicit picture indeed.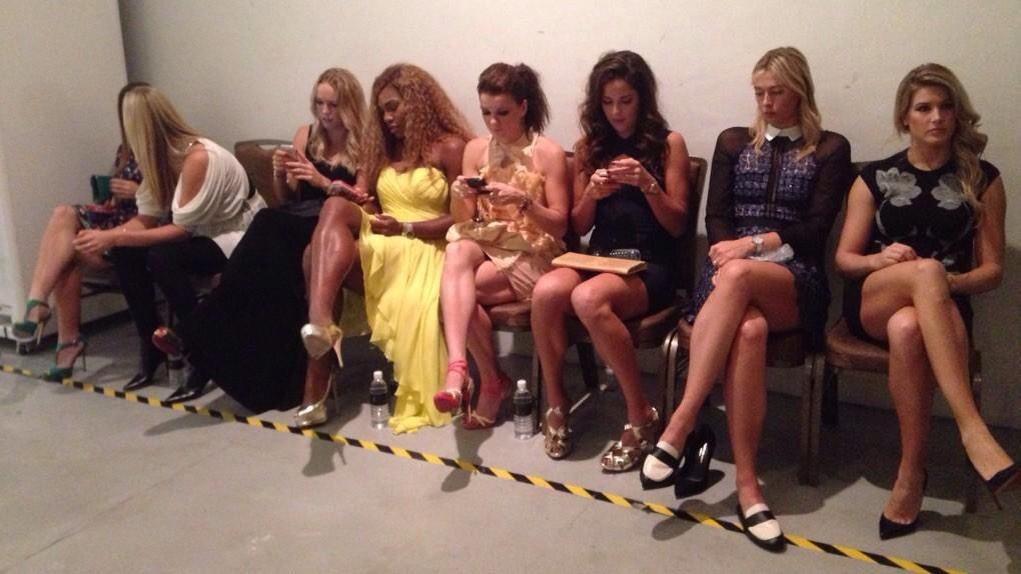 Question to Simona Halep:
Do you think that you can become world number one next year?
"Me?"
Come on Simona, have a little ambition for god's sake.
Question to Agnieszka Radwanska:
You're the queen of hot shots. What was your favourite hot shot this year?
"I think I really liked that shot from Montreal from the semi-final. The overhead backhand. Maybe someone remember that. I think that was my favourite one, especially because it was a really big moment."
See for yourself.
Question to Serena Williams:
This week, the WTA fined Shamil Tarpischev for the comments he made on Venus and you. What did you think about it?
"I think the WTA did a great job of taking initiative and taking immediate action to his comments. I thought they were very insensitive and extremely sexist as well as racist at the same time. I thought they were in a way bullying."
For the record, the charming and restrained Shamil Tarpischev called Venus and her sister the "Williams Brothers" on a Russian TV studio and said that it was scary to look at them. This misdemeanour cost him 25 000 USD. What a classy man this Shamil...
Question to Caroline Wozniacki:
How do you like Singapore? Have you tried local food?
" I haven't tried the local food yet! But the view from the hotel is amazing and people are nice and helpful. It's a really nice place to organise a championships. It's my second time here and I am really happy we're playing indoors. It's so hot outside. I think all of us would be struggling [if we were] playing outdoors."
So, it's seems that football players aren't the only ones to give boring answers. Apart from the hotel room and the tennis courts, how's Singapore you said?
Question to Ana Ivanovic:
You look lovely today.
"Thank you."
OK. Proper journalism.
Question to Eugénie Bouchard:
When you were a junior, you used to post some crazy videos of you and Laura Robson dancing all over the world. Can we expect to see more of this?
"I don't think that I'm a very good dancer, but you never know. Anything can happen, so why not?"
It's true that it lacks a bit of madness on the WTA tour. That being said, on the ATP Tour as well.
Question to Petra Kvitova:
You won Wimbledon twice. Of the other three Grand Slams, which one would you like to win?
"Maybe the Australian Open."
Why?
"I mean, of course U.S. Open it's not really my favourite one. I'm sorry to say it. In Paris is clay, so it always takes me a while to get used to clay a little bit and play some good tennis on it. It's always about the confident over there...I love Australia. I love the people over there. I love the Grand Slam over there as well. So I hope that it can be the best one then."
At least on the US Open it has the merit of being clear.
By Eli Weinstein