Former world No.27 Gala Leon Garcia has been appointed as Spin's new captain in the Davis Cup by BNP paribas ... and she is a woman.
The announcement of Gala Leon Garcia being appointed to be the first woman captain of the Spanish Davis Cup team has been met with mixed feeling. Andy Murray was certainly one of the first to congratulate her even though he doesn't know her but it follows on the heels of his appointment of Amelie Mauresmo as his full-time coach.
Taking an opposite view is Toni Nadal, uncle and coach of Rafa who was clearly not happy with the appointment and found it to be a strange choice. He said that it is "preferable that (the person) is someone with a background in the world of men's tennis". He was of the expectation that the job vacated by Carlos Moya after just one year, would have gone to someone like Juan Carlos Ferrero.
Nadal went on to say that he had nothing against Leon Garcia and admits he doesn't "know what her capabilities are" but in theory she does not know men's tennis and that her background in women's tennis as a former player would be quite different to men's tennis.
Toni Nadal is quoted to have told Onda Cero radio: "The truth is that the men's game isn't the same as the women's game on the tactical level, not that one is better than the other."
He said that he would have agreed with the appointment of the 40 year old if "she had spent ten years coaching" men's tennis.
Is that enough of a view to have? Moya knew men's tennis and had one of the shortest runs as a captain that I can remember, certainly the shortest since John McEnroe captained the USA Davis Cup team and walked away from the position when he didn't get his team to the final after a loss to Spain in Santander.
Some time ago here on wearetennis.bnpparibas I wrote advocating the appointment of Mauresmo to the French Davis Cup captaincy when Guy Forget was stepping down. It would have been a brave choice but certainly something innovative. Arnaud Clement has proven to be a very good choice and is very popular with his team. However, if she had been the choice there might not have been the fuss Gala Leon has been confronted with.
You can't say that Mauresmo was flush with experience in men's tennis yet Murray took the decision to appoint her. Having a man or woman being appointed to such position is not going to provide an overnight fix to whatever needs correcting but the opportunity needs to be given and time needs to be provided.
Spanish Davis Cup tennis is struggling. Probably the more appropriate issue that should have been raised is Moya's walking away from the position. When he was appointed last year the expectation was that he would attract the main players back especially Rafa who he mentored growing up, but that certainly did not happen.
In essence what Moya has done is given up when the going got tough and that is not what a leader should be doing. It is a poor example. He cited personal reasons and the fact that he could not attract the players. Maybe the personal reasons had to do with his pride. But then to suggest that he would happily come back if things changed is something that is questionable on character.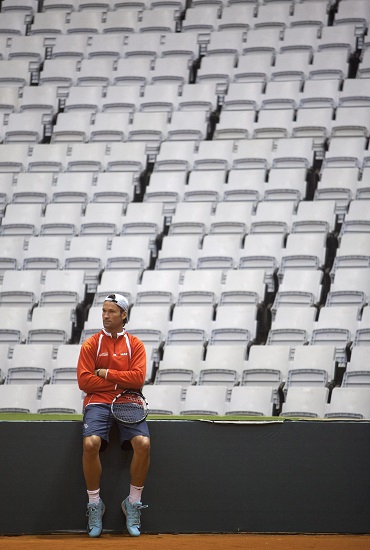 It comes across that Carlos, who I have to say is a really nice guy and was a terrific player, wants the easy way out in the job. Being a Davis Cup by BNP Paribas captain with any nation does NOT give you a straight path to glory. It is NOT something to be viewed as a sit back and let others do the work job. It is a job that must instil motivation, provide advice, be strong, know when to speak, show dignity and most of all find that something deep inside yourself to lift a player and give them the passion to want to be a part of what you are leading and striving for.
Really, the only issue I see with Leon Garcia's appointment as a woman is the work that has to be done and that happens in the locker-room.
Leon Garcia played Fed Cup for Spain for many years, she played over 650 matches, she worked with female players and became the first woman to be appointed sports director of the RFET, the Spanish tennis federation. Those are impressive credentials and she needs to be given a chance.
Moya had experience in men's tennis and look how that's ended.