Marin Cilic is a gentle giant and now he has realised a lifelong dream, he has won a Grand Slam championship.
Marin Cilic is on top of the world and after what he went through it is time for him to enjoy tennis life again. The Croat has played a superb match to win the US Open, his first major title, scoring a 6-3, 6-3, 6-3 victory in one hour 54 minutes over the first Asian man ever to reach a Grand Slam, Japan's Kei Nishikori.
When the last point was played, a winner off the racquet of Cilic, his 1.98m frame almost fell backwards as he lay on the hard court trembling with emotion, his arms extended out completely like the wingspan of a soaring eagle. There was no doubt that he felt he was soaring. He lay there for a minute absorbing everything around him as he looked up to the sky.
"I mean, seems completely unreal to be called Grand Slam champion," said Cilic. "I was dreaming about this all my life, and suddenly last four, five days everything started to change. And with my tennis especially. I started to play absolutely unbelievable starting with the fifth set with (Gilles) Simon.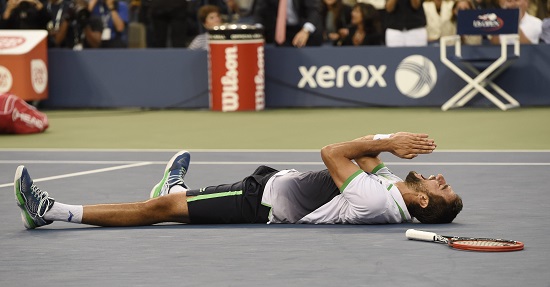 "After that I had unbelievable run of the matches against these top guys. And what it means to me, it means everything. It's just a huge accomplishment and huge moment for myself and for my team and for everybody around me who was with me all these years supporting me, believing in me and never giving up. So this is just the peak of the world."
Cilic opened the final and had to save break points on his serve but once he did that his confidence grew. He was pressuring Nishikori from the outset and Nishikori was feeling the explosive of Cilic's returns. As for the Croat's serves, well that is another story altogether. If ever he was in trouble he would blast aces or unreturnables and Nishikori seemed helpless.
Cilic was serving ace-only games and it seems as if the ball was attached to his racquet with a string. He was directing Nishikori from side to side. The Japanese players was trying desperately hard to get into rallies, to work his way into points as he did so brilliantly against Novak Djokovic in the semifinals but Cilic was having none of that.
Nishikori was as disappointed as one could be but he will soon realise that this was an outstanding achievement for him and his tennis.
"There is a lot of things, positive things, that I learned from these two weeks," said Nishikori. "Yeah, it was one of worst match I played, but also he was very aggressive and very fast. You know, I was, I have to say, a little bit nervous. A little bit, you know. First final. I mean, even semis. But very excited these two weeks.
"You know, I didn't expect nothing coming here. Before I was, you know, injured and little practice. Yeah, there is so many positive things for sure that I can have from these two weeks beating Stan and, you know, Novak again. You know, disappointed of course, but very good two weeks."
Cilic was saying that his mental toughness was paramount in this match. This time last year he was not at the US Open because he was serving a nine month suspension for an unfortunate drug incident. That period was spent working on his game and on 1st September he started up with Goran Ivanisevic, the first Croat to win a major, Wimbledon 2001.
He also began to enjoy his tennis much more. Before he felt he was not moving enough in eh rankings, it was almost as if he had flat-lined.
"I watched actually a lot of the matches last year," he said. "Of course you want to watch the guys and maybe you're gonna catch a few tactical things you see. I felt that Rafa was playing amazing tennis against Novak and it was really good tournament. Wawrinka also made sort of a breakthrough beating Murray.
"I was involved in tennis because I was training every day either physically or tennis, and I didn't let my mind go away because I was hoping to return any day. I was hoping just to come back on the tour and that would be the biggest joy in my life, definitely."
He has certainly achieved that.