Serena Williams reached another milestone in her career by winning the US Open.
Serena Williams was emotional and overjoyed. After what had been a miserable Grand Slam season she redeemed herself with a stunning victory at the US Open over Caroline Wozniacki in 75 minutes 6-3, 6-3.
It brought her US Open title six which ties Chris Evert, it gave her Grand Slam 18 which equals Evert and Martina Navratilova and only behind Steffi Graf and Margaret Court. It was her 63rd career title and sixth for the year. She is also the first woman since Evert (1975 to 1978) to win three or more consecutive titles at the US Open.
Adding to all the stats is the fact that she is the second oldest player to win a major in the Open-era since Martina Navratilova at Wimbledon in 1990 and she did not surrender more than three games in any one set the entire two weeks of the tournament. It truly was an amazing achievement.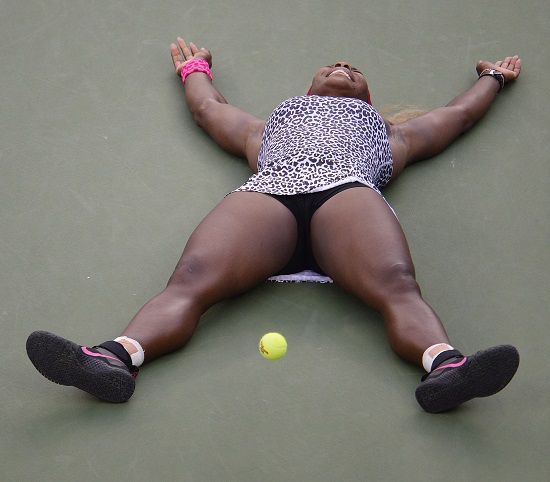 She said it was the No.18 that really hit home when it was all said and done, when Wozniacki sent a backhand long on championship point and Serena dropped to the court on her back.
"I have been trying to reach it for so long, since last year," she said. "Well, since the beginning of the year. I didn't really think I would get there. I just felt so good. T means a lot to me. I could never have imagined that I would be mentioned with Chris Evert and Martina Navratilova because I was just a kid with a dream and a racquet.
"Living in Compton, this never happened before. I just never could have imagined that I could have gotten this far. It was eluding me for three tournaments – that's a lot for me. I was like really excited to get it. I feel honoured and I feel really good. Just almost lost for words, I'm grateful to win a Grand Slam this year."
She says her mind is already focusing on No.19 with 22 being the next stop and certainly commentators believe there is that unofficial title that hangs around. It is the one bestowed on Roger Federer, GOAT – greatest of all time.
"I have heard it obviously but I don't think about it," said Serena. "I'm just a simple individual who just to win titles and wants to play tennis. I want to do really well and I love the game. The reason I play is to sit at the end of the day and hold the trophy or stand and hold the trophy. For me, that's my joys."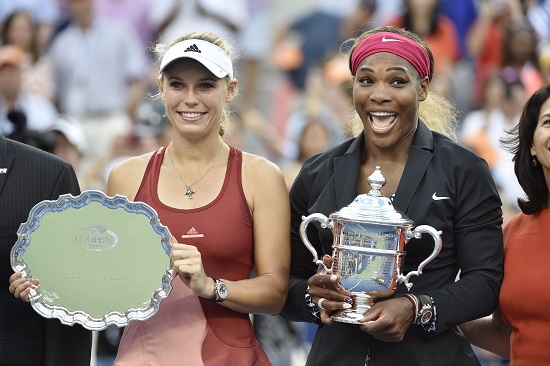 A "simple individual" is something she is not. A simple individual is not someone who can achieve what she has. Even with the dark moments from Wimbledon this year when she was unsteady on her feet and almost seemed to be in a daze.
"At that moment I realised also I needed to relax a little more, I put a lot of pressure on myself," said Serena. "I don't have to put pressure on myself because I don't have to win another title. I always have my little 18 bracelet now (presented to her on court by Evert and Navratilova). I'm good to go."
It obviously worked. Wozniacki was saying that when Serena is playing at her best it makes it impossible to beat her and that she is a level above any of the others no matter how well they may be playing. As an example her record against Maria Sharapova who has the next highest number of Slams in the top ten after Serena, is so one-sided, it is as if a weekend player is playing with a pro Serena leads 16-2 and Sharapova has not beaten her for a decade.
"Her results and her career says it all: 18 Grand Slam titles. You don't get that unless you're exceptional in what you do," said Wozniacki. "She is one of the greatest of all time. I definitely think when Serena is on her game there's not much we can do. I think that's why she has so many titles that she had."