There is a two-person race on in world tennis. Who will get to Grand Slam title No.18 first?
There is only one element of similarity between Serena Williams and Roger Federer. It has nothing to do with their respective backhands – Federer has a fluid, traditional single handed one whereas Serena has the currently conventional double handed one. It has nothing to do with the serve because Serena can consistently be among the three fastest servers whereas Federer doesn't come close.
Federer rarely loses his temper in a match while Serena has learned more to control her outbursts. On the age aspect Federer is one year older at 33 but it is incredible that this 33 year old and she as a 32 year old are still playing at the highest levels, and not only just playing still enjoying brilliant results.
So, what IS exactly the same between them? It is the number of Grand Slam singles titles. Both are on 17 and with both of them being in the semis of the US Open, the question is who will get to 18 first?
Federer came oh so close at Wimbledon. He played such brilliant tennis to reach the final and then lost a cliff-hanger to Novak Djokovic. Serena meanwhile has had her worst year at the majors since 2011. The 2014 US Open saved her, just as it did in 2011, because if she had not made at least the quarters it would have been her worst Grand Slam season since 2006.
With both now playing exceptionally well it makes it a bit tougher to split them as far as who will achieve major No.18 so it is a matter of maybe looking around to see who is left for possibly a better determination. The other players definitely play a role.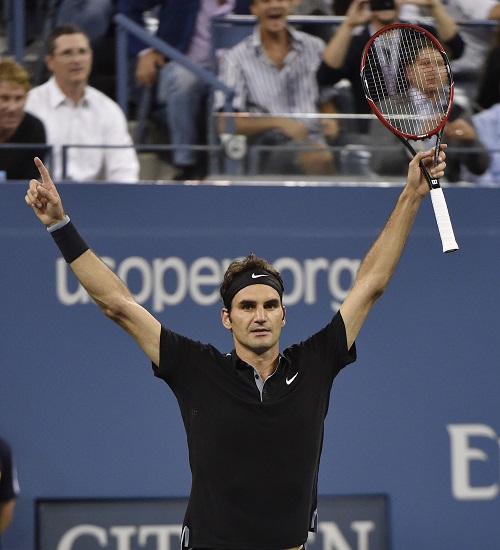 As a side note, when Serena was previously getting close to No.18, I suggested to her, jokingly of course, that she should hold off from winning another major if she gets to 18 just until Wimbledon came around and then go ahead and win at the All England Lawn Tennis Club. The punch line could then be "SW19 congratulates SW19". She loved the idea of SW19 at SW19 but holding off winning a major … "not going to happen" was the response with a laugh.
The path to 18 appears to be more accessible for Serena but even she said after his year Slam season nothing is being taken for granted.
Federer got past Monfils from two sets to love down and two match points down in a priceless clash but then made the point that his semifinal match against Marin Cilic will be during the day which will be a different dynamic compared to all the night matches he has played.
Federer gets through that one and more than likely Novak Djokovic will be across the net for the final just as he was at Wimbledon.
Serena meanwhile has commanding winning records against whoever she plays but then we have also seen that this US Open has been rife with upsets.
Still, I am more inclined to veer towards Serena getting to 18 first, and if she does she would tie Chris Evert and Martina Navratilova but would still be behind Stefanie Graf and Margaret Court for the most singles Grand Slam crowns. Federer meanwhile will remain leader of titles at the four majors irrespective. Eight years ago I predicted that he would reach 18. If it happens, my name is Craig "Nostradamus" Gabriel.