A young teenager's tennis career was cut short. Abuse and financial hardship was suffered but Mirjana Lucic-Baroni showed the power to scale over adversity, to inspire and stand tall.
Back in 1998 a young player from Croatia (then Yugoslavia) came to Sydney, Australia, to train. She was working with Clint Newcombe the son of tennis legend John Newcombe who had given this young lady some solace by allowing her the opportunity to train at his tennis ranch in Texas. I was, as I still do today, working on the tennis tournament in Sydney as the media director.
In those days the tournament was at White City and I would join Clint and this young lady off and on for quick casual chats as we sat on the lush grass courts. She was 16 years old and her name was Mirjana Lucic.
Mirjana has been through so much in her life since then. There has been enough material to fill a book and to make a motion picture because what someone as young as she experienced, no one of that age should go through.
Mirjana Lucic was a child prodigy. She won the Australian and US Open juniors before she was 15 and at that time she was highly regarded alongside the likes of Venus and Serena Williams, Martina Hingis and others. However, the allegations of abuse inflicted by her father and the allegations of what he did with the money she earned remain baffling. That anyone could do what is alleged to their own child. It goes to show the strength of Lucic that she is still around and her "second life" makes her so happy.
In 1997 and 1998 she reached the third round of the US Open and in1999 she continued to fight through adversity to reach the Wimbledon semifinals. Now 16 years since reaching the third round at the Open she has achieved it again and gone one better. She stunned No.2 seed Simona Halep and when she served back-to-back aces to win the match she was left in a state of shock – pure disbelief.
Now 32 and married, Mirjana Lucic-Baroni allowed her emotions to flow. The tears were like rivers but these were tears of joy unlike the tears she shed in her "former life". These were tears enveloped in fear, sadness and physical pain from the alleged bashings from her father and the psychological pain of seeing her mother and siblings being treated in a similar manner.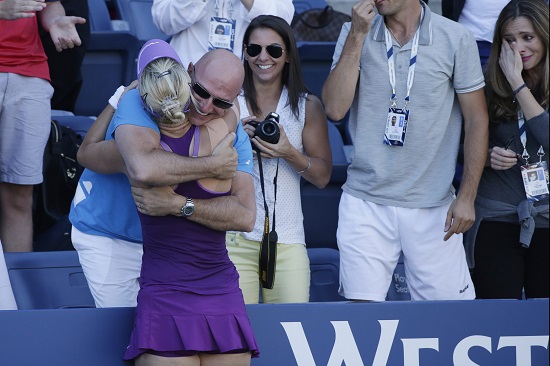 It was a magical moment at the US Open this year to see what her achievements meant to her. She said: "I'm a little bit emotional now (she stopped and apologised for crying). It's been really hard. Sorry. After so many years to be here again, it's incredible. I wanted this so bad. So many times I would get to a place where I could do it. Then I wanted it so bad that I'm kind of burned out. I apologise again. Yeah, I'm so happy."
I asked her if she felt like she was "born again".
"I think that's a great saying" she said. "I have heard that over the years but in these two weeks absolutely. Absolutely. In every way."
Lucic-Baroni's dreams were shattered when she was young. Her talent never really got to see the light of day the way it should have. She, her mother and her siblings managed to "escape" her father's grip and tried to start a new life. It was such a struggle but they never gave up. At one stage as she tried to make it on the circuit, she had to call a halt to her career because the finances were not there to allow her to keep playing.
Still she never gave up on the dream and about three or so years ago there was this second attempt to give things another chance.
"It's uncomfortable for me to talk about. The (financial situation) was the main reason I didn't play. It wasn't the lack of desire or anything. It's just circumstances were such. I was still in tennis a lot. I was still, you know, waiting for my opportunities and things like that," she said.
The subject was changed and she was asked how she was feeling now. Her face lit up as she gently tossed her blonde hair back. Her features are refined and she could possibly be mistaken for someone like Cate Blanchett or Tilda Swinton.
"I feel goofy right now. I feel like I'm 15 now. I feel so excited. It's crazy," she said. "I'm 32, but I don't feel like that. My body is really great. That's really important. I feel fit. I feel strong in my mind. I feel very excited, even after so many years on tour. That's what I find really -- exciting is not the word. Kind of surprising a little bit.
"I still have so much desire, so much to play. I have such an amazing husband and such a happy life at home that I don't need to do this, you know. I would be perfectly fine having a family. But people don't realize how much I want this and how hard I worked for this. Yeah, it's these moments in these last two weeks that are just -- I mean, it's what I work for. It's just so fulfilling, so amazing."
At last she has found happiness, it's just sad the early years were taken away from her. Mirjana Lucic-Baroni is making up for lost time and she deserves it.