Stefan Edberg remains one of sports truly good guys and having him back on tour can only be a positive.
There are not too many people in tennis on the media side of things (or any sphere for that matter) who are still around from that wonderful era of the sport that gave us the likes of Stefan Edberg, Ivan Lendl, Boris Becker, Mats Wilander and many more. I am fortunate to be one of those still around, continuing to follow the tour.
Here on wearetennis.com we have often talked about the "big four" who have been around the last few years, Roger Federer, Rafa Nadal, Novak Djokovic and Andy Murray as being the "golden era of tennis", the greatest group of players we have seen, but let me tell you that period from the mid-eighties to the early nineties was indeed something special.
What added to it being a special time was the fact that the regular media representatives who travelled on the tour were able to connect with the players and build relationships, to be able to exchange phone numbers and even later on emails. It was personal. Edberg even recorded the message on my answerphone.
It is quite different now having to go through managers and PR agents who don't always give you the time of day. But heck that's what we have to work with now and make the best of it. It is unfortunate but we will never get back to that previous era.
With that in mind it is extra special seeing some of those legendary names back on tour in a different capacity, as coaches to the current crop of legends. One of those guys from the past that I built a special friendship with was Edberg. One of the nicest guys anyone could hope to meet in tennis or any sport for that matter. So much so that the ATP's sportsmanship award is named after him.
Now coach, as we know, to Federer, it is a different role completely for him and he has the personality to slip into that position without too much trouble. When he and Becker, who is with Djokovic, sat near each other in the respective player boxes during the Wimbledon final last month, it was as though their old rivalry had been rekindled.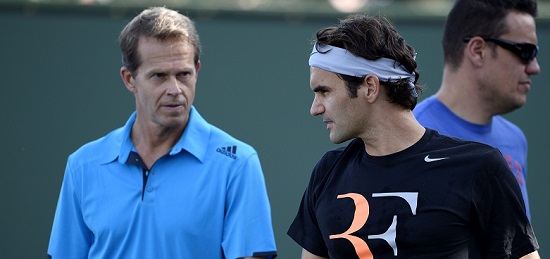 "And who would have believed that?" laughed Stefan. "I think it's been good to be back on the tour in many ways, A, to work with Roger, which is fantastic, and be part of the game which I have sort of been away from, and at the same time having some of the former players doing a job out there, and obviously Boris.
"It was quite a day when you think about it, you know, being on Centre Court again in the player's box, sitting in the final and Boris on the opposite side. It was a good feeling to be back in the final again, but it's so much different now because, you know, I don't feel it like a rivalry when you did at the time when you were playing. It's very different this time around."
Edberg has in one sense surprised himself being a coach to such an elite player but also helping Edberg is the fact that Federer has been healthy this year and nothing has really held him back. He said: "Let's say it's nothing that I thought that I ever would do, but obviously being around Roger and the way he is as a person on and off court has actually been a very, very good journey so far.
"So it's been good to see him making some progress this year. As we all know, he was very, very close winning at Wimbledon. There was one or two points that made a difference in that final, which was one of the better finals I have watched in the past in the many, many years."

When he was playing you could never really tell if Edberg was nervous or concerned in a match. His ice-cool Swedish demeanour never gave anything away. He was a beautiful player to watch. Watching him sitting courtside during the Wimbledon final was like a throwback to his playing days, rarely did his facial expressions change.
"I think for many ways it's worse sitting in the stands, because you can't really do anything sometimes. You wish you could," said Edberg. "But it's actually been okay, but I think the final there was a lot of feelings there because it is a Wimbledon final.
"But it's okay. I think sometimes because I have my son playing tennis, that's been even tougher (smiling). But apart from that, it's quite good, but you want him to do well and so it's a different feeling, but it's good so far."