The 2014 season has not been a happy hunting ground for Serena Williams when it has come to the majors while health issues at Wimbledon had a number of people concerned about her well-being. She has one more chance to bounce back at one of the big four.
There never really was a definitive reason provided as to why Serena Williams was taken so badly at Wimbledon. Sure the official statement indicated a viral illness but what exactly it was has not been revealed. Obviously it was pretty severe and severe enough to totally disrupt her co-ordination and balance and she looked terrible.
As someone who worked for her for quite a few years, I can safely say I never ever saw her look the way she did at Wimbledon, other than when she was so sick and in a critical state a few years ago.
But this past Wimbledon was a strange one for Serena, from start to when she left the grounds of the All England Lawn Tennis Club for the last time.
I wrote here, on wearetennis.bnpparibas asking what's wrong with Serena Williams. She came across in an angry mood from the beginning of the event, the loss in the singles didn't help and then there was the whole on-court incident that saw the doubles aborted as she looked so poorly - it was almost scary.
So far this year it has been Serena's annus horribilis on court. It marks the first time since 2011 she has failed to win a major before going into the US Open and 2011 is a year that she can be excused from because that was the season when she was in such a critical state health wise. Prior to that 2006 was the year when things were lean; she played only two majors, the Australian Open and US Open. Again it had to do with personal reasons.
When Serena has not done well at one of the majors she always comes charging back at the next one in an effort to bring things back on an even keel. However, this year she has uncharacteristically failed to do that. At the Australian Open she lost to Ana Ivanovic in the last 16 4-6, 6-3, 6-3, at the French Open she lost to Garbine Muguruza in the second round 6-2, 6-2 and at Wimbledon she lost to Alize Cornet in the third round 1-6, 6-3, 6-4.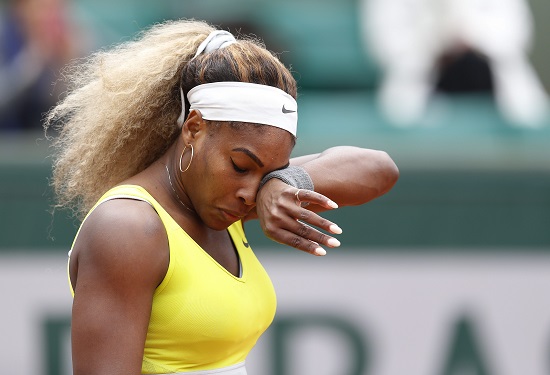 Compare that to 2013; after losing in the quarters of the Australian she won the French and after losing in the 16's of Wimbledon she bounced back and won the US Open. In 2012 it was a similar story; after that disastrous result against Virginia Razzano in the first round of the French (first and only time she had ever lost in the opening round of a major) Serena was so mad that she barrelled through Wimbledon and the US Open.
We have not seen that fire so far this year and she has just one chance left to redeem her situation and that is with the US Open which starts in less than a month. If she fails to reach the final it will be the first time since 2006 that would not have made the final of a major.
Obviously Serena can handle the pressure and the challenge, she has nothing to prove in that department but what will start to be seen will be the headlines questioning whether she is done and past it – if it is the beginning of the end. It would not be dissimilar to those that circulate about Roger Federer and he has shown he is not done by any means by reaching the Wimbledon final for the ninth time.
Serena had been training in Croatia, a bit off the beaten track and not a place that comes to the forefront of the mind in which to get back into shape physically. Mentally it is a great spot to chill and recharge batteries especially if you have been through an ordeal as she did during Wimbledon. And then I guess on the physical side of things, it probably really doesn't matter where you train as long as you have what is needed.
She has kept a relatively low profile since Wimbledon so how she actually is, is not really known but the tennis tour is anxious to see how she emerges from the disappointment of the majors so far in 2014 with the US Open. No doubt she will be answering a lot of questions.
If anyone can bounce back, it's Serena Williams.