The 2014 season has been a breakout year for Canada's Eugenie Bouchard but she still has an interesting test to come and that challenge is on her doorstep.
There is no doubt when comes to consistency at this year's majors, the first three that have been played, one woman player stands out from the pack and that is French and English speaking Canadian Eugenie Bouchard.
No other player in women's tennis this year has reached the semis or better of all three events, the Australian Open, French Open and Wimbledon. We wait to see if that consistency continues with the final major of the year, the US Open, which starts in less than a month.
However, the issue here is not to do with the aspect of consistency but in fact to do with how she handles the attention and expectations of playing at home for the first time after garnering so much focus while playing on the international tour.
Players will say time and again, while it is always wonderful to play in front of a home audience very often that is also the hardest crowd to play before. That is solely due to the nerves and pressure of playing on home soil.
The view is if you can do it outside of your country then you should be able to reproduce those results at home in front of the one that really "love" you. It is not quite that simple. We have seen it so frequently where a player has met with amazing success internationally but crumbled at home; just two examples – Amelie Mauresmo was a basket case of nerves playing at Roland Garros and Sam Stosur struggles big time at the Australian Open.
The biggest Canadian championship for the women starts on 4th August in Montreal (the men are in Toronto the same week). Bouchard will be making her first appearance since reaching the semis at the Australian Open and French Open and then the Wimbledon final where she could have been auditioning for a part in the film "Frozen".
How will she respond to the far greater attention she will get in the city where she was born? She will be expected to do more appearances than normal and her matches will be filled to capacity. The crowd will be urging her on and playing every point with her. She has shown she is able to shut out all around her when she is on the court but that has not been tried and tested in Canada. It is a different scenario all together.
Sure those courts where she has proven herself internationally are massive and the most important in the world and in Canada nothing will compare to any of those stadia, but still it is a different experience and one where she will need that steel trap mind of hers to be working overtime in an effort to get herself through it.
Can she do it? Of course. Will she do it? Well, that remains to be seen.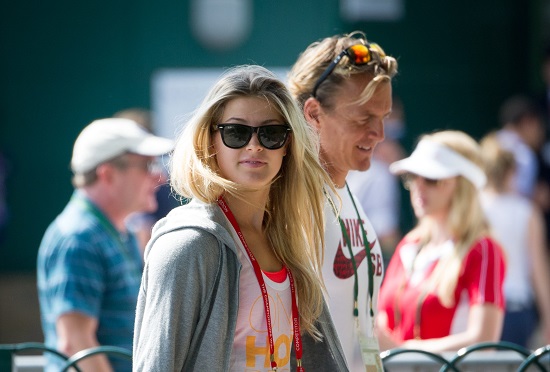 There is no doubt that she is an outstanding tennis player and there is no chance of being incognito. She is recognised across Canada and in particular Montreal and she has to handle it.
Certainly we have seen Bouchard rise to the challenges but this is a bit different. However, two things that could work in her favour are the fact that Canada is not one of the four majors and secondly she would have had four weeks from the end of Wimbledon to playing her first match in Montreal.
During those four weeks she has had the opportunity to come down from cloud nine in being the first Canadian to reach the final of a major, although you would never have figured she had achieved such a milestone seeing and listening to her reactions, and then she has been training with her coach Nick Saviano to take her game to another level. In other words the results of the first half of the year are in the background and now it is a look ahead.
It will be interesting to see how Bouchard copes. If she does well, let's hope her reactions are a bit more effusive than what we have seen to now and highlight what she is doing and achieving is an exciting adventure and journey and not some mundane 9 to 5 job which is what seems to come across.
Oh and one more thing, we can also hope that we see no more of the stuffed toys she carried into post-match media conferences. At least in the last couple of rounds at Wimbledon there was no sign of them. This is the big league.