Novak Djokovic won his second Wimbledon crown in a truly wonderful match against Roger Federer that lasted three hours 56 minutes.
Novak Djokovic has brought an end to a drought that he was starting to get very frustrated with. He has not won a Grand Slam title since the Australia Open in 2013 – he had lost in the finals at Wimbledon and the US Open in 2013 and again at the French Open last month.
Now he has won his seventh career major by defeating Roger Federer is a fabulous Wimbledon final. In three hours 56 minutes he survived a dangerous situation and defeated Roger Federer 6-7, 6-4, 7-6, 5-7, 6-4 to win his second crown at the All England Lawn Tennis Club and his first since 2011, same as the ladies champion Petra Kvitova.
Djokovic, who earned 1,760,000 pounds, now has seven Grand Slam titles form 14 finals and this victory returns him to the world No.1 ranking, deposing Rafa Nadal who will be at two with Federer at three.
For Federer the omens didn't land on his side – he was chasing a record setting eighth title, an 18th Grand Slam, his 80th career title and he was born on the 8th of the 8th.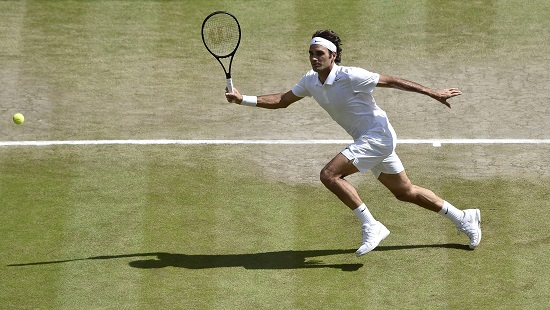 This was the 35th meeting between Djokovic and Federer and now the overall record is 18-17 to Federer and their record in majors is 6-6, their record this year is now 2-2 and on grass its 1-1. It should be noted that their respective coaches Boris Becker and Stefan Edberg also played each other 35 times.
"I was just overwhelmed with the emotions, positive emotions that I was experiencing in the match," said Djokovic. "I was not surprised, I was just trying to enjoy the moment, rethink what I've been through during the match. Sincerely, this has been the best quality Grand Slam final that I ever been part of. I've had a longest final against Nadal in the Australian Open 2012.
"But quality-wise from the first to last point, this is definitely the best match. Roger played very well, I thought, in a very high level. He showed why he's a champion. He showed a fighting spirit, composure in important moments when he was a break down.
"When I was serving for the match, he came in and played his best game. I didn't think I did much wrong there. Was disappointing losing the fourth set after being so close to win it and match point. But the only way I could have won the match today is by believing that I can make it all the way until the end and staying mentally strong. That's what I've done.
"I didn't allow my emotions to fade away, as it was probably the case in Roland Garros final a couple, three, four weeks ago. Just very glad to win a Grand Slam final after losing the last three out of four."
There is no doubt that this was a thrilling encounter that produced some of the highest possible levels of play. Both men were engaged in glorious hitting with most of the rallies being edge-of-the-seats stuff.
For three sets there has been just one service break but then in the fourth set there was almost an avalanche of them. Djokovic went up 5-2 but Federer worked his way in only to be facing a championship point on his serve in the eighth game. He saved it and then broke Djokovic to eventually force it into a fifth.
The crowd was going crazy with the bulk of support being for Federer with quite a bit of support coming from the Royal Box and led by THR Duke and Duchess of Cambridge (aka William and Kate). Becks and Posh (aka David and Victoria Beckham were also cheering on Federer, well certainly David because you can't tell when Victoria is having a good time.
"Yeah, I did see (William and Kate) afterwards. I wasn't in a great state. I was unbelievably sad at that moment just when I left the court, so it was a difficult moment for I think the three of us," said Federer.
"But they were very sweet to comfort me and wish me well, that they enjoyed the match and all these things. We met previously, so that helped I think. Clearly it makes me very happy to see them being supportive of my game and supportive of tennis. Overall, it's really nice seeing them there at a Wimbledon finals. Also at the quarters I think they were there as well. I think it's wonderful."
Federer was playing catch up tennis through the fifth set and then in he tenth game as he was serving to stay in the match Federer was broken and with that went the Wimbledon and the chance for that record-setting eighth title.
At the end of the match Djokovic got down on the court and bit into the grass. He was asked if it tasted any different to 2011.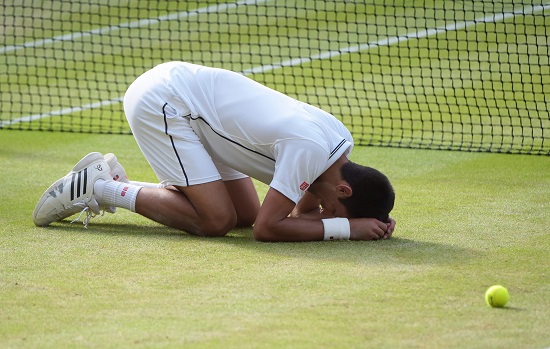 "It didn't change much. Actually I didn't feel anything, to be honest. So I had a nice bite. I thought that there was less grass today than it was few years ago, so I had a little bit of a spoil, as well. But nevertheless, it tastes like the best meal that I ever had in my life probably," said Djokovic.
The win returns him to the No.1 ranking in the world.
To wrap up the Championships, the women's doubles went to Sara Errani and Roberta Vinci, Jack Sock and Vasek Pospisil claimed the men's doubles and Nenad Zimonjic and Sam Stosur scored a title with the mixed doubles.
And of course Petra Kvitova is the Ladies Champion.