When Novak Djokovic and Roger Federer meet in the final of Wimbledon, it will be their 35th clash but only the second on grass.
The men's semifinals at Wimbledon was a case of the old guard playing the young guns and while the young guns have been making inroads on the tour, the establishment have made it more than clear that they still have their incredible firepower and are not going to be stepping aside anytime soon to make way of the new kids on the block.
Novak Djokovic reached his third Wimbledon final in four years when he defeated Grigor Dimitrov 6-4, 3-6, 7-6, 7-6 and then Roger Federer swept past Milos Raonic 6-4, 6-4, 6-4, to reach his ninth final at the All England Club as he chases a record setting eighth title.
Going into the final Federer leads their head-to-head series 18-16 but amazingly they have only ever played once on grass. This year they have met three times and its 2-1 to Djokovic and in Grand Slam matches its 6-5 to Federer.
"It was a four-set win for him in semis of Wimbledon, so it's a good chance for me to, you know, try to win against him on his favorite surface, on his favourite court," said Djokovic. "This is where he has the most success in his career, winning many titles. He's been looking very good throughout the whole tournament, very dominant with his matches. You know, I'm sure that he wants to win this title as much as I do."
It's strange that will all the success he has enjoyed and this is his 14th Grand Slam final, while Federer is playing in his 25th, Djokovic seems to be slightly on edge and maybe even pressuring himself on the eve of the final. It's a case of having not won a title since the 2013 Australian Open and in that time has lost three finals, including last year's Wimbledon final to Andy Murray.
"I mean, losing three out of four last Grand Slam finals, it cannot be satisfying," said Djokovic. "Of course, I don't want to sound like I'm not appreciating to play finals of Grand Slam. It's already a huge result. We cannot take that for granted. But, again, I know that I can win the title. I should have won few matches that I lost in finals of Grand Slams in last couple years.
"But it's an experience. It's a learning process. It's understanding, identifying where the problem is, you know, pushing for it, working on it. It's mental in the end of the day. You have to be able to be in the top of your game, mentally fresh and motivated, calm and composed.
"Things have to come together for you to win a Grand Slam. That's why not so many players throughout the history have done that. So I appreciate all the results and respect all the opponents, Federer for example, for winning so many Grand Slams. It's a remarkable achievement.
"So I understand, you know, what you have to go through as a player in order to win a Grand Slam. It's a big task. In the end of the day that's what you work for. Day in and day out, you are out there on practice courts and you're dreaming big to win Grand Slams. This is your inspiration."
He expects the lack of titles will give him extra inspiration. He says he likes to overanalyse everything which is something he has done since childhood but that can also be a negative because it makes you think too much and adds to the pressure.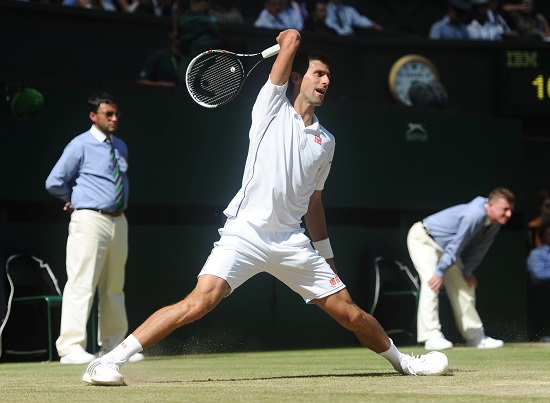 "I want to always get better and improve and hopefully I can get this title and start a new nice series of winning Grand Slams," said Djokovic.
By contrast Federer appears more to be taking things in his stride who laughed when he said that he didn't even remember when his last Grand Slam final was. Yes it can be like that when you have been so used to playing the last match at one of the majors and the well runs dry, you could tend to forget.
By reaching the final it marks his first Grand Slam final since the 2012 Wimbledon final which he won. He has finally broken the drought, the longest of his career since he came to prominence – that was a run of seven outs.
"Let's just say compared to here this time two years ago, I didn't feel as good, for sure, because I was carrying a back problem that I occurred during the (Xavier) Malisse match," said Federer. "So that's the one I remember. I don't know other ones. I must say this year has been very solid. Now this tournament as well has been very good. Also with Halle, you know, just backing it up and getting sort of the small rest you get in preparing for Wimbledon. I was able to get through that, as well. Clearly my matches have been pretty quick, you know. Clearly a semi like the one I had is a perfect result before a big match in the final."
Against Djokovic, Federer says he has to stay aggressive with him and especially at Wimbledon that is made simpler for him. He says it jot like a slow court where you have to manoeuvre the opposition around. Federer describes his rivalry with Djokovic as "athletic".
"I must say I've enjoyed the matches against him," said Federer. "We didn't come through the rankings together, so I was established while he was coming up. I think it was totally different for both of us. You know, we saw each other in a different light than we see each other today when we're both ranked high, we both achieved a lot. Things have clearly changed over time. But ever since he's won Grand Slams and became world No. 1, it's been a cool rivalry, in my opinion."
Ranking wise, Djokovic has to win the title to regain the world No.1 ranking from Rafa Nadal; Federer will move to No.3 irrespective of what happens.