Eugenie Bouchard, the 20 year old Canadian who created history by reaching the Wimbledon final will take on Petra Kvitova for the Championship. Let's hope Bouchard shows excitement if she wins because Kvitova is bound to.
You would think if you were the first in history to achieve something that you would be pretty darn excited about it. You would shout it from the roof tops. However, for Eugenie Bouchard it was not quite the situation, in fact other than a strained smile there appeared to be no excitement about the fact she created history by being the first Canadian, man or woman, to reach the final of a Grand Slam … and at Wimbledon to boot.
Hers was a rather muted response to what she had achieved.
Bouchard defeated world No.3 Simona Halep 7-6, 6-2 to reach the championship match and she will play the 2011 champion Petra Kvitova who defeated her close friend and compatriot and fellow southpaw, Lucie Safarova 7-6, 6-1.
"I felt like it should have happened a game earlier, so I already had that emotion in my head already," said Bouchard. "But, you know, it's not like a surprise to me. I expect good results like this. So for me, I was like, Okay, good. It's a step in the right direction. I get to play in the final. You know, I still have another match, so it's not a full celebration yet."
You look at the way a Nadal or Federer or Djokovic celebrate even after so many semifinal victories and you see the difference … it's never a cold reaction.
Two years ago she won junior Wimbledon, now she will be playing for the big prize and next week when the new world rankings are released she will be firmly entrenched in the world's top 10.
There is no doubt that Bouchard is an exceptional player but at the age of just 20 you would think there would be some animated gestures about; that element of excitement someone of her age should have. It is a journey of discovery but Bouchard comes across as seeing this just as a business. She keeps referring to it as her "job", it is more than that, but even jobs are there to be enjoyed and had fun with.
If she said it once she must have said it 25 times that she has "worked hard" to be in this situation. To get anywhere in life you have to work damn hard but the manner in which she keeps repeating that she has a "job to do" or that "this is my work", you start to wonder if she is in this because of her love of the game.
You would want to think and hope the answer is "yes, the love of the game" is what it's all about but Bouchard doesn't express that at all, it all comes done to the work factor. Almost like a machine and you wonder how long then the novelty will last.
"I get to make Canadian history again," she said (not sure where she made history previously). "It's always exciting and special when I can make history. My job is not done. I want to go another step further. So I'm going to stay focused and enjoy it after.
It was put to her that maybe there was an element of relief to make the breakthrough into a final after being stopped at the semis stage at the Australian Open and French Open. Bouchard said: "I wouldn't use the word 'relief,' but I'm happy to get to my first Grand Slam final. It's very exciting. It's what I've worked so long for, you know. I'm just proud of myself for today's effort."
"Exciting"? You would never know it. "Worked so long for "? She is just 20 years old.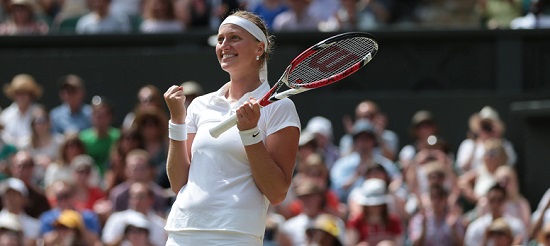 For Kvitova the excitement of reaching a second Wimbledon final, three years after winning the title, was certainly there and she had to put her close friendship with Safarova to one side in an effort to do it.
She said since her 2011 victory over Maria Sharapova things have been up and down with her tennis and that maybe she was a bit too young to understand her achievement but she would not change it for the world and for her Wimbledon is the best tournament in the world and the pinnacle.
"I mean, was really a point when everything change in my life after Wimbledon," said Kvitova. "I didn't change my tennis coach. I am still with David. I changed some fitness coaches, obviously. I'm working more on my mentally side, of course. That's something what I think really I need, to work on the mentally. When I'm still living with the pressure, that's what I really need to handle it. Yeah, a lot of things change in my life. I'm not any more too much private person. Of course the media are interesting in everything, so that's not easy as well."
The final will be the second meeting between Kvitova and Bouchard – they played in Toronto and Kvitova won, but the Czech knows this match will be an entirely different proposition.
"She was just coming up. I find her as a very solid and talented player. She really seems that she is confident in her game right now. She's moving very well. She's playing aggressively from nearby the baseline. I think she's confident right now, same as Halep, of course. Yeah, that's it.
"I think the key, it's going to be the same way how I'm playing: aggressively, going to everything for the winners and just keep my serve, of course, and waiting for some chance."
Bouchard says playing Kvitova will be her "toughest match yet" but that she is definitely up for the challenge.
"I know she obviously likes the grass and has some good weapons, so I will be ready for those. I'll try to impose my own weapons and game against her. I think we'll both be going at it, which will make for a very good match."
If Bouchard does take her historical moment to another level and wins the title, we can only hope that she will be showing an incredible degree of excitement to go with such an amazing triumph at the world's greatest tennis court. Anything less would ruin the moment. One thing is for sure, if she wins I can't see her trying to climb into the Player's Box to greet family and friends.
Let's hope winning a Wimbledon title is not seen as a "job", it certainly won't with Petra Kvitova.